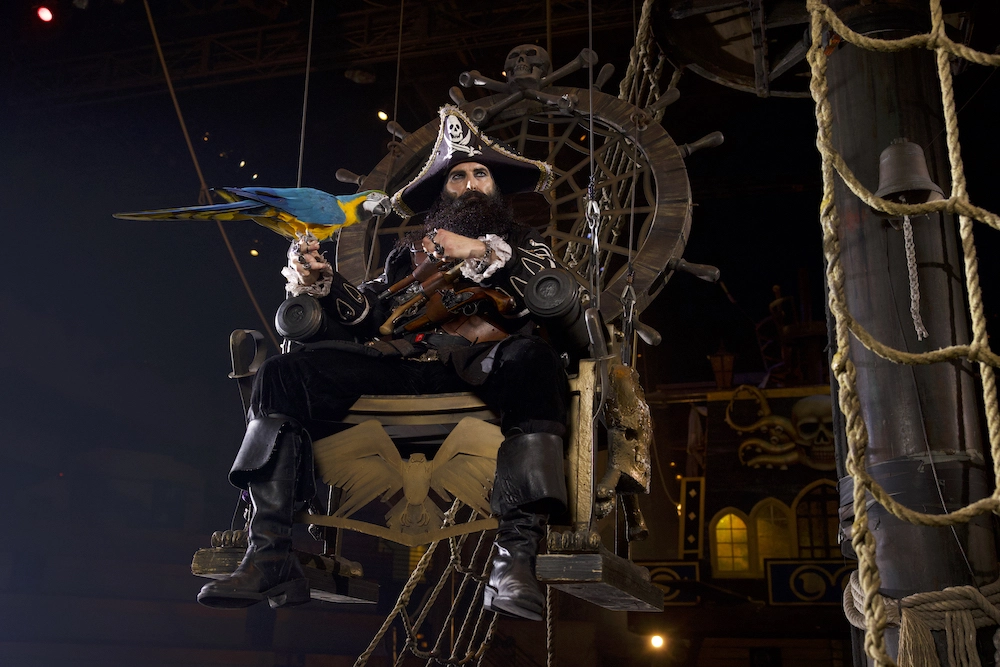 5 Tips for What to Do the Day of Our Pigeon Forge Dinner Show
October 26, 2023
We want to guarantee you have the best time when you visit Pirates Voyage Dinner & Show! We've talked to you before about how to plan the perfect trip to our Pigeon Forge dinner show, but now we want to help make sure you have a great time while you're here. That's why we've created a guide with 5 tips for what to do the day of our Pigeon Forge dinner show:
1. Enjoy an Animal Encounter the Same Day
The best way to have the most unforgettable experience is to take advantage of everything our attraction has to offer. That's why we recommend booking our Animal Encounter for the same day as your show! This special, 30-minute program takes place at 4:30 p.m. each day and gives visitors the unique opportunity to get up close and personal with our animal performers. Not only will you get to interact with Salty the Sea Lion and our other animal stars before they show off their talents in our indoor hideaway lagoon, but you'll also get to learn about how we care for them and our positive reinforcement training! We have limited spots available for each Animal Encounter, so we recommend purchasing tickets online when you book your show tickets to guarantee you get a spot on the same day.
2. Enjoy Our Join the Crew Experience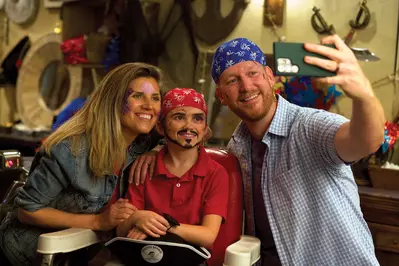 Another activity you won't want to miss the day of our Pigeon Forge dinner show is our Join the Crew experience. Everything is more exciting when you feel like you're a part of the action! When you Join the Crew, you'll be transformed into a beautiful mermaid or a swashbuckling pirate. Our mermaid makeovers include facial makeup, a tiara, earrings, a wand, and a flag. Our pirate makeovers include facial makeup, a bandana or a pirate hat, an earring, an eye patch, a sword, and a flag. You'll feel and look just like one of our performers! Our Join the Crew experience is available for all ages for an additional fee.
3. Come Hungry
On the day of our show, you're going to want to make sure you come hungry because you won't want to miss one bite of our four-course feast. The dinner portion of our show is designed to feed the hungriest of crews! Enjoy a Buccaneer Biscuit, Voyager Creamy Vegetable Soup, Cracklin' Pan-Fried Chicken, Swashbucklin' Sugar-Cured Ham, Cob-O' Buttery Corn, a Pirate Herb-Basted Potato, a Walk the Plank Specialty Dessert, and unlimited Coca-Cola®, tea, or coffee. We also have vegan, vegetarian, gluten-free, and dairy-free meals available upon request.
4. Have Fun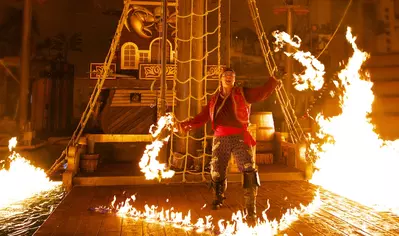 Of course, the most important thing to do the day of our Pigeon Forge dinner show is have fun! You're in for a treat from the moment you arrive at our dinner attraction to the moment you leave. Get ready for fun, feast, and adventure as you celebrate the pirate spirit in Pigeon Forge! Whether you're visiting with your sweetheart or with your family, you're guaranteed to have a great time! Watch in excitement as the Crimson and Sapphire crews battle for the coveted treasure — the battle takes place on land, on deck, in the water, and high above the full-sized pirate ships in the air. There'll be sword fighting, cannons blazing, singing and dancing, animal tricks, and more. It's easy to have fun at our dinner show.
5. Browse Our Gift Shop
Before you leave, complete your day at our show with a special souvenir. Visit our gift shop to get your own pirate treasure to take back home! We have everything from t-shirts and plush animals to handcrafted pirate ships and meticulously sculpted ceramic mermaids in our gift shop. Don't forget to pick up a couple bags of our Voyager Creamy Soup Mix so you can recreate your favorite part of our feast back home!
Now that you know what to do on the day of our Pigeon Forge dinner show to guarantee you have a great time, you're ready to start planning your visit! Take a look at our Pirates Voyage show schedule, and get your tickets today.