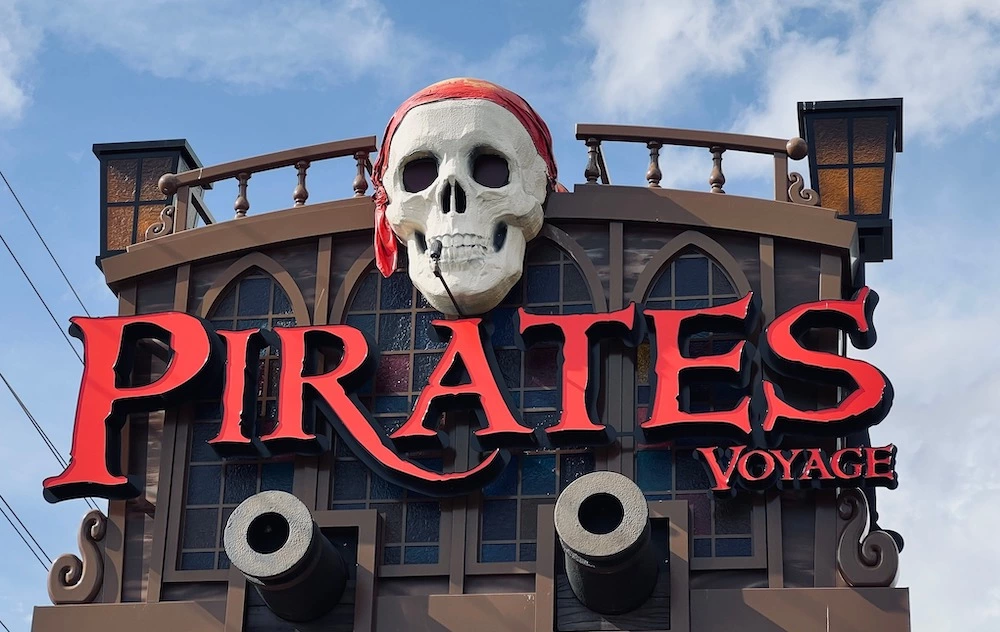 A Guide to Planning Your Visit to Pirates Voyage Dinner & Show in Pigeon Forge
April 11, 2023
Are you ready for an evening of fun, feast, and adventure at Pirates Voyage Dinner & Show in Pigeon Forge? We want to help guarantee you have the best time while you're in town! We've created the perfect guide for planning a visit to our dinner attraction in Pigeon Forge that includes all the tips and tricks you need to know for a hassle-free trip. See it below:
When to Visit
There's never a bad time to visit Pirates Voyage Dinner & Show in Pigeon Forge throughout the season! If you're hoping to avoid heavy crowds in the area, the best times to visit are late winter/early spring, or late summer/early fall. These tend to be slower times in the Smoky Mountains with less traffic and fewer crowds. However, our show is a fun thing to do all year long, from mid-February through December! Pigeon Forge has something to offer visitors during each season as well. If you visit in the spring or summer, be sure to spend time taking in the gorgeous wildflowers in the Smokies. If you visit in the fall, you can catch glimpses of beautiful fall foliage, and in the winter, you can see millions of twinkling holiday lights in the area!
How to Get Tickets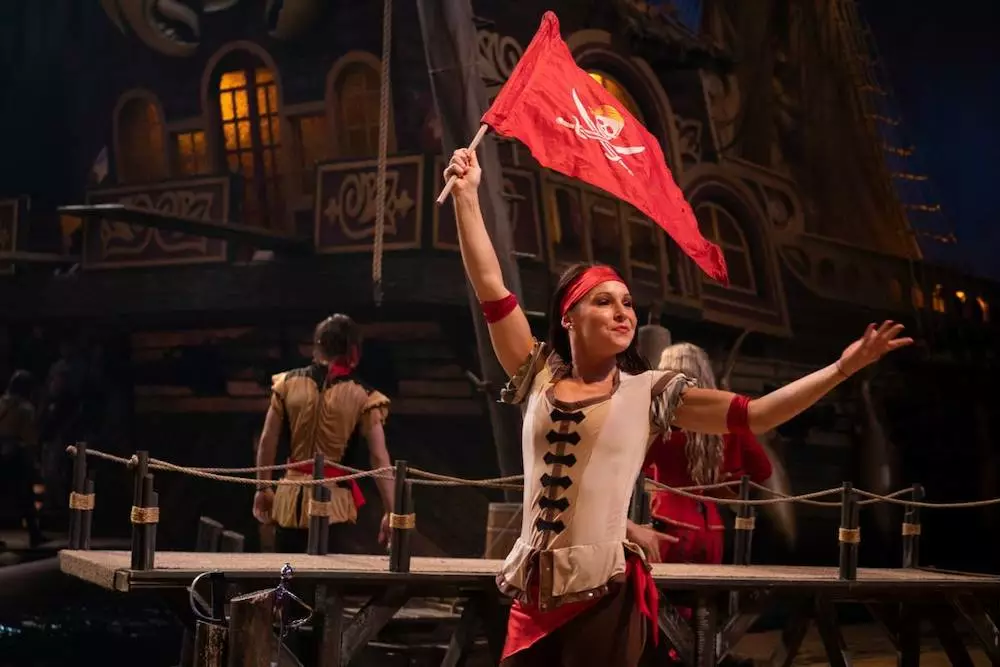 Although you can get tickets the day of the show at our box office, the best way to get tickets for Pirates Voyage in Pigeon Forge is to buy them online ahead of time! Buying them ahead of time guarantees you a seat in our theater for the date and time you want. You won't have to do anything the day of the show but pick up your tickets at the box office and enjoy the show! When you purchase online, you'll get to select your preferred seating section — are you team Crimson or team Sapphire? You can also specify if anyone in your party needs a special meal and if you want a souvenir mug! Get your tickets online today!
What to Do the Day Of
To get the most out of your visit to Pirates Voyage Dinner & Show in Pigeon Forge, we recommend arriving early and enjoying our Join the Crew experience. This experience gives guests of all ages the opportunity to transform into a swashbuckling pirate or a beautiful mermaid for an additional charge. These makeovers will have you feeling like you belong on stage with our talented cast! After you join the crew, take your seats in our indoor hideaway lagoon and get ready for a delicious feast to be served.
What to Expect at the Show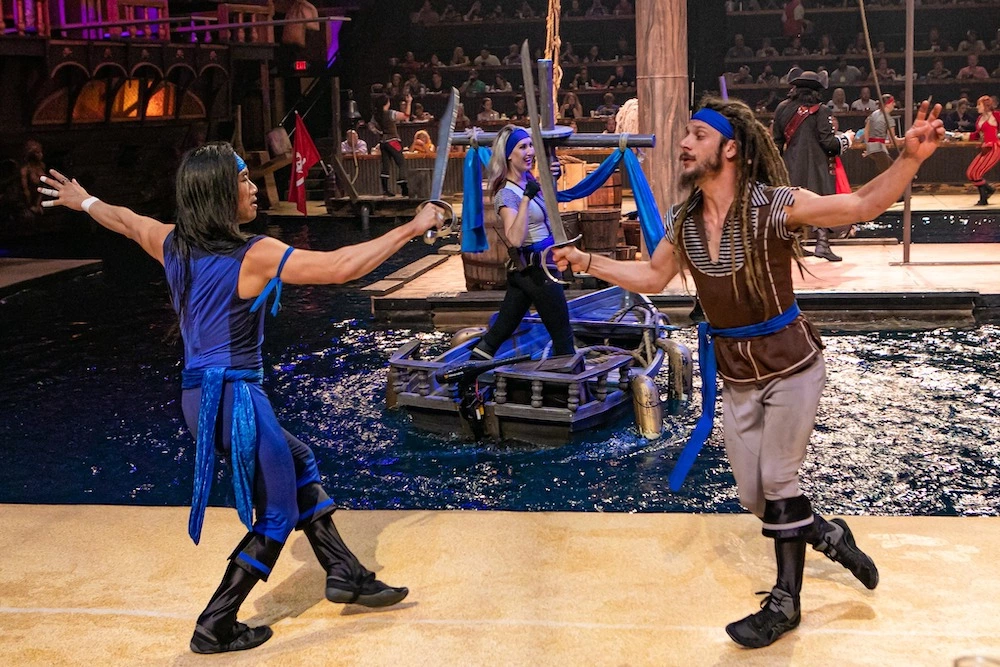 Once you're seated in Pirates Voyage, our servers will bring out a hearty, four-course feast that's made to satisfy hungry pirates and landlubbers alike! The feast includes a Buccaneer Biscuit, Voyager Creamy Vegetable Soup, Cracklin' Pan-Fried Chicken, Swashbucklin' Sugar-Cured Ham, Cob-O' Buttery Corn, a Pirate Herb-Basted Potato, a Walk the Plank Specialty Dessert, and unlimited Coca-Cola®, tea, or coffee. While you eat, you'll be entertained by a daring and dramatic tale, featuring pirates, mermaids, high seas escapades, and romance. Watch as the Crimson and Sapphire crews battle on land, on deck, in water, and high above their full-sized pirate ships for the coveted sunken treasure. You'll also see beautiful mermaids performing high above the water before diving back into Buccaneer Bay, tropical birds, dock diving dogs, and a "Salty" sea lion! This action-packed show has thrills around every corner and something for all ages to enjoy. Kids, teens, parents, and grandparents all love Pirates Voyage Dinner & Show in Pigeon Forge!
Visit Pirates Voyage Dinner & Show in Pigeon Forge
Now that you know how to have the perfect visit to Pirates Voyage, the only thing left to do is to start planning! Take a look at our Pigeon Forge show schedule, and get your tickets to our dinner attraction today.