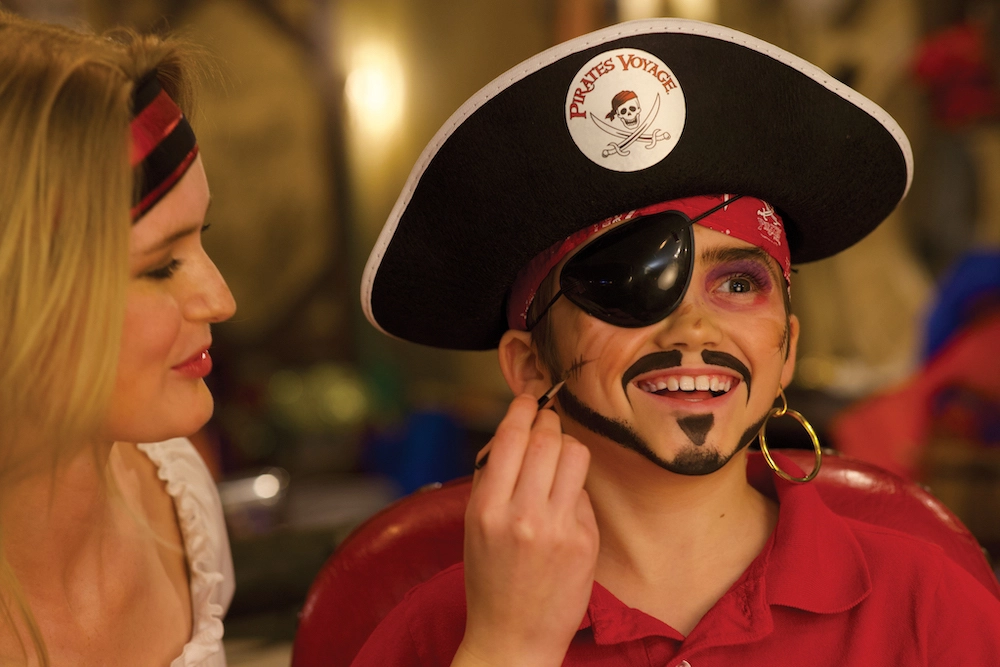 3 Things Families Love About Pigeon Forge
August 14, 2023
It should come as no surprise that Pigeon Forge is one of the top destinations for family vacations. The area is home to so many exciting family-friendly activities and opportunities to make memories with one another. If you're searching for more reasons to plan your next vacation in the Smoky Mountain area, check out our list of 3 things families love about Pigeon Forge:
1. Family-Friendly Activities
As we mentioned before, Pigeon Forge is home to so many fun things to do for families. From incredible dinner shows to world-class theme parks, there is endless excitement for families. One of the attractions families love the most is our own Pirates Voyage Dinner & Show! Not only does our family-friendly show feature a thrilling pirate battle and a delicious four-course feast, but it also has a fun experience before the action begins where kids can transform into a swashbuckling pirate or a beautiful mermaid! Our Join the Crew experience is available for all ages for an extra fee, so the whole family can get involved! Dinner shows combine both food and fun for the perfect family evening in Pigeon Forge. Other popular dinner shows in Pigeon Forge are Dolly Parton's Stampede and Hatfield & McCoy Dinner Feud.
In addition to dinner shows, families won't want to miss the chance to visit Dollywood! This popular theme park is home to a number of family-friendly rides for all ages, as well as shops, live entertainment, play areas, and restaurants. We recommend taking a ride on the Dollywood Express with your whole family for a breathtaking journey through the foothills of the Smokies! For a night full of laughter, head to The Comedy Barn in Pigeon Forge! This successful clean comedy show features comedians, singers and dancers, jugglers, ventriloquists, and barnyard animals — all who specialize in making you laugh.
2. Close to the Great Smoky Mountains National Park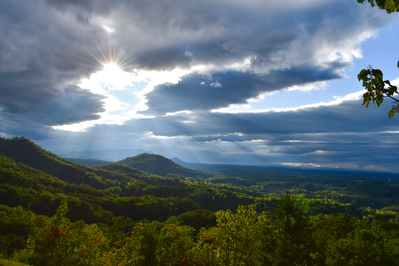 Another thing that families love about Pigeon Forge is that it's just a short drive from the Great Smoky Mountains National Park, the most visited national park in the country! Families love taking in the beauty of the Smokies together, whether it's by going for a family-friendly hike or for a scenic drive. We recommend hiking to Laurel Falls or taking a drive through Cades Cove. Cades Cove is one of the most popular spots in the park and features an 11-mile loop road that offers views of the Smokies, wildlife, and historic structures. It's one of the best spots to see a black bear!
3. Incredible Memories
One of the best things about visiting Pigeon Forge for anyone is the incredible memories you'll create while you're there, but it's especially true for families because everything's more special when you share it with the ones you love. Whether you're visiting a dinner show or driving through the foothills of the Smokies, it'll be a trip you won't soon forget. Families love the shared memories they'll create together that they can talk about for years to come. A trip to Pigeon Forge oftentimes becomes a family tradition that continues year after year!
Now that you know why families love Pigeon Forge, we bet you can't wait to start planning an exciting family vacation to the area! If you need more convincing, check out these 4 reasons to plan a Pigeon Forge vacation with your family.