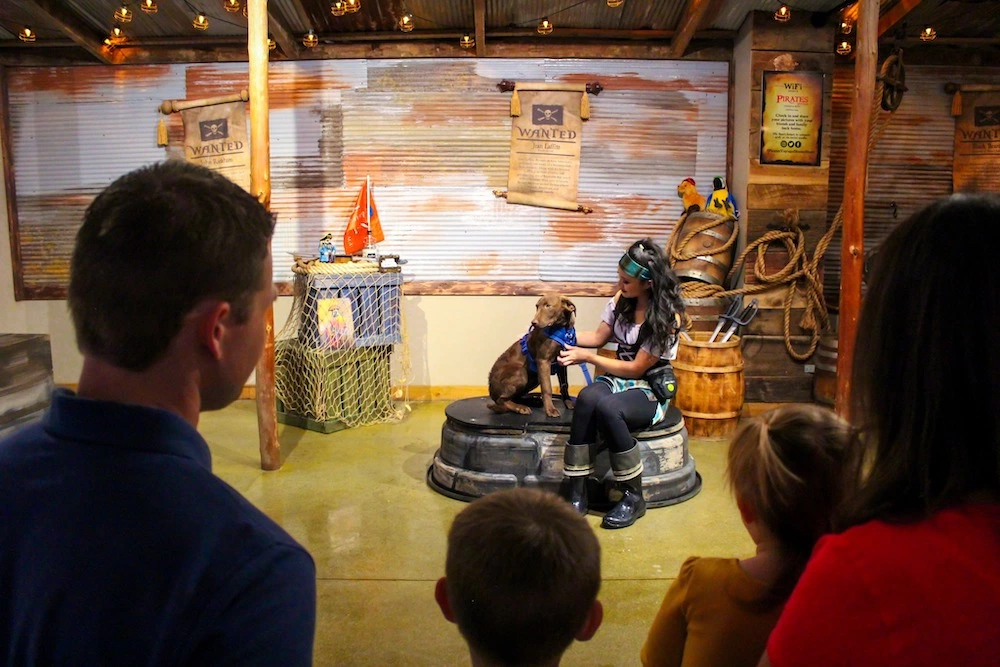 All the Details About the Animal Encounter at Pirates Voyage in Myrtle Beach
October 9, 2023
Whether you've been to our show before or have just heard about us, you probably know a crowd-favorite performer is Salty the Sea Lion! He's not the only animal performer at our show — we also have beautiful tropical birds and daring dogs, and you'll have the opportunity to get up close and personal with some of them during our Animal Encounter! This one-of-a-kind experience gives visitors the chance to interact with Salty and our other animal performers. Learn more about the Animal Encounter at Pirates Voyage in Myrtle Beach before you visit:
What to Expect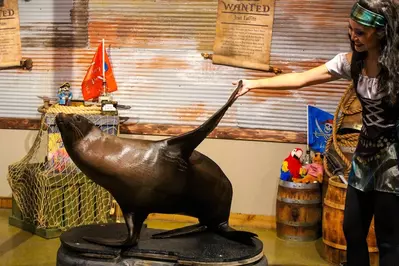 Our Animal Encounter is an exclusive opportunity that allows visitors to meet and interact with the animal performers who call Pirates Voyage in Myrtle Beach home. We know that everyone enjoys seeing the talents these animals have to offer, so we decided to give you the chance to see them up close! When you get tickets to this unique experience, you can expect 30 minutes of fun with our animals. The encounter is an educational experience as well because guests will get to learn more about our positive reinforcement training and how we care for the animals. We work hard to provide exceptional welfare for our animals, and we can't wait to tell you more about it and introduce you to these special members of our show!
Where Is It?
Our Animal Encounter takes place at Pirates Voyage Dinner & Show in Myrtle Beach! You can find us at 8907 North Kings Hwy, just minutes from North Myrtle Beach, Surfside Beach, Garden City Beach, and Litchfield Beach. Some of the most popular lodging options are located nearby, so you'll have plenty of choices for where to stay while you're in the area.
When Is It?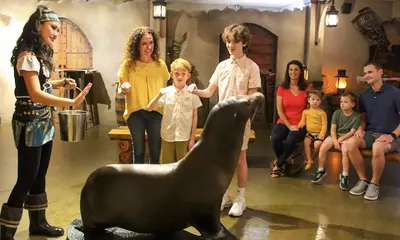 Our Animal Encounter takes place every day through the end of the year, with the exception of Christmas Day. The program starts at 4:30 p.m. each day, and we recommend guests arrive at least 15 minutes early. Availability for our Animal Encounter is limited, but additional showtimes will be added if we fill up!
How to Get Tickets
To get tickets for our Animal Encounter at Pirates Voyage in Myrtle Beach, all you have to do is view our Animal Encounter schedule and choose the date that works best for you! Our Animal Encounter tickets are sold separately from our dinner show tickets, but we recommend getting tickets for both for an unforgettable day at our Myrtle Beach attraction. Enjoy an interactive experience with Salty the Sea Lion and our other animals before heading into our indoor hideaway lagoon and seeing them show off their talents during the performance!
More About Our Animal Performers at Pirates Voyage
Before you come to our Animal Encounter at Pirates Voyage in Myrtle Beach, learn a little bit more about Salty and our incredible animals that call our dinner attraction home.