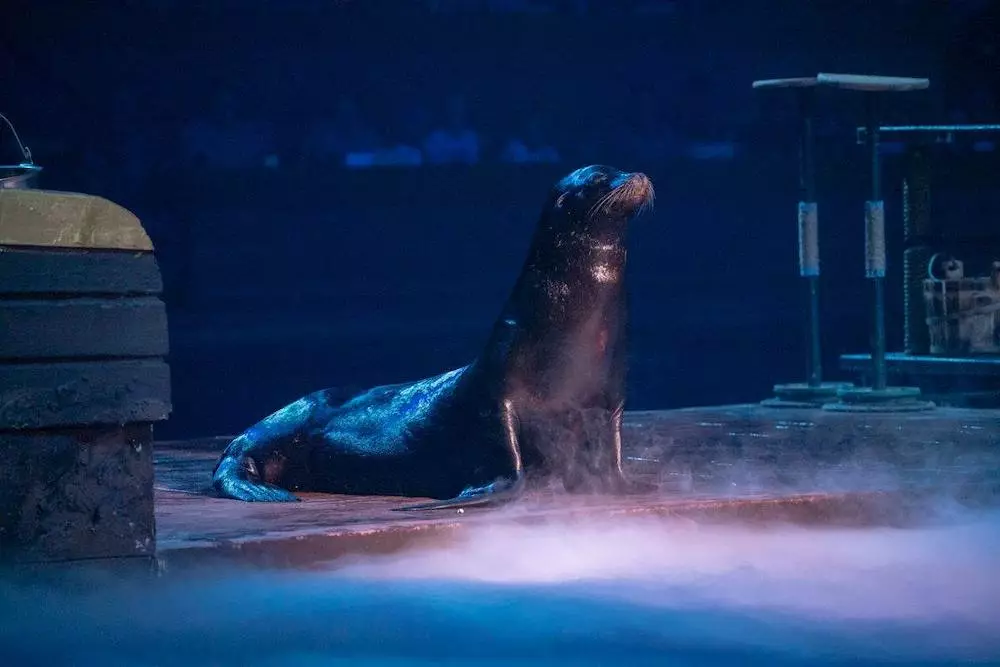 Meet Salty: About Our Sea Lion Performers at Our Myrtle Beach Show
July 14, 2023
Our show is known for its swashbuckling pirates and beautiful mermaids who perform incredible stunts, but they're not the only talented members of our crew! One performer who steals the show every time he comes on stage is Salty, our sea lion. Meet Salty and learn more about our sea lion performers at our Myrtle Beach show.
When You'll See Salty During the Show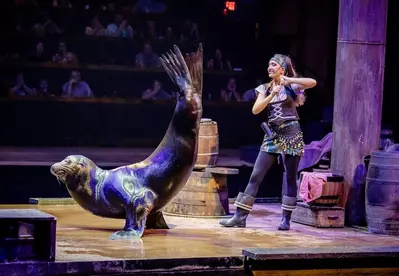 Salty quickly became a favorite among all our audience members, and our sea lion act is now a highlight of every show. Salty joins a comical castaway to win a battle with Captain Blackbeard through clever antics and pirate wit. Our sea lion wows the audience with his tricks. Be sure to keep an eye out for his impressive dance moves too!
Animal Care
Our show wouldn't be the same without our sea lions, which is why we take the necessary steps to ensure they're getting the best possible nutrition, environment, and care. We've partnered with Ocean Connections, a leader in marine animal care, to prioritize our animals' health and welfare by having on-site professionals work alongside a veterinary team. On top of the regular physical examinations from our veterinary team, our sea lions are treated to daily vitamins and high-quality diets. We guarantee that only the best fish are fed to our animals. In addition to vitamins and diet, we also make sure to provide a safe and healthy environment. The animal care specialists at Ocean Connections sanitize the land areas and maintain their aquatic environment daily. We also perform water tests several times throughout the day to replicate a natural ocean habitat, and a full filtration system ensures clean water for our animals.
Other Animal Performers at Our Myrtle Beach Show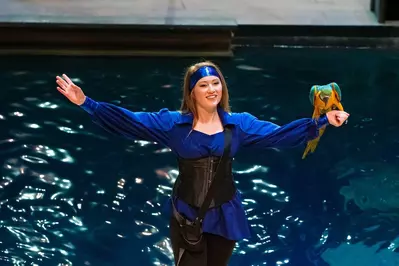 Sea lions aren't the only talented animal performers at Pirates Voyage Dinner & Show in Myrtle Beach! Our show also welcomes daring dogs to the "stage." Our dogs show off their dock diving skills and add more fun and adventure to the performance. We also have tropical birds! Our pirates and birds make the perfect pair, and the audience loves seeing the beautiful macaws. The live animals in our Myrtle Beach show make it even more exciting than it already is!
About Our Myrtle Beach Show
Alongside Salty the sea lion and our other animals, you'll be introduced to Captain Blackbeard and his quartermaster, Calico Jack, as they lead the Crimson and Sapphire crews in a battle for the coveted treasure. Two full-sized pirate ships in a 15-foot-deep indoor hideaway lagoon set the stage as the pirates battle on land, on deck, in the air, and in the water. Enjoy heroics and high-flying fun in this action-packed show that combines adventure, acrobatics, animals, and all-things pirate. While you watch, you'll get to devour a four-course pirate feast that is enough to satisfy the most hungry of pirates and landlubbers. Be sure to save room for our Apple O' Me Eye Pie for dessert! For the ultimate visit, arrive early to Join the Crew and be transformed into a swashbuckling pirate or a mystical mermaid.
Now that you know more about Salty the sea lion, we bet you can't wait to visit to see his clever tricks with your own eyes. Take a look at our Myrtle Beach show schedule and get your tickets to see us today!