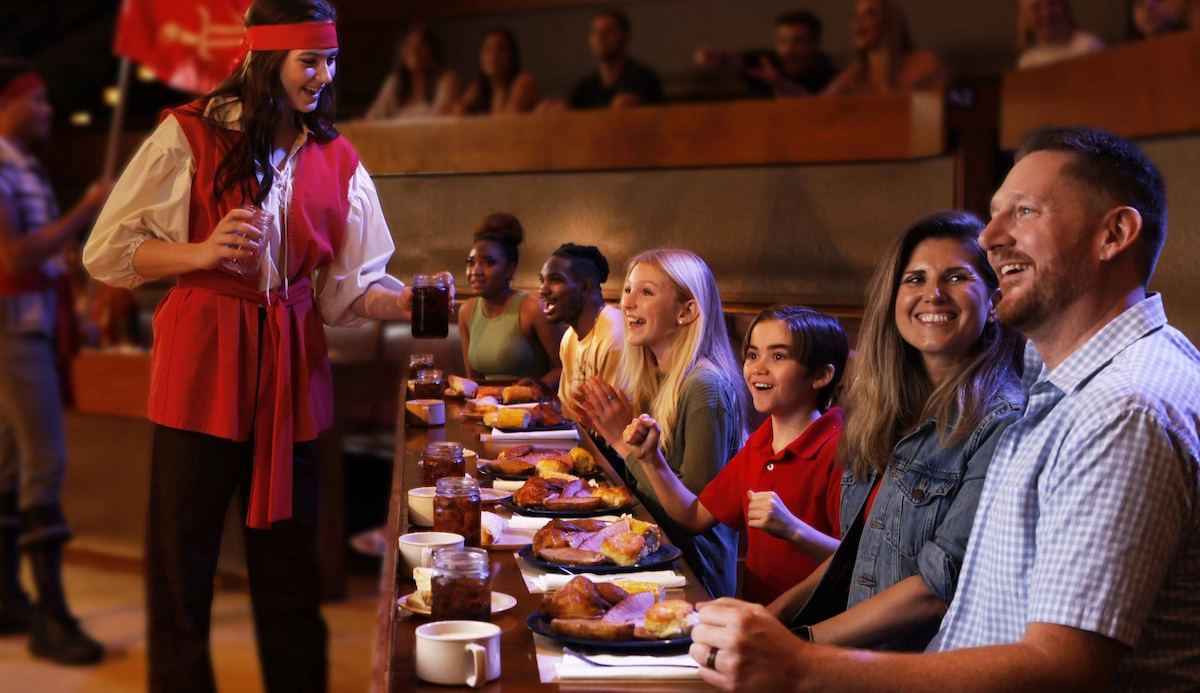 What Makes Us the Most Fun Place to Eat in Myrtle Beach?
August 24, 2023
Don't settle for an ordinary dinner on your vacation — visit Pirates Voyage Dinner & Show! Our action-packed dinner show is the most fun place to eat in Myrtle Beach. Visitors love celebrating the pirate spirit with delicious food and incredible entertainment. It's a one-of-kind experience you won't find anywhere else in the area. To learn more about us, keep reading to find out why we're the most fun place to eat in Myrtle Beach.
Pre-Show Fun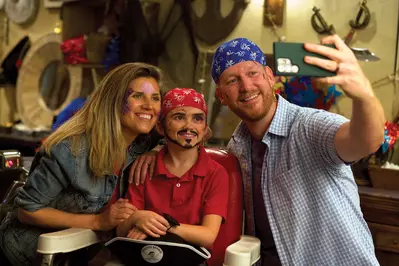 Bring your appetites and your sense of adventure when you visit Pirates Voyage in Myrtle Beach! The excitement of the evening begins before the first course is even served with our Join the Crew experience. This special pre-show activity is available for all ages for an extra fee and gives visitors the opportunity to turn into a swashbuckling pirate or a beautiful mermaid. Enjoy makeovers that include facial makeup and various accessories that will make you feel like you're a part of our crew!
Our Four Course Feast
We wouldn't have earned the title of The Most Fun Place to Eat™ if we didn't serve a great meal! You can expect more than just your average dinner when you visit Pirates Voyage Dinner & Show. We offer a mouthwatering four-course feast that's made to satisfy all the hungry landlubbers and pirates! The meal kicks off with our famous Voyager Creamy Vegetable Soup and includes a Buccaneer Biscuit, Half O' Roasted Cackler (Chicken), Swashbucklin' Sugar-Cured Ham, Cob O' Buttery Corn, a Pirate Herb-Basted Potato, Apple O' Me Eye Pie, and unlimited Coca-Cola®, tea, or coffee. It's a meal that everyone in the family will love!
We also have delicious vegetarian, gluten-free, vegan, and dairy-free meals available upon request. If you have dietary restrictions, just let us know when you make your reservations!
Family Fun & Adventure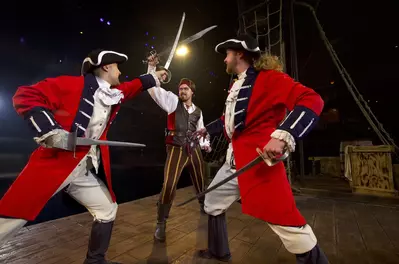 The main reason that we're the most fun place to eat in Myrtle Beach is because we don't just serve you dinner and leave you to eat. We put on an incredible action-packed show for you to watch while you dine! There won't be a minute of boredom when you visit our dinner attraction. Watch as Captain Blackbeard and his quartermaster, Calico Jack, lead the Crimson and Sapphire crews in a battle on land, on deck, in water, and high above their full-sized pirate ships in our indoor hideaway lagoon! The pirates are battling for the coveted sunken treasure, and they have a few others join in on the action, including beautiful mermaids, tropical birds, a salty sea lion, and diving dogs. The performance features sword fighting, cannons blazing, acrobatics, high-diving, singing, dancing, and so much more. You'll be amazed at the high seas escapades that take place while you devour your pirate feast!
Pirate Treasure
The fun doesn't have to end when the meal and show are over! You'll want to take home some pirate treasure of your own when you leave. Be sure to stop by our gift shop to browse handcrafted pirate ships, ceramic mermaids, toy swords, pirate apparel, and more. There's something for everyone in our gift shop, so you're sure to leave with the perfect souvenir!
Visit the Most Fun Place to Eat in Myrtle Beach
Are you ready to come experience the most fun place to eat in Myrtle Beach? Take a look at our show schedule and choose a show date that works best for you.