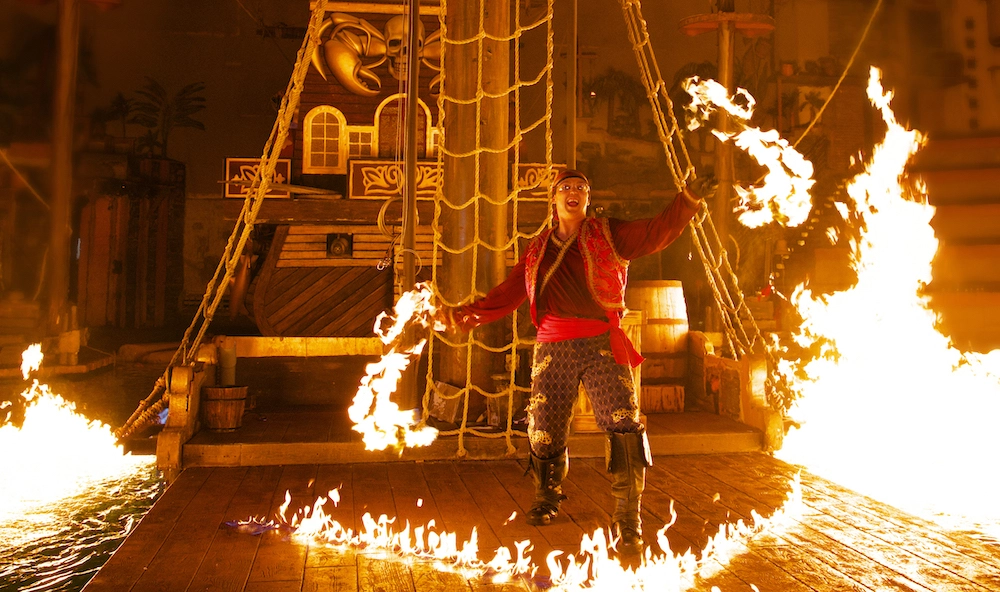 What Makes Us One of the Best Shows in Myrtle Beach
September 15, 2023
Would you love to visit the best show in Myrtle Beach while you're in town? Then an evening spent at Pirates Voyage Dinner & Show is a must! From our swashbuckling action to our hearty pirate feast, nothing compares to the experience you'll have at our dinner attraction. To help you learn more about Pirates Voyage and why you should visit, we've made a list of what makes us one of the best shows in Myrtle Beach:
Our Interactive Experiences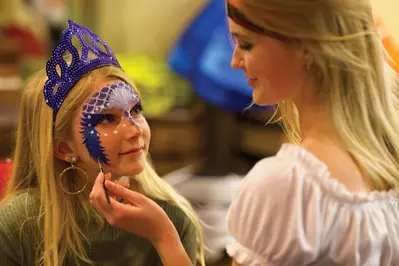 When you visit Pirates Voyage in Myrtle Beach, you're in for more than just a dinner and a show. We're also proud to offer interactive experiences for an additional fee! One pre-show activity that's fun for the whole family is our Join the Crew experience. Captain Blackbeard and his crew are scouring for landlubbers to become their new recruits, and your kids could be some of them! The Join the Crew experience transforms kids (and adults, too!) into swashbuckling pirates or beautiful mermaids. Makeovers include facial makeup and accessories that will make you feel like you're a part of the show. You can also book our special Animal Encounter! Our Animal Encounter is an exciting educational opportunity that allows visitors to meet the animal ambassadors featured in Pirates Voyage Dinner & Show! Interact with Salty the Sea Lion and our other animal friends before our show in this special 30-minute program. Give us a call at 843-497-9700 to reserve your spot at one of our Animal Encounters!
Our Action-Packed Show
After you enjoy one of our interactive experiences, get ready to watch one of the best shows in Myrtle Beach! Pirates Voyage features Captain Blackbeard and his quartermaster, Calico Jack, as they lead the Crimson and Sapphire crews in a battle on land, on deck, in water, and in the air high above their full-sized pirate ships in an indoor hideaway lagoon. Not only can you watch the pirates battle for the coveted treasure, but beautiful mermaids join in on the action and show off their acrobatic and diving skills, along with a salty sea lion, dock-diving dogs, and tropical birds. Sword fighting, pyrotechnics, stunts, and singing and dancing are all part of the non-stop action at Pirates Voyage Dinner & Show.
Our Four-Course Feast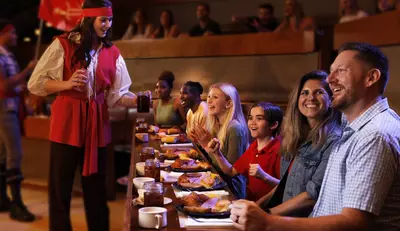 You won't find a dinner like our four-course pirate feast at any other place in Myrtle Beach! While you watch the action unfold in Buccaneer Bay, you'll get to feast on four courses of mouth-watering food. The meal kicks off with our famous Voyager Creamy Vegetable Soup and our Buccaneer Bread before continuing with Half O' Roasted Cackler (Chicken), Swashbucklin' Sugar-Cured Ham, Cob O' Buttery Corn, an Herb-Basted Potato Wedge, Apple O' Me Eye Pie, and unlimited Coca-Cola® products, tea, or coffee. We also have gluten-free, dairy-free, vegan, and vegetarian meals available upon request so everyone who visits can enjoy dinner with us!
Visit the Best Show in Myrtle Beach
Now that you know what makes us one of the best shows in Myrtle Beach, we bet you can't wait to plan your visit to see us! Take a look at our show schedule to find a show date and time that works best for you, then get your tickets.