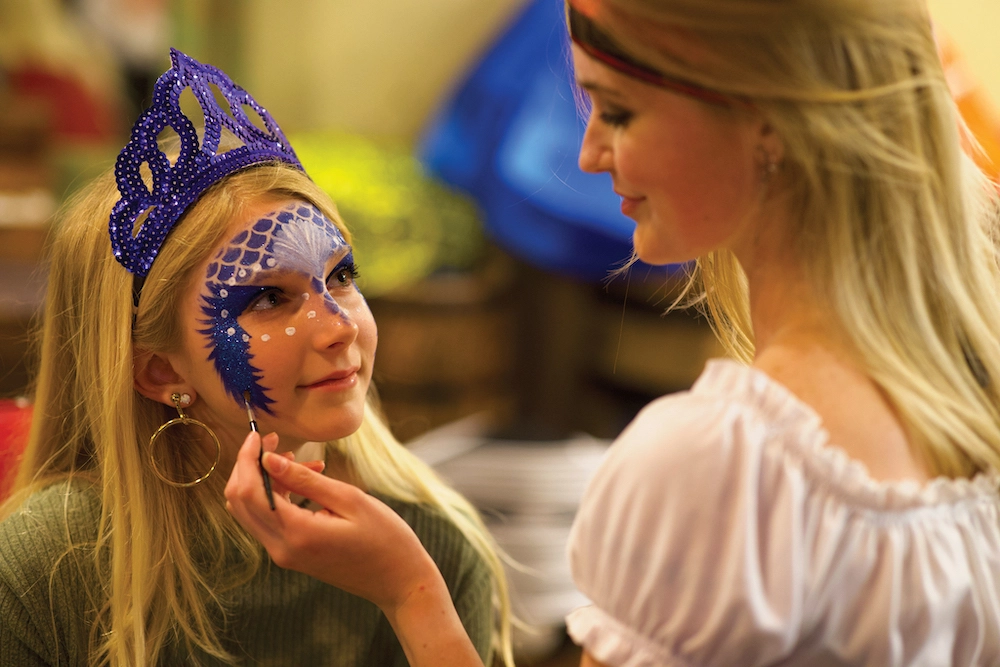 What Makes Us the Best Dinner Show in Pigeon Forge?
July 24, 2023
When you visit Pigeon Forge, you don't want to miss the chance to visit the best dinner show in the area! That's why you have to plan your trip to Pirates Voyage Dinner & Show today. Our attraction provides an entertaining show, complemented with a feast fit for a pirate. Are you interested in learning more about what makes us the best dinner show in Pigeon Forge? Keep reading to find out:
1. Variety of Entertainment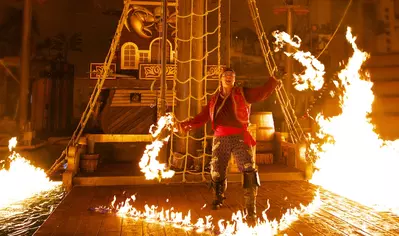 Our show tells the tale of Captain Blackbeard and his quartermaster, Calico Jack, as they lead their crews on a quest to find the sunken treasure. While you can expect to witness action-packed pirate battles, complete with sword fighting and cannons blazing, pirates aren't the only source of entertainment during our show. Beautiful mermaids also join in on the action! Throughout the show, you'll get to enjoy singing and dancing, pyrotechnics, and impressive acrobatics, along with high seas escapades and romance.
2. Pirate Feast
It would be hard to be the best dinner show in Pigeon Forge without offering a delicious feast! Luckily, we have that covered at Pirates Voyage Dinner & Show! Our four-course feast is as big as our main event and is made to satisfy hungry pirates and landlubbers alike. You'll get to dig into our tasty menu as the action begins! The feast includes the following items:
Buccaneer Biscuit
Voyager Creamy Vegetable Soup
Cracklin' Pan-Fried Chicken
Swashbucklin' Sugar-Cured Ham
Cob-O' Buttery Corn
Pirate Herb-Basted Potato
Walk the Plank Specialty Dessert
Unlimited Coca-Cola®, tea, or coffee
Everyone is sure to love the items on our menu! If you have dietary restrictions, you can request one of our special meals when you make your reservations. We offer vegan, vegetarian, dairy-free, and gluten-free meals upon request.
3. Live Animals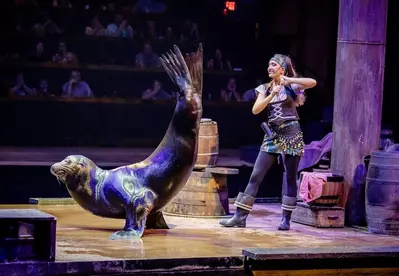 In addition to our talented human performers, we have live animals who steal the show! A favorite among audience members is Salty the Sea Lion. He joins a comical castaway to win a battle with Captain Blackbeard! You'll love watching him show off his dance moves and talents. In addition to sea lions, our show features daring dogs and tropical birds. At Pirates Voyage Dinner & Show, we are honored to be able to work with our sea lions and other animal performers, which is why we strive to provide the best care possible for them. We have on-site professionals who work alongside a veterinary team to ensure each animal receives the best possible nutrition, environment, and care.
4. Fun for All Ages
Another perk of our dinner show in Pigeon Forge is that we're fun for all ages! Not only does our show feature entertainment that everyone in the family can enjoy, but we make sure to offer a family-friendly environment with fun for kids, teens, and adults. Be sure to arrive early to take part in our Join the Crew experience! Kids love transforming into a swashbuckling pirate or a beautiful mermaid with our special makeovers. This experience may be more popular among kids, but all ages can participate for an additional fee! You can also browse our gift shop to get some of your own pirate treasure to take back home. Pirates Treasure has gifts for all ages and all occasions, from plush animals and toy swords to ceramic mermaids and handcrafted pirate ships! Everyone in the family will have fun at Pirates Voyage.
Are you ready to see the best dinner show in Pigeon Forge? Take a look at our Pirates Voyage show schedule and start planning your visit!