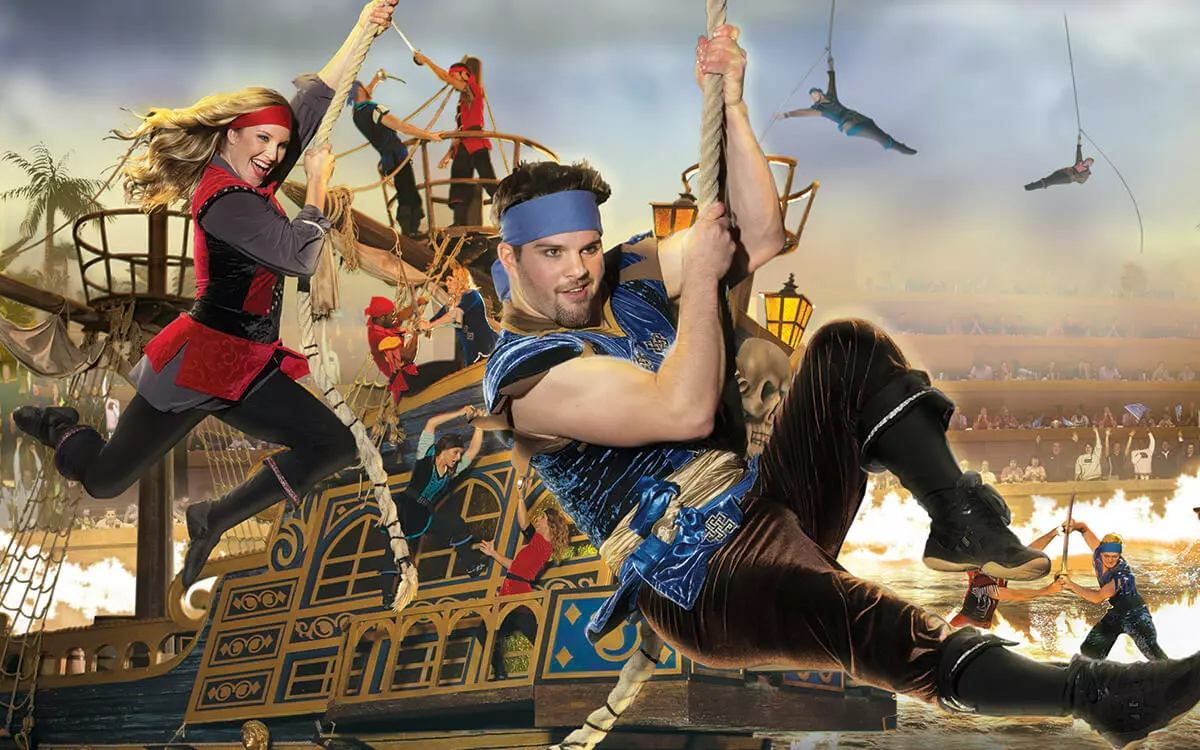 Weather Forecast For Myrtle Beach: 100% Chance Of Fun At Pirate's Voyage!
August 9, 2018
Be it rain or shine, ye can be sure to have a swashbuckling good time at Pirate's Voyage!
Planning a Myrtle Beach Vacation? Ye can't always predict the weather, mateys, but rain or shine, you can always forecast fun and adventure at Pirate's Voyage!
Beat The Heat
Visiting Myrtle Beach ye probably plan on having plenty of fun in the sun. After a full day in the hot sunny weather, however, ye landlubbers need do no more than direct your compass to Pirate's Voyage Dinner and Show to cool off, unwind and enjoy a feast fit for a pirate.
Bring yer appetite, because the Four Course Pirate Feast is a captain's size meal. It starts off with our Voyager Creamy Vegetable Soup and Buccaneer Bread. We follow that with Half O' Roasted Cackler (Chicken), Captain BBQ Pork, Cob O' Buttery and Pirate Herb-basted Potato! And of course, to finish things off we bring you an Apple O' Me Eye Pie!
Wet your whistle and cool off with Unlimited Coca-Cola®, tea or coffee to drink as ye thrill at the swashbuckling excitement of spectacular acrobatic competitions, aerial feats, beautiful mermaids and much more during a breathtaking dinner show spectacular!
Dodge The Showers
If a storm starts a brewin' while your crew is at Myrtle Beach, don't let a wee bit of bad weather spoil your vacation. Just look for the Jolly Roger and head to Pirate's Voyage, located just minutes from all seaside villages along the Grand Strand.
Arrive early to dodge the showers and enjoy a fun, interactive experience in me Pirates Village! Sing along to pirate chanteys and enjoy amazing balancing acts, fantastic juggling, live animals, audience participation and much more. Captain Blackbeard's crew will make you over into a swashbuckling pirate or beautiful mermaid with facial makeup, costume accessories and flags, and yer crew can also wet your whistle with our pirate-themed beverages and delicious snacks.
Then join Captain Blackbeard, the most famous pirate to ever sail the seven seas, and his quartermaster Calico Jack as they lead the Crimson and Sapphire crews in an epic battle for lost treasure on land, on deck, in water and high above full-sized pirate ships in a 15-foot deep indoor hideaway lagoon!
Sunshine or Stormy Weather, fun and adventure awaits at Pirate's Voyage "The Most Fun Place To Eat!"
Vegetarian & Gluten Free Meals are available by request.
*Please mention at time of reservation.
**"Coca-Cola" is a registered trademark of The Coca-Cola Company.