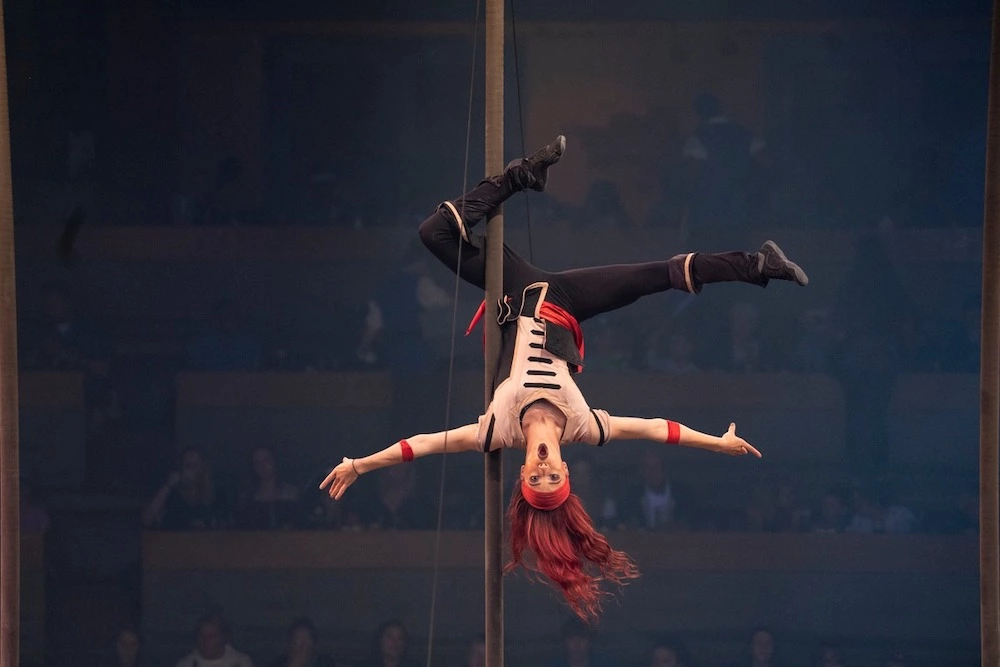 7 Unique Things About Our Myrtle Beach Pirate Show
February 14, 2023
If you've never been to Pirates Voyage Dinner & Show, then you're in for a treat! You won't have an experience quite like this at any other show in the area. From an epic pirate battle to entertaining animal performers, you can see it all at Pirates Voyage. Are you wondering what sets us apart from other attractions in Myrtle Beach? Here are 7 unique things about our Myrtle Beach pirate show:
1. Join the Crew Experience
We want everyone to feel like they're a part of the show when they visit Pirates Voyage. That's why we offer a special Join the Crew experience before the action begins. Arrive early to participate in fun pirate or mermaid makeovers! The makeovers include facial makeup and various accessories that will have guests looking and feeling like our performers. Our Join the Crew experience is available for visitors of all ages for an additional fee.
2. Pirate Treasure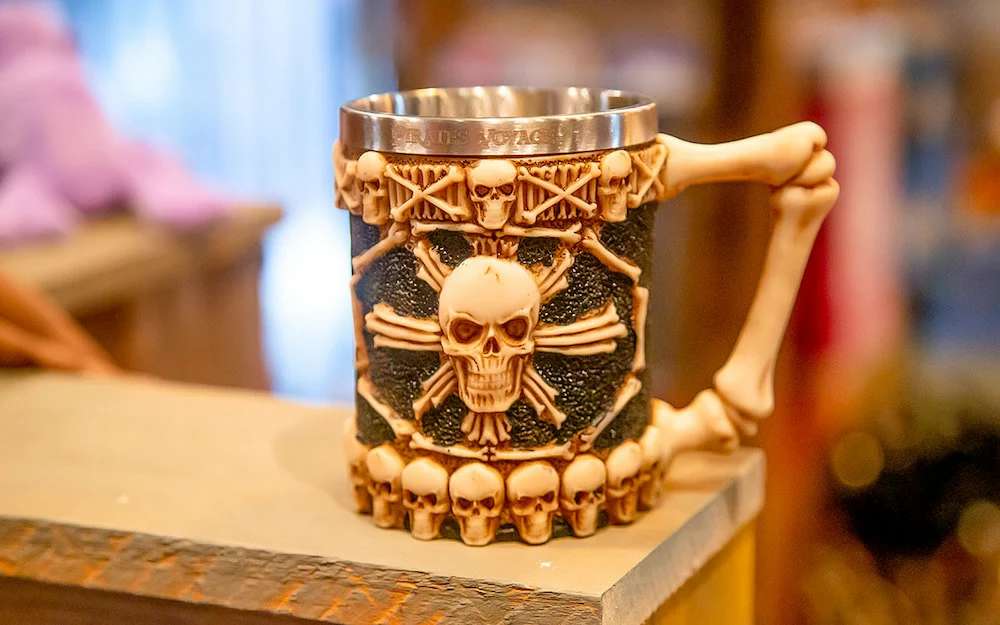 During the show, the Crimson and Sapphire crews are fighting over sunken treasure, but you can find treasure of your own in our gift shop without having to go to battle! Pirates Treasure is home to unique souvenirs, toys, apparel, and more. Captain Blackbeard's stash of gifts includes everything from handcrafted pirate ships and ceramic mermaids to plush toys and playful swords. There's a piece of treasure for everyone in the family!
3. Beautiful Mermaid Performance
We're sure you know that our Myrtle Beach pirate show features a pirate battle, but pirates aren't the only talented performers you'll get to see when you visit. Our beautiful mermaids put on an incredible performance during the show before diving back into the sea. Enjoy acrobatics and aerial stunts, high-diving, and more.
4. Salty the Sea Lion
Did you know we also have live animals at Pirates Voyage? Salty the Sea Lion steals the show! Watch as Salty shows off his impressive moves and tricks and helps a castaway win a battle with Captain Blackbeard. If you love Salty, then you're sure to love our other live animal performers, like our daring, diving dogs and our tropical birds.
5. Exciting Fire Act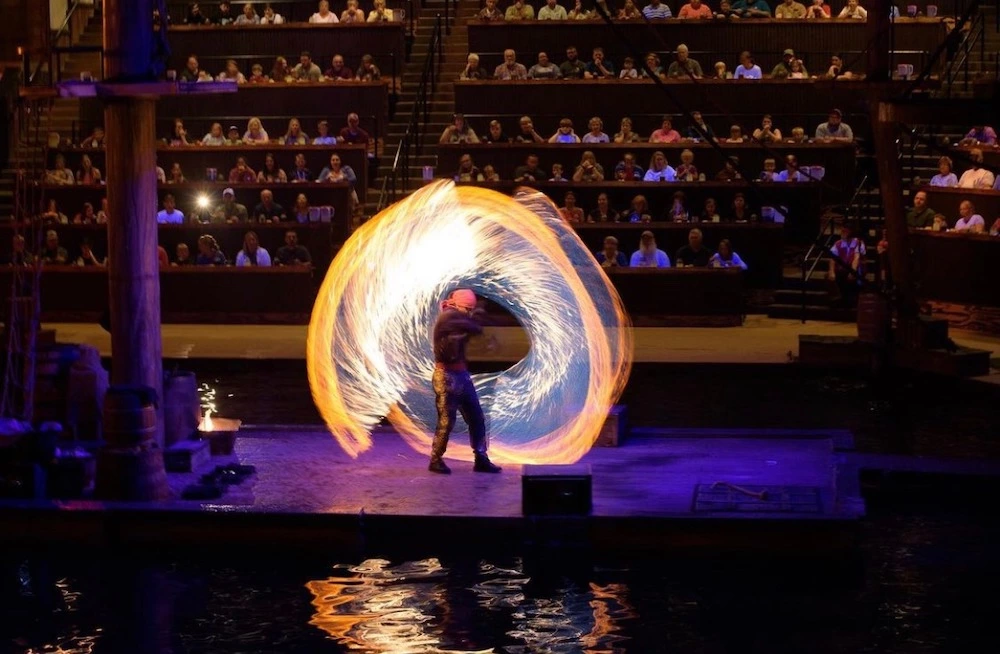 Sword fights and aerial stunts aren't the only tricks we have up our sleeves at Pirates Voyage! We also have a thrilling fire act that will have everyone's eyes glued to the stage. This act is one of the most exciting parts of the show. You'll have to see it to believe it!
6. Four-Course Pirate Feast
We're not your typical dinner show — our Myrtle Beach pirate show serves up a hearty, four-course feast that is sure to please everyone in your crew! You won't be able to get a meal quite like this anywhere else in Myrtle Beach. The feast begins with our Voyager Creamy Vegetable Soup and Buccaneer Bread, then you'll be served Half O' Roasted Cackler (chicken), Swashbucklin' Sugar-Cured Ham, Cob O' Buttery Corn, an Herb-Basted Potato, and Apple O' Me Eye Pie. We also have specialty meals available upon request so that all dietary preferences can be accommodated.
7. Special Christmas Show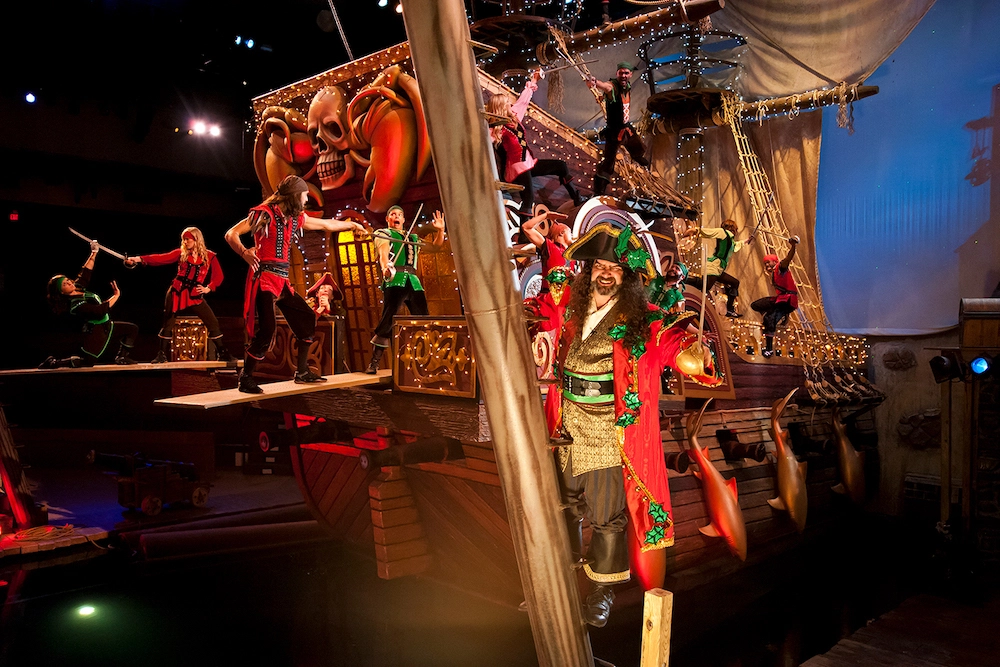 We sure know how to celebrate the holidays at Pirates Voyage. During the Christmas season, visit our Myrtle Beach dinner attraction for a pirate twist on a Christmas classic. Giant toys come to life and perform amazing acrobatics high above our indoor lagoon, a beautiful angel appears with a special message for both landlubbers and pirates, and the Mystical Christmas Spirit takes Captain Scrooge on a journey to find the meaning of Christmas. This unique holiday performance is one you don't want to miss.
Visit Our Myrtle Beach Pirate Show
Now that you know what sets our Myrtle Beach pirate show apart from all the other shows in the area, we bet you can't wait to experience these unique things for yourselves! Take a look at our Pirates Voyage show schedule, then get your tickets today.