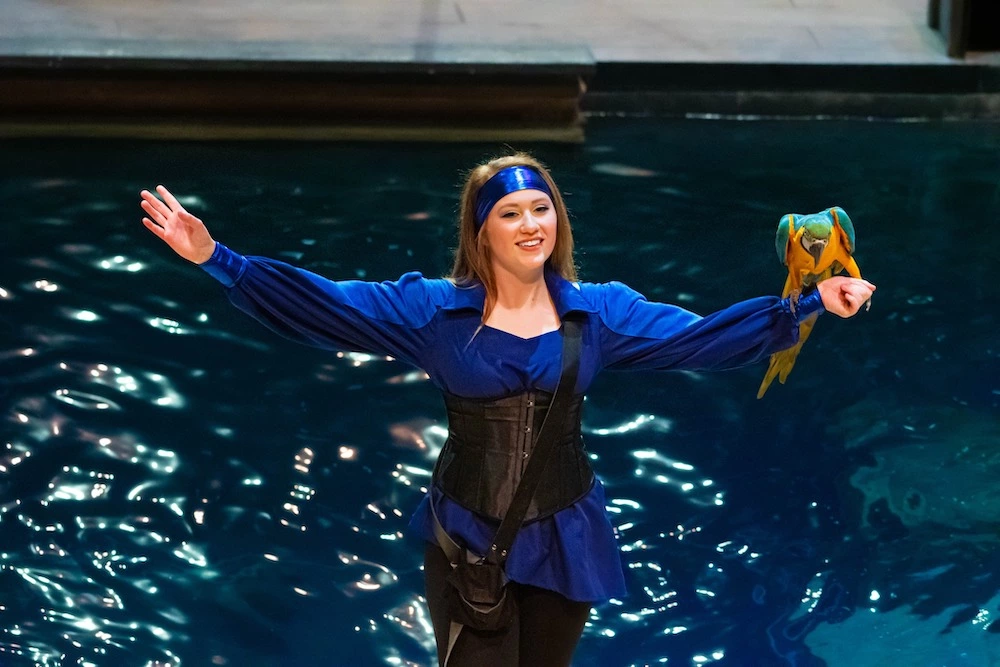 4 Unique Features of Our Pigeon Forge Dinner Attraction
January 12, 2023
Pirates Voyage Dinner & Show in Pigeon Forge is so much more than any ordinary dinner show. We're an incredible dinner attraction that provides non-stop entertainment for visitors of all ages, along with a four-course pirate feast you won't find anywhere else. Our unique features help set us apart from other shows and make us a can't-miss attraction. To help you learn more, we've made a list of 4 unique features of our Pigeon Forge dinner attraction:
1. Our Indoor Hideaway Lagoon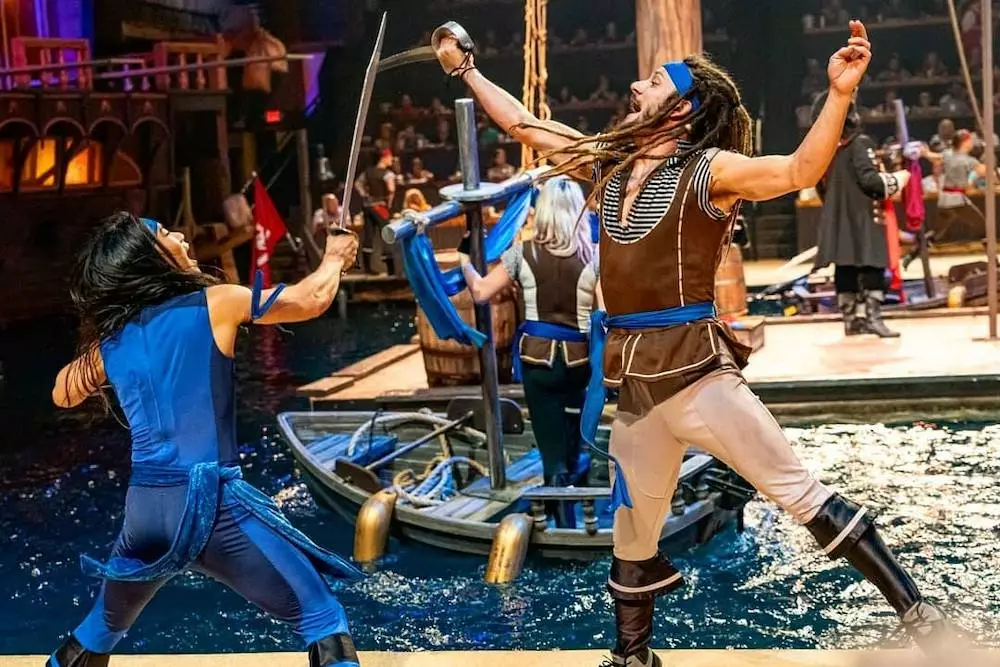 Don't expect a normal stage when you visit Pirates Voyage — our attraction features an indoor hideaway lagoon! You won't see anything else like it in Pigeon Forge. Our lagoon is 15 feet deep and creates the perfect setting for an epic pirate battle. It also allows us to include high-diving stunts in our show! Our mermaids put on a beautiful performance before diving back into the sea. Our pirates also battle in the water for the hidden treasure! The indoor hideaway lagoon helps make our show even more exciting for all of our guests.
2. Two Full-Sized Pirate Ships
Sitting in our indoor hideaway lagoon, you'll see two full-sized pirate ships! The ships make the perfect stage for an action-packed pirate adventure. The Crimson and Sapphire crews battle on land, on deck, in water, and high above the pirate ships! The ships help our performers bring the pirate battles to life as they sword fight, show off aerial and acrobatic tricks, perform fire stunts, and more. We promise you won't find another stage like this anywhere else in town.
3. Salty the Sea Lion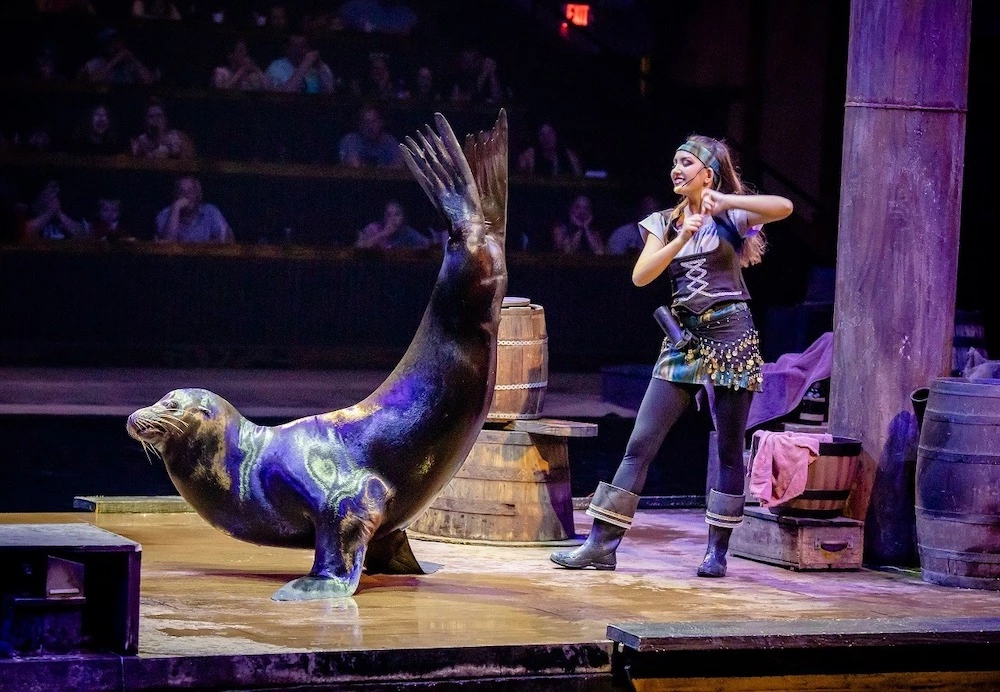 It's no secret that our pirates and mermaids are talented, but it's our sea lion performer who really steals the show. Salty the Sea Lion has become one of the audience's favorite acts! He loves showing off his dance moves and other fun tricks. In addition to Salty, our show also features other live animal performers. We have dock-diving dogs and tropical birds for the audience to enjoy as well!
4. Join the Crew Makeovers
We don't just entertain you during the show! Be sure to arrive early to our Pigeon Forge dinner attraction for the opportunity to "Join the Crew." With our Join the Crew experience, landlubbers can transform into swashbuckling pirates or beautiful mermaids. These makeovers include facial makeup and accessories. Choose to be a pirate to get a bandana or pirate hat, earring and eye patch, and sword and flag. Or, choose to be a mermaid and get a tiara, earrings, and a wand and flag. Your children's faces will light up, and they'll feel like they're a part of the show!
About Our Pigeon Forge Dinner Attraction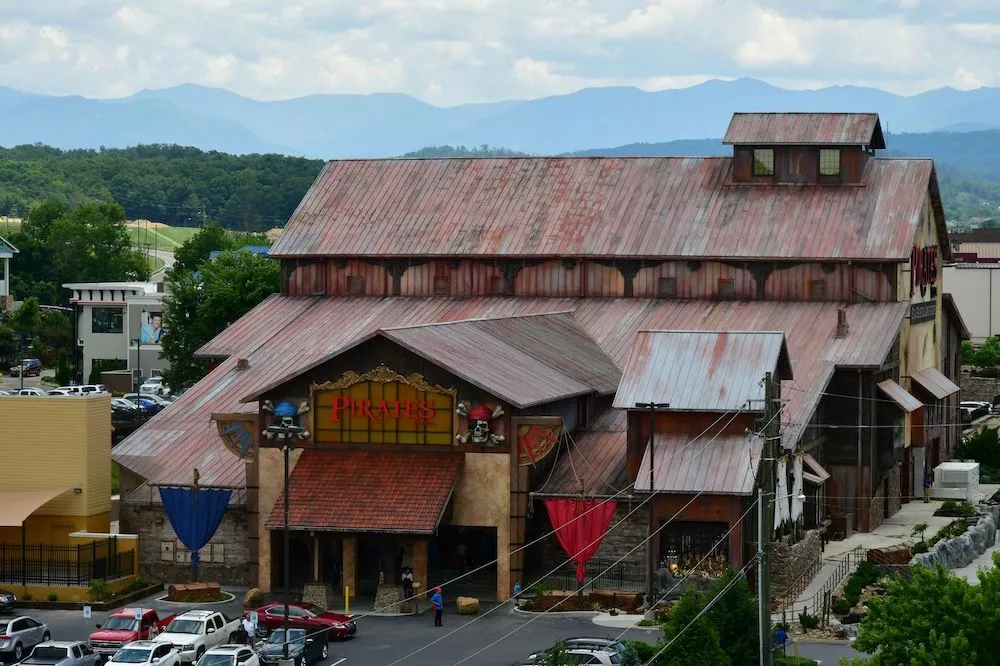 Now that you know about the unique features of our Pigeon Forge dinner attraction, we bet you can't wait to see the show for yourselves. When you visit Pirates Voyage, you can expect an epic pirate battle, along with a hearty pirate feast. Our dinner includes everything from our Voyager Creamy Vegetable Soup, to Cracklin' Pan-Fried Chicken, to a Walk the Plank Specialty Dessert! You can enjoy it all while you watch the pirate action unfold!
Are you ready to start planning a visit to Pirates Voyage? Take a look at our upcoming show schedule!