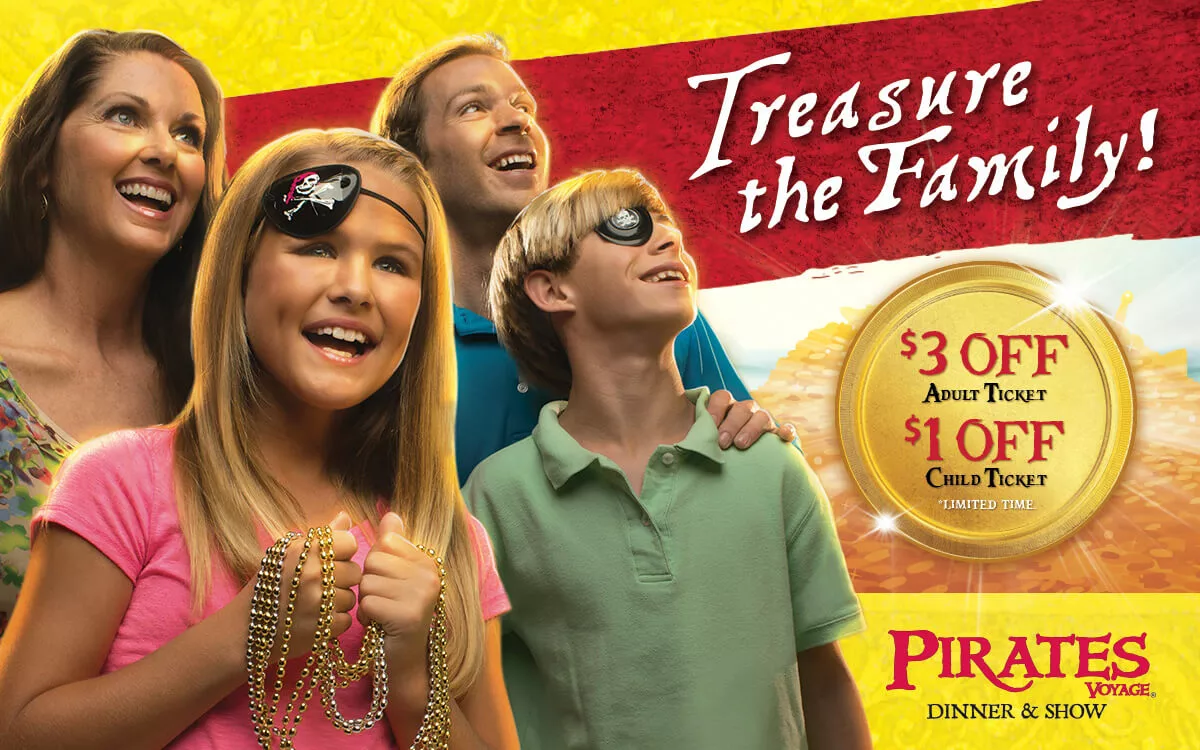 Treasured family memories be waitin' for ye at Pirates Voyage!
March 16, 2018
Make treasured family memories with yer crew at Pirates Voyage in Myrtle Beach!
Are you planning a fun vacation night for ye whole family? Making everyone happy is easy when you book your tickets at Pirates Voyage. Your kids, teenagers and even the grandparents will be talking about this swashbuckling night together for years to come.
Pirates Voyage Dinner & Show
Main Show & Feast
Join Captain Blackbeard, the most famous pirate to ever sail the seven seas, and his quartermaster Calico Jack as they lead the Crimson and Sapphire crews in an epic battle for lost treasure on land, on deck, in water and high above full-sized pirate ships in a 15 foot deep indoor hideaway lagoon.
Plus, enjoy our Four Course Pirate Feast featuring Voyager Creamy Vegetable Soup, Buccaneer Bread, Half O' Roasted Cackler (Chicken), Captain BBQ Pork, Cob O' Buttery, Pirate Herb-basted Potato, Apple O' Me Eye Pie and Unlimited Coca-Cola®, tea or coffee. Vegetarian & Gluten Free Meals are available by request. Please mention at time of reservation.
Pre-Show
In addition to the main show, you also receive admission to the exciting pre-show** featuring a real pirate sing-a-long of all yer favorite seaside songs, amazing balancing acts, fantastic juggling, live animals, audience participation and much more. Thar be a ton of fun fer yer whole crew!
**Pre-show begins 50 minutes prior to your scheduled show time.
"Coca-Cola®" is a registered trademark of The Coca-Cola Company.
Before the sun sets on your time at the beach, visit Pirates Voyage "The Most Fun Place To Eat!"