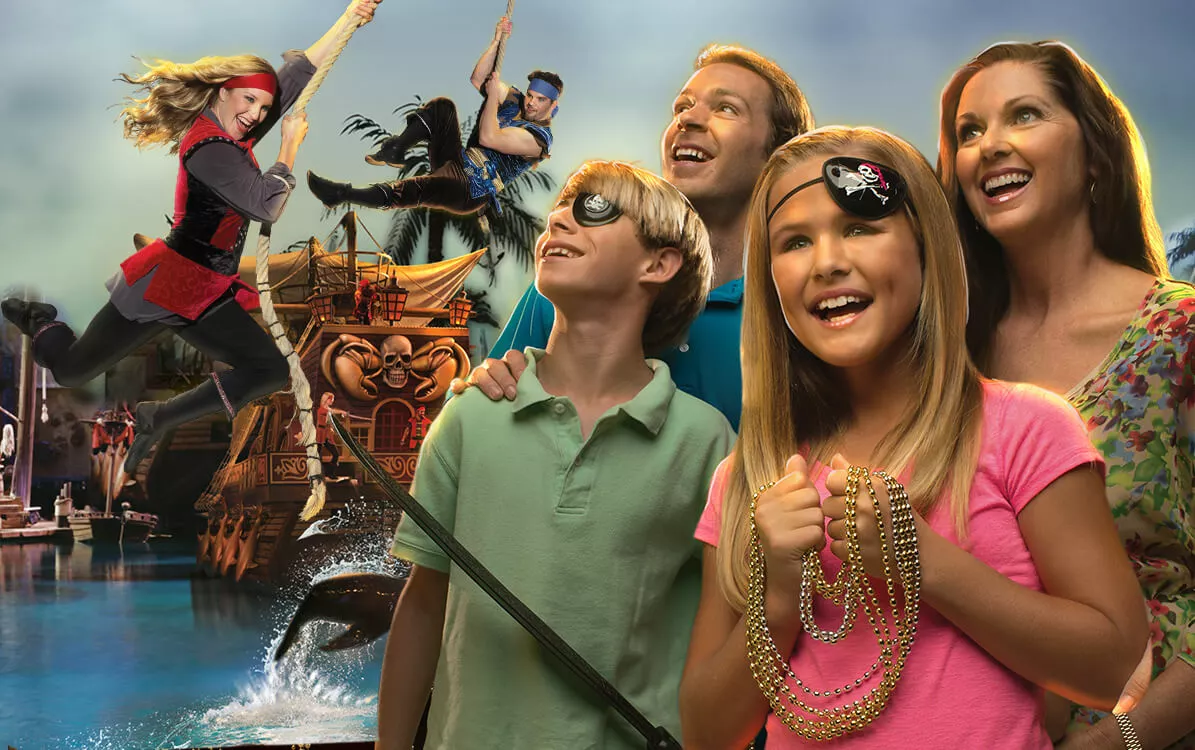 'Tis the Season for Fun, Feast & Adventure!™
November 4, 2021
Sail Into a Season of Adventure at Pirates Voyage Dinner & Show
Celebrate all of the things that make the holidays special at Pirates Voyage Dinner & Show in Pigeon Forge, TN! Embark on a fun family adventure as the Sapphire and Crimson crews take you on an epic, swashbuckling spectacular and create lasting memories for the entire family!
Celebrate the Pirate Spirit
Nothing makes the holidays more special than spending quality time with family. And, one of the best times your family can have together is at Pirates Voyage Dinner & Show! With daring sword fights, blazing cannons, mystical mermaids and much more, Pirates Voyage combines fun, fantasy and adventure to make for an unforgettable dinner experience worth visiting year after year.
Set sail with Captain Blackbeard and his crew of pirates as they scale high above two full-sized pirate ships in a "fight" to win Davy Jones' coveted sunken treasure. Beautiful mermaids gracefully perform high above the water before diving and disappearing back into Buccaneer Bay, while a couple of castaways that include a "Salty" sea lion win a battle with Captain Blackbeard through clever antics and pirate wit. A crew of heroic characters will have guests cheering and experiencing thrills around every corner in an epic battle for lost treasure on land, on deck, and in the water of the show's 15-foot-deep indoor lagoon.
Me Hearties Feast
It wouldn't be the holiday season without having a bountiful meal with family. Me Hearties Feast will satisfy even the most hungry swashbucklers right as the action begins! This delicious four-course feast includes a Buccaneer Biscuit, Voyager Creamy Vegetable Soup, Cracklin' Pan-Fried Chicken, Sugar-Cured Ham, Corn on the Cob, Herb-Basted Potato, Walk the Plank Peach Turnover and unlimited Coca-Cola®, tea, or coffee.
Savory vegetarian, gluten-free, vegan and dairy-free meals are available upon request at the time of reservation.
Visit Pirates Voyage Dinner & Show during your trip to Pigeon Forge and celebrate the Fun, Feast & Adventure™ of the holiday season!