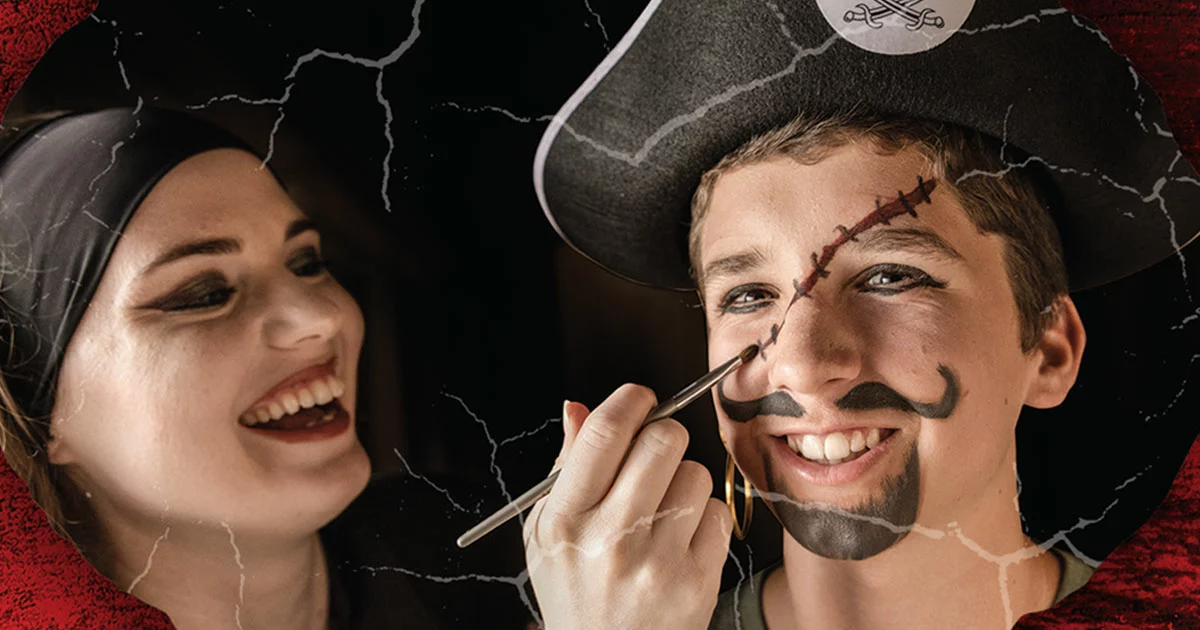 4 Things You'll Love About Our Join the Crew Makeovers at Pirates Voyage in Myrtle Beach
July 27, 2022
Would you love the chance to feel like part of all the action at Pirates Voyage Dinner & Show? Take advantage of our Join the Crew experience before the show! Captain Blackbeard is searching for new recruits for his crew, and you could become one of them. When you Join the Crew, you'll be transformed into a swashbuckling pirate or a beautiful mermaid. Learn the top 4 things you'll love about our Join the Crew makeovers at Pirates Voyage in Myrtle Beach here:
1. Transform into a Pirate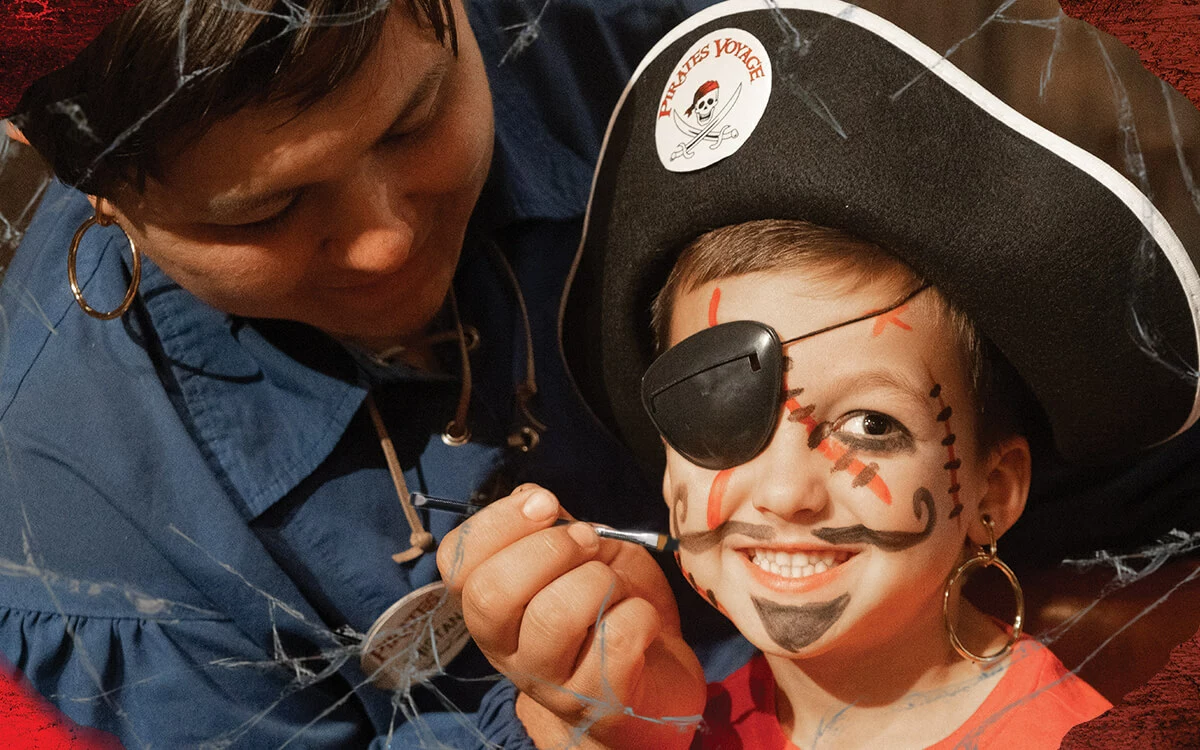 Ahoy, matey! You'll love being transformed into a pirate during our Join the Crew makeovers. We use facial makeup to turn any ordinary landlubber into a swashbuckling pirate. In addition to facial makeup, our pirate transformations include accessories! You'll get a bandana or pirate hat, an earring and eye patch, and a sword and flag. You'll look and feel just like one of our pirate performers!
2. Transform into a Mermaid
Would you rather transform into a beautiful mermaid? You'll love the option to turn into a mythical mermaid! We use facial makeup to make you look just like our talented mermaids in our show. Like our pirate makeovers, our mermaid transformations include accessories! You'll get a tiara, earrings, and a wand and flag!
3. Feel Like You're Part of the Show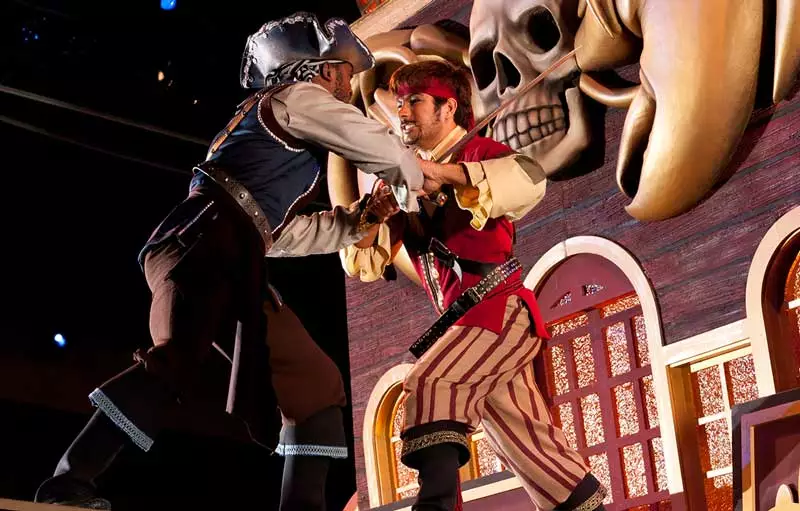 The reason our Join the Crew makeovers at Pirates Voyage in Myrtle Beach are loved by everyone is because they give guests the feeling that they're a part of the show! Once you're a member of the crew, you'll love watching our talented cast perform acrobatics, aerial stunts, and more.
4. Whole Family can Join
Our Join the Crew makeovers might be the most popular among children, but that doesn't mean adults can't enjoy them too! Everyone 3 years and older can participate in our transformations for an extra fee. You can turn into a family of pirates, a family of mermaids, or a mix of both! Be sure to take plenty of pictures of everyone when the transformations are complete. Family photos make the perfect souvenirs!
About Pirates Voyage in Myrtle Beach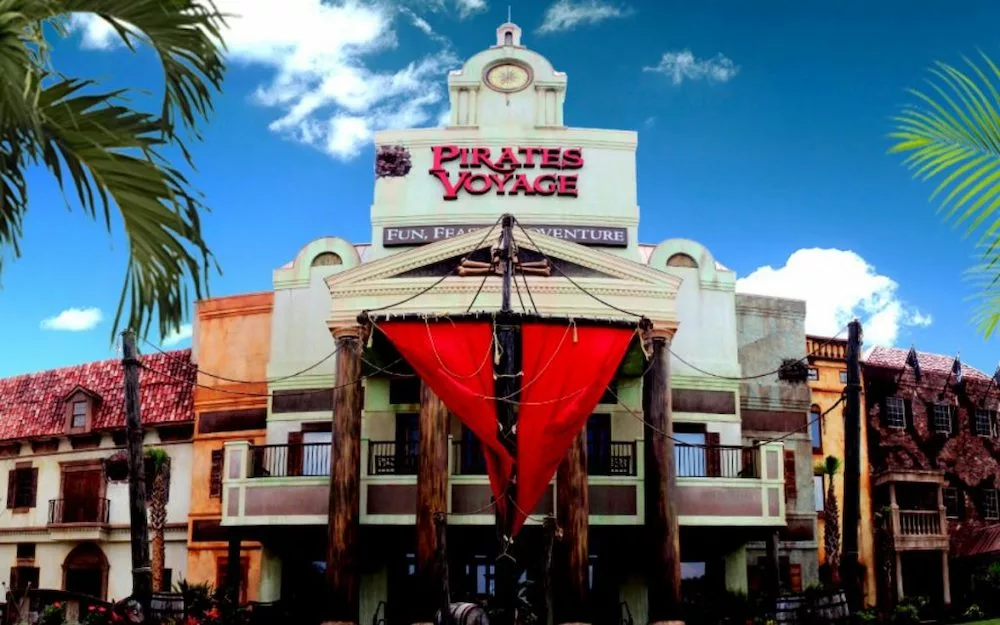 After your exciting makeovers, it's time to take your seats and enjoy the show! You'll be served a mouthwatering pirate feast, including everything from Voyager Creamy Vegetable Soup, to Half O' Roasted Cackler, to Apple O' Me Eye Pie. While you eat, your eyes will be glued to all the action! Captain Blackbeard and Calico Jack lead their crews in an epic battle for the hidden treasure, which includes sword fights, cannons, high dives, and more. You'll also see mermaids, diving dogs, birds, and Salty the Sea Lion!
Are you ready to Join the Crew at Pirates Voyage in Myrtle Beach? Take a look at our show schedule, and start planning your visit!