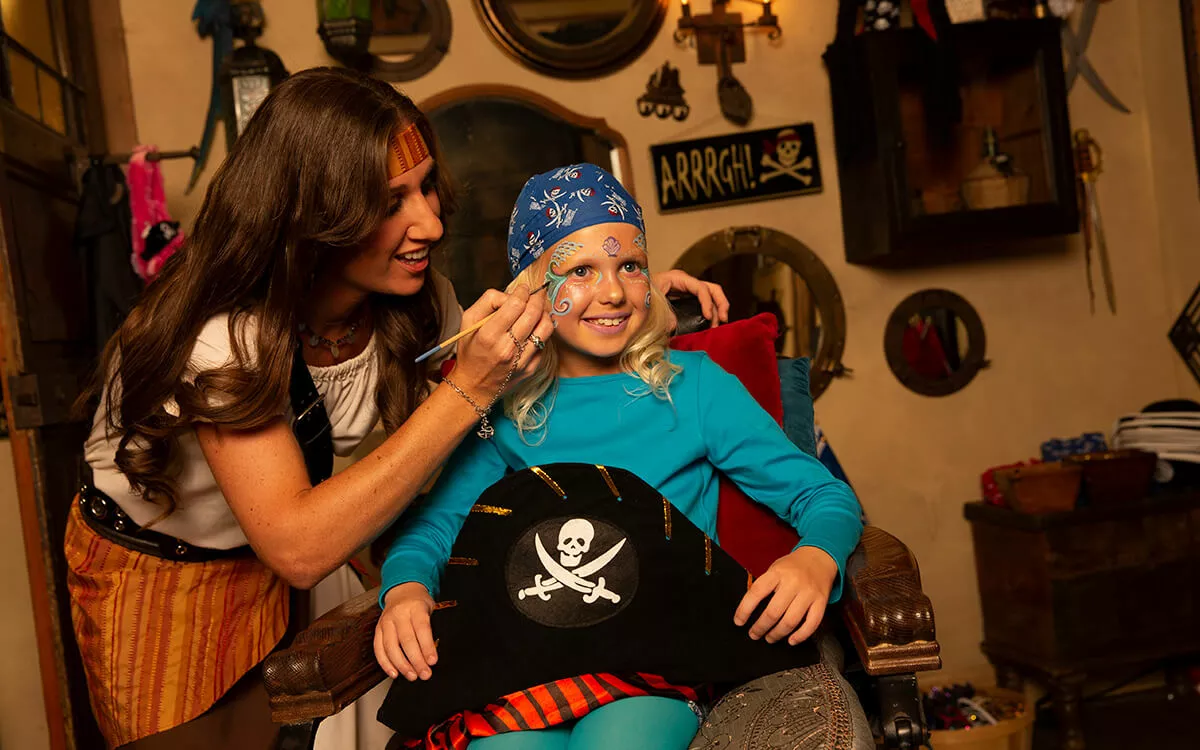 4 Things to Know About Our Pirate Dinner Show in Myrtle Beach
June 27, 2022
Pirates Voyage Dinner & Show is an attraction you don't want to miss when you visit Myrtle Beach. We like to consider ourselves to be the most fun place to eat in the area! Guests of all ages love the opportunity to celebrate the pirate spirit with our action-packed show. To help you learn more about us, we've made a list of 4 things to know about our pirate dinner show in Myrtle Beach!
1. Fun Makeovers Before the Show
Did you know that the fun begins before the show even starts? You'll want to arrive early to make sure you don't miss out on the chance to get a makeover! We offer makeovers before the show to allow our guests to feel like they're a part of all the action. Our makeovers include face painting and accessories to transform kids (and parents!) into pirates or mermaids. After your makeovers, head to the gift shop for some pirate treasure!
2. More Than Just Pirates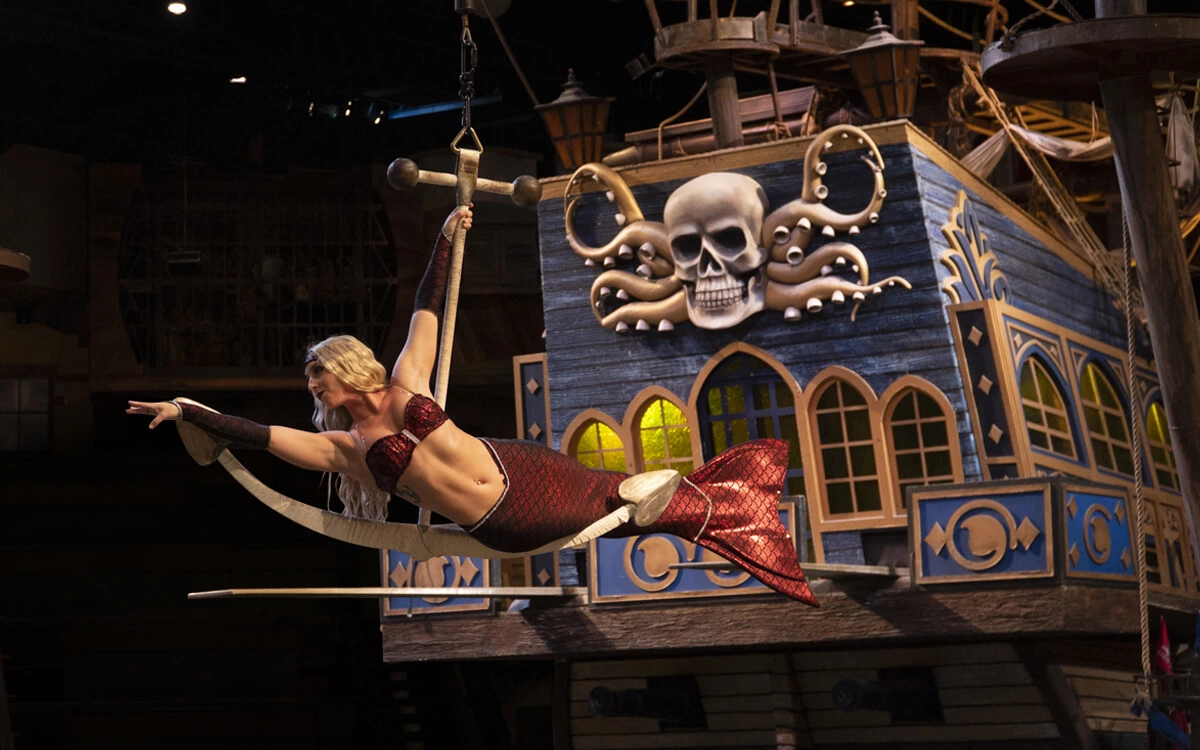 One thing that makes our pirate dinner show special is that we have more than just pirates. Of course, you'll be able to watch an epic pirate battle on land, on deck, in water, and high above the full-sized pirate ships, but that's not all! Our show also features beautiful mermaids, tropical birds, dock-diving dogs, and even sea lions. Watch acrobatics, high-diving stunts, animal tricks, and more!
We can't forget to talk about our delicious four-course dinner. While you watch the show, you can feast on Voyager Creamy Vegetable Soup, Buccaneer Bread, Half O' Roasted Cackler (Chicken), Swashbucklin' Sugar-Cured Ham, Cob O' Buttery Corn, Pirate Herb-Basted Potato, and Apple O' Me Eye Pie. You better bring your appetite when you come to visit us!
3. Great for Groups
Are you looking for the perfect attraction for your large group? Look no further than Pirates Voyage Dinner & Show! Our pirate dinner show in Myrtle Beach loves welcoming groups. We offer special discount pricing to crews of 20 people or more. We're happy to accommodate groups as large as 940 people for family reunions, church retreats, field trips, or other group outings. We even have an upstairs area with its own bar and restrooms and an outdoor balcony. Groups may also take advantage of banquet services, themed meeting space, dedicated dinner shows, and two meeting areas. Are you interested in visiting with a group? Fill out our group information form.
4. Convenient Location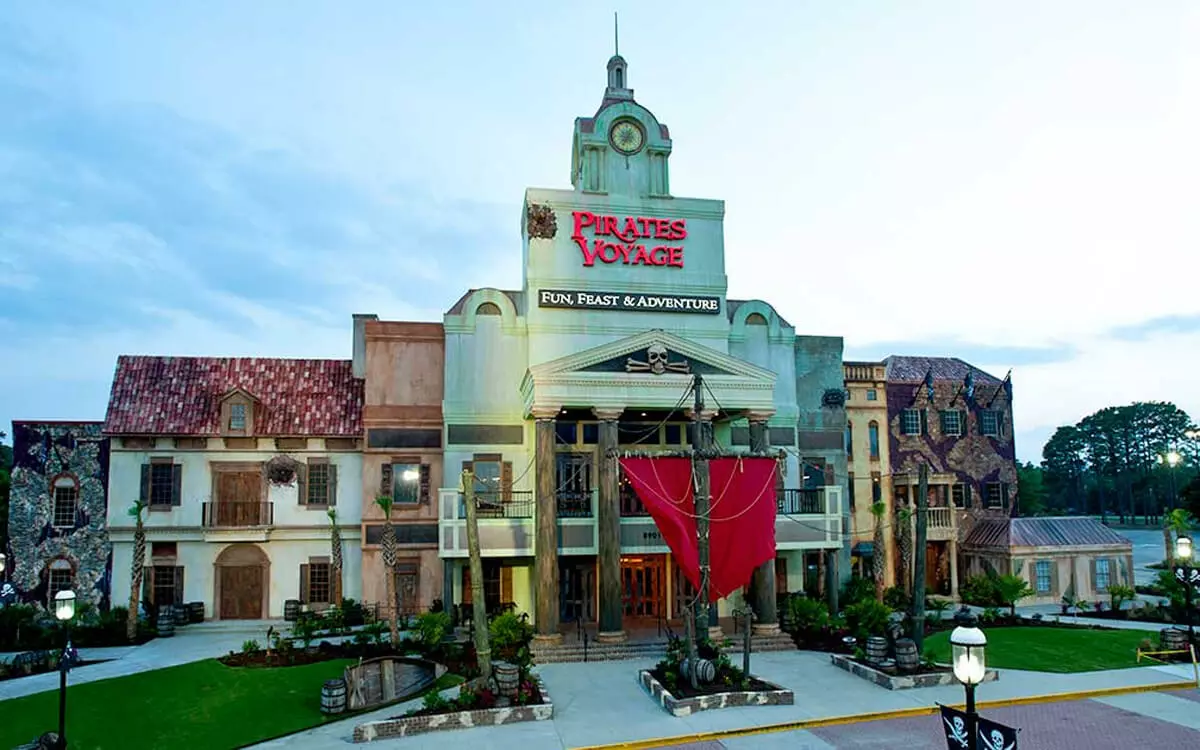 Pirates Voyage Dinner & Show has a great location in Myrtle Beach! We're conveniently located on North Kings Hwy., just minutes from North Myrtle Beach. We're only 3 miles from the ocean, 5 miles north of Broadway at the Beach, and 5 miles South of Barefoot Landing. We're also a short drive from many of the most popular hotels and attractions!
Visit Our Pirate Dinner Show in Myrtle Beach
Now you know some of the most important things to know about Pirates Voyage Dinner & Show. That means you're ready for a visit! Take a look at our pirate dinner show schedule, then get your tickets.