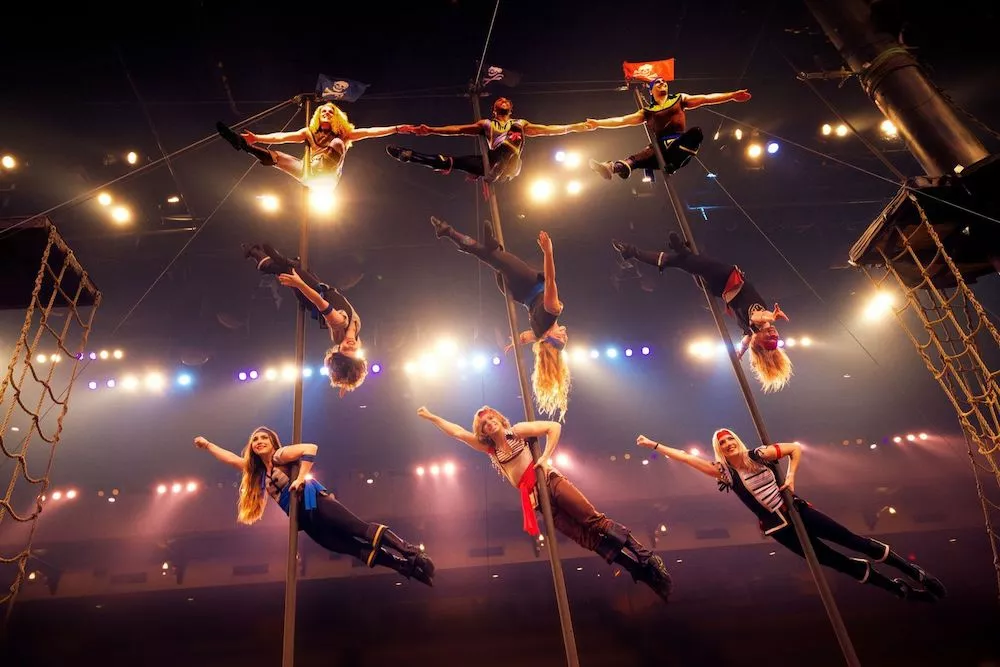 3 Things to Know About Our Myrtle Beach Show Schedule
August 18, 2023
Pirates Voyage Dinner & Show is one of the most popular shows in Myrtle Beach! We love entertaining visitors as we set sail on an epic journey filled with high seas escapades and romance. We want to make sure you don't miss out on the opportunity to see our show while you're in town, so we've put together a list of 3 things to know about our Myrtle Beach show schedule:
1. Multiple Shows a Day During the Busy Season
Because of its popularity, our show tends to sell out quickly! To give more people the opportunity to visit us, we offer multiple shows a day during the busy season! You can choose to see our show in the late afternoon or the evening. Be sure to book your tickets in advance to guarantee you get the ideal show date and time. Even if you don't plan on visiting during the busy season, we still provide great opportunities each week for everyone to see our show! Our show runs from select days in February through December.
2. Holiday Show in November + December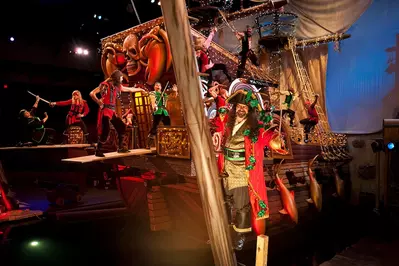 During the holiday season, we have a whole new show for guests to enjoy on our Myrtle Beach show schedule! Get into the Christmas spirit at Pirates Voyage Dinner & Show. During our incredible Christmas show, the Mystical Christmas Spirit takes Captain Scrooge on a journey through time and space to find the true meaning of Christmas. Guests will get to cheer along as giant Christmas toys come to life and perform amazing acrobatics high above our indoor hideaway lagoon. The performance also features a beautiful live nativity and an angel who delivers a special message for landlubbers and pirates alike. And we can't forget to mention our mouth-watering holiday feast everyone will get to enjoy! It'll be a Christmas to remember when you get tickets to Pirates Voyage Dinner & Show in November or December.
3. Makes It Easy to Book Online
Another important thing to know about our Myrtle Beach show schedule is that it makes it easy to book online. Getting your tickets online ahead of time has many benefits for visitors. Our show is popular and can sell out quickly. Purchasing tickets online guarantees you get to see the show at the time you want! You'll be able to view all of our available shows through the end of the season and plan your trip around when you'll see our show. When you go to purchase your tickets online using our show schedule, you'll also have the opportunity to choose whether you're Team Sapphire or Team Crimson and which ticket type you'd like. Our Regular Admission includes our show and four-course feast, our premium admission includes our show, four-course feast, and premium seating, and our VIP Admission includes our show and four-course feast, front row seating, an exclusive meet and greet with a cast member, a souvenir photo digital download, a cheering flag, and a VIP lanyard. All you'll have to do the day of the show is pick up your tickets at our box office and head inside to set sail on an action-packed adventure!
About Our Myrtle Beach Show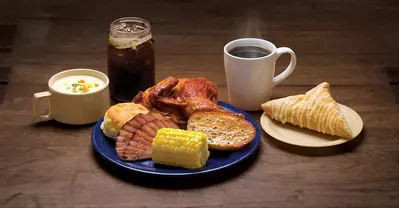 Now that you know more about our Myrtle Beach show schedule, it's time to share more about our show with you! Pirates Voyage Dinner & Show tells the tale of the Crimson and Sapphire crews as they battle for the coveted pirate treasure. The crews battle on land, on deck, in the water, and high above their full-sized pirate ships in Buccaneer Bay. You'll witness high seas escapades and romance, sword fighting and cannons blazing, and high-diving and acrobatics. Joining the pirates on their adventure are beautiful mermaids, tropical birds, salty sea lions, and diving dogs. While you watch, enjoy a four-course feast fit for a pirate with Voyager Creamy Vegetable Soup, Swashbucklin' Sugar-Cured Ham, Half O' Roasted Cackler, and more.
You're in for an evening you won't forget when you visit Pirates Voyage Dinner & Show! Take a look at our Myrtle Beach show schedule to plan your adventure today.