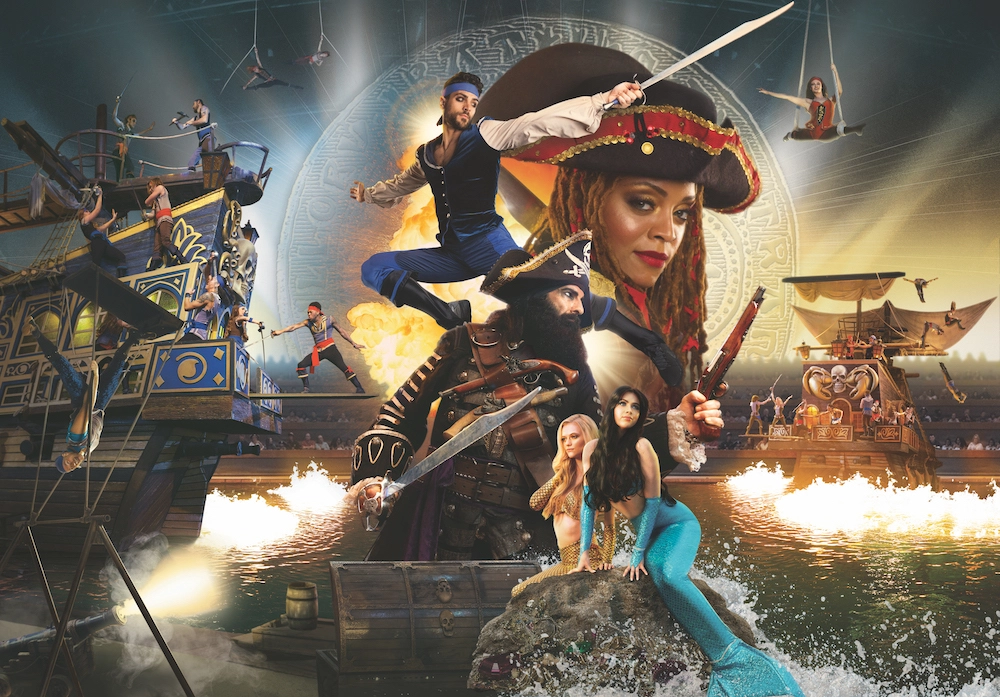 Top 4 Things to Do in Myrtle Beach for First-Time Visitors
July 21, 2023
Whether you're planning a fun family vacation, a romantic getaway, or a group trip, Myrtle Beach provides the perfect destination with something for everyone. If you've never been to the area before and are wondering what to do while you're in town, we're here to help make sure you don't miss out on any of the top attractions! Here are the top things to do in Myrtle Beach for first-time visitors:
1. Pirates Voyage Dinner & Show
What's a trip to Myrtle Beach without visiting the best dinner attraction in town? Pirates Voyage Dinner and Show is the most fun place to eat in Myrtle Beach! The pirate spirit comes alive with plenty of fun and adventure in this action-packed show. Watch as pirates battle on land, on deck, in the water, and in the air above their full-sized pirate ships! You'll witness sword fighting, pyrotechnics, singing and dancing, acrobatics, and more. Beautiful mermaids, tropical birds, daring dogs, and a salty sea lion join in the quest for the sunken treasure as well! While you watch the high seas escapades unfold, you'll feast on a four-course meal fit for hungry pirates and landlubbers. The menu features Voyager Creamy Vegetable Soup, Buccaneer Bread, Half O' Roasted Cackler (Chicken), Swashbucklin' Sugar-Cured Ham, Cob O' Buttery Corn, Herb-Basted Potato Wedge, and Apple O' Me Eye Pie! Getting to experience this incredible pirate adventure is one of the best ways to enjoy your first time in Myrtle Beach.
2. Go for a Sunrise Stroll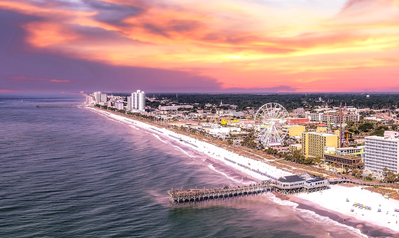 When you visit Myrtle Beach, you're going to want to spend time taking in the beautiful views. We recommend waking up early one day of your vacation and going for a walk along the beach. Nothing beats the sunrise scenery as the darkness fades to light and shades of orange, purple, and yellow cover the sky. There's a peacefulness to the ocean and the beach in the early morning hours that you won't witness any other time of day. Be sure to bring your phone or camera with you so you can capture the beauty.
3. Visit Broadway at the Beach
Broadway at the Beach is another one of the can't-miss things to do in Myrtle Beach for first-time visitors, partly because it has so much to offer all in one place. You can go for a stroll and stop by some of the many shops to purchase souvenirs, apparel, toys, and more. We recommend visiting Ripley's Aquarium while you're there and getting an up-close look at amazing sea creatures like sharks, sea turtles, and rays. Unique to this Myrtle Beach aquarium is Sloth Valley, where you'll come face-to-face with a pair of two-toed sloths! Another popular attraction at Broadway at the Beach is WonderWorks. It's hard to miss — all you have to do is look for the upside-down building! Inside, you'll find 41,000 sq. ft. of education and entertainment with more than 100 hands-on exhibits. Visitors of all ages will find something to love at Broadway at the Beach.
4. Enjoy the Beach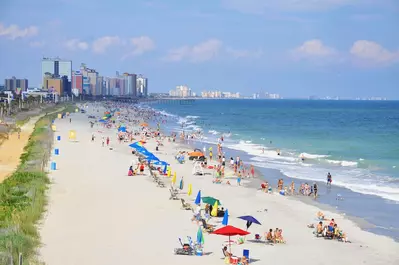 You can't visit Myrtle Beach and not spend time on the actual beach! It's part of the Grand Strand, a 60-mile strip of beautiful coastline. Build sandcastles, splash in the waves, throw a frisbee — the opportunities for fun are endless. Interested in water adventures? Go surfing, kayaking, jet skiing, or even parasailing! You can also enjoy a breathtaking sunset cruise or a dolphin cruise for the chance to spot your favorite sea animal. Whether you're relaxing with the toes in your sand or having fun out on the water, you'll love spending time at the beach.
These are just some of the top things to do in Myrtle Beach for first-time visitors! Are you ready to start planning your first trip? Take a look at our Pirates Voyage show schedule and get your tickets.