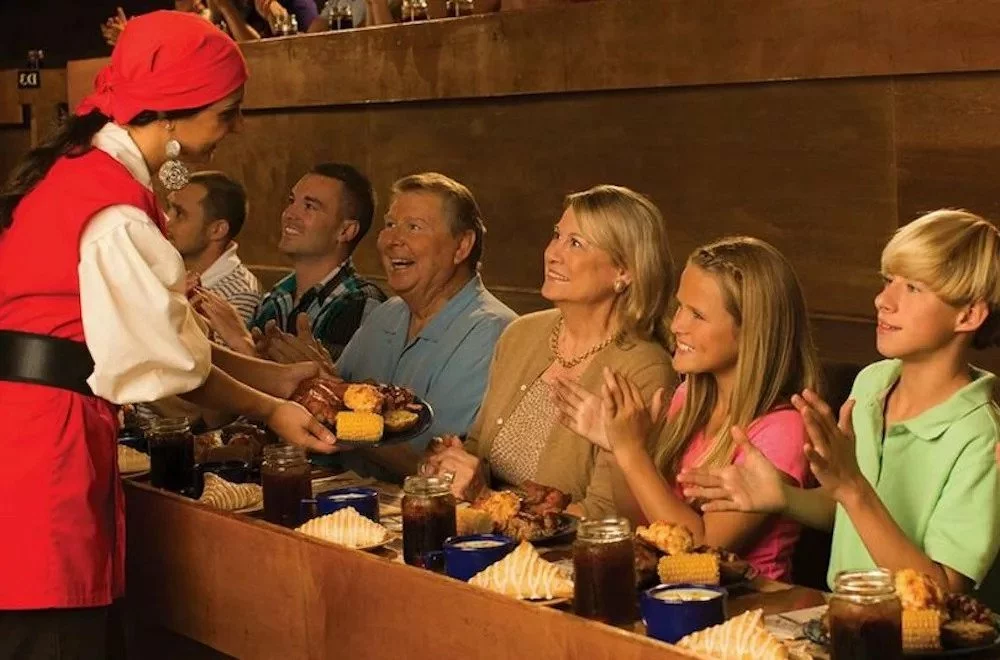 5 Surprising Things About Our Myrtle Beach Dinner Attraction
April 20, 2023
Pirates Voyage Dinner & Show is a one-of-a-kind attraction in Myrtle Beach! Not only do we put on an incredible pirate battle for guests to enjoy, but we also serve up a delicious four-course feast. Whether you're in town with your sweetheart, your family, or your friends, you'll love visiting our popular show! If you've never been to our Myrtle Beach dinner attraction before, there are some things about us that might surprise you. Check out these 5 surprising things about Pirates Voyage in Myrtle Beach:
1. We Don't Only Have Pirates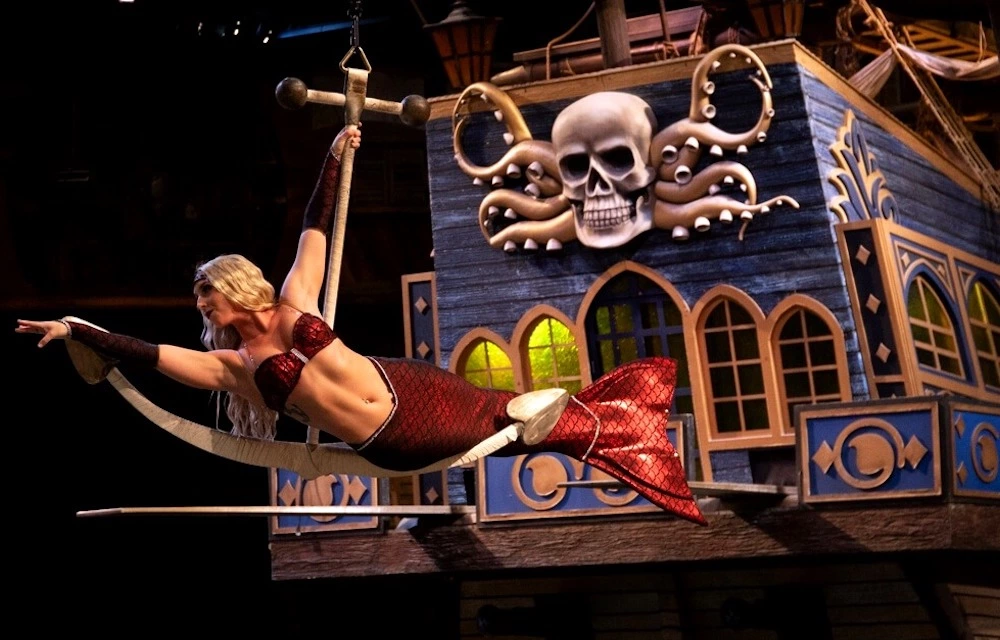 While we do promise to have an epic pirate battle between the Crimson and Sapphire crews as they fight on land, on deck, in water, and high above their pirate ships, our show doesn't only include pirates. They may be the stars of our show, but we also have beautiful mermaids who captivate the audience with their aerial talents before diving back into our 15-foot-deep indoor hideaway lagoon. Before the show, you can take part in our Join the Crew experience and choose to transform into a pirate or a mermaid!
2. We Have Food for Everyone
It's not surprising that we serve up a delicious four-course feast for our guests, but did you know that we have meal options for everyone? Our main feast includes Voyager Creamy Vegetable Soup, Buccaneer Bread, Half O' Roasted Cackler (Chicken), Swashbucklin' Sugar-Cured Ham, Cob O' Buttery Corn, an Herb-Basted Potato, and Apple O' Me Eye Pie. We also offer unlimited Coca-Cola®, tea, or coffee. We want to make sure everyone gets to enjoy the dinner at our attraction, however, which is why we offer special meals for those with dietary restrictions and preferences. We have gluten-free meals available with fruit, chicken, and more, and vegan and vegetarian meals with a vegetable medley, an herb-basted potato wedge, and more. We also have dairy-free meals upon request!
3. We Have Live Animals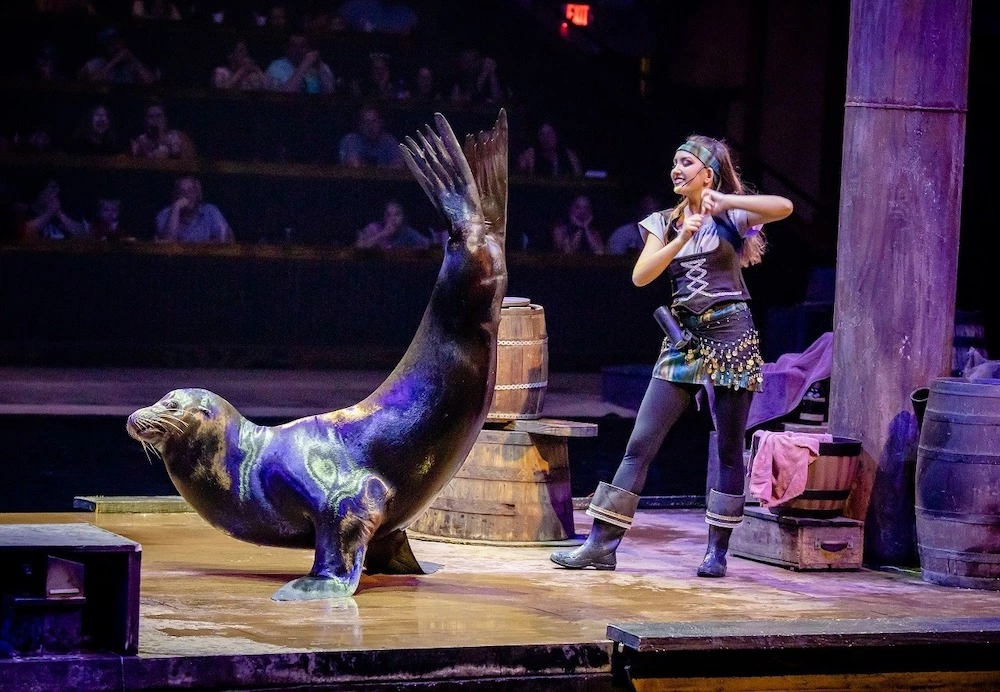 Now you know about the pirates and mermaids at our Myrtle Beach dinner attraction, but did you know we also have live animals? In fact, our sea lion act is one of guests' favorite parts of our show! Watch as Salty shows off his dance moves and clever antics as he wins a battle with Captain Blackbeard. We also have tropical birds and daring, dock-diving dogs! We love our animal performers and make sure they're all well taken care of, working with on-site professionals and a veterinary team to ensure each animal gets the best possible nutrition, environment and care.
4. You Can Take Home a Souvenir
After the show ends, there's one more thing you have left to do — pick up a souvenir! Pirates Treasure, our gift shop, is home to a variety of items that serve as the perfect reminders of what a great time you had at our Myrtle Beach dinner attraction. You can shop before or after the show and choose from a variety of items, including everything from handcrafted pirate ships and ceramic mermaids, to pirate t-shirts and plush animals. If you loved our Voyager Creamy Vegetable Soup, be sure to pick up some of our signature soup mix to take back home with you!
5. We Love Getting in the Holiday Spirit Too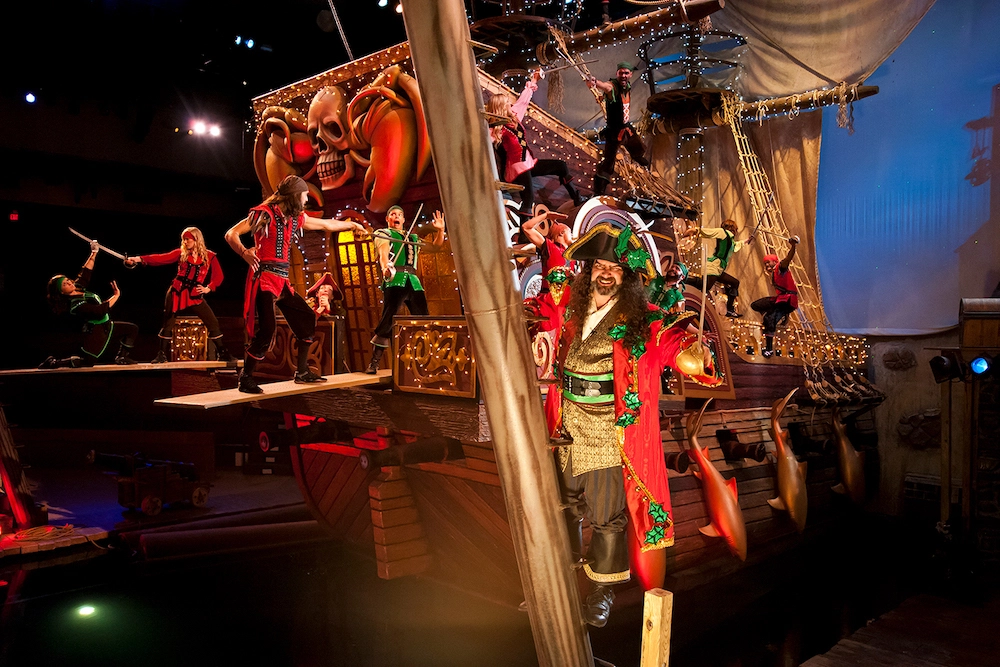 We're sure you've heard quite a bit about our regular season show, but it may surprise you that we actually love getting into the holiday spirit too! Pirates Voyage Dinner & Show in Myrtle Beach puts on a one-of-a-kind Christmas show during the holiday season that puts a swashbuckling twist on a Christmas classic. The show features a battle between the Crimson and Emerald crews, giant Christmas toys that come to life, a live nativity, and a holiday feast. You don't want to miss this show if you visit during the holiday season.
Visit Our Myrtle Beach Attraction
Now that you know these surprising things about our Myrtle Beach dinner attraction, you know everything you need to before visiting! Take a look at our show schedule for Pirates Voyage Dinner & Show, then plan your trip.