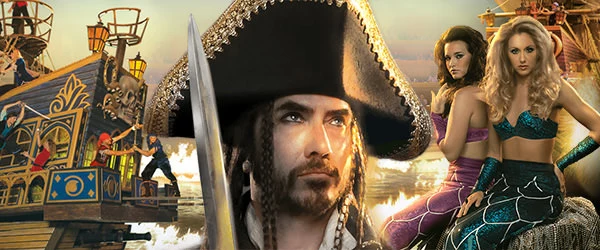 Special Days For Scouts At Pirates Voyage
April 20, 2015
UPDATE: SCOUT DAY 2016 WILL BE MAY 7, 2016 – CLICK FOR MORE INFO
Special Day for Scouts at Pirates Voyage Dinner & Show
Special Rate for Scouts & Troop Leaders
Ahoy, Troop Leaders and Scouts! Pirates Voyage Dinner & Show invites ye to celebrate the pirate spirit Captain Blackbeard, Calico Jack and the Crimson and Sapphire crews at The Most Fun Place to Eat in Myrtle Beach!
On Saturday, May 2nd and May 9th, scouts and troop leaders will receive a special, all-inclusive rate.
The special event includes an educational presentation in Pirates Village, followed by some pirate entertainment. Scouts, troop leaders and their families will then experience swashbuckling fun as Captain Blackbeard and Calico Jack lead the Crimson and Sapphire crews in battle on land, on deck, in the water and high above full-sized pirate ships in our indoor hideaway lagoon. With spectacular acrobatics, live animals, beautiful mermaids and a four-course pirate feast, you'll make memories to last a lifetime!
Book early due to limited seating! Call (800) 433-4401!
*Price for additional family members is $40.13 (inclusive). Deposit is due 30 days prior to show date and the final payment is due 7 days prior to the show date.