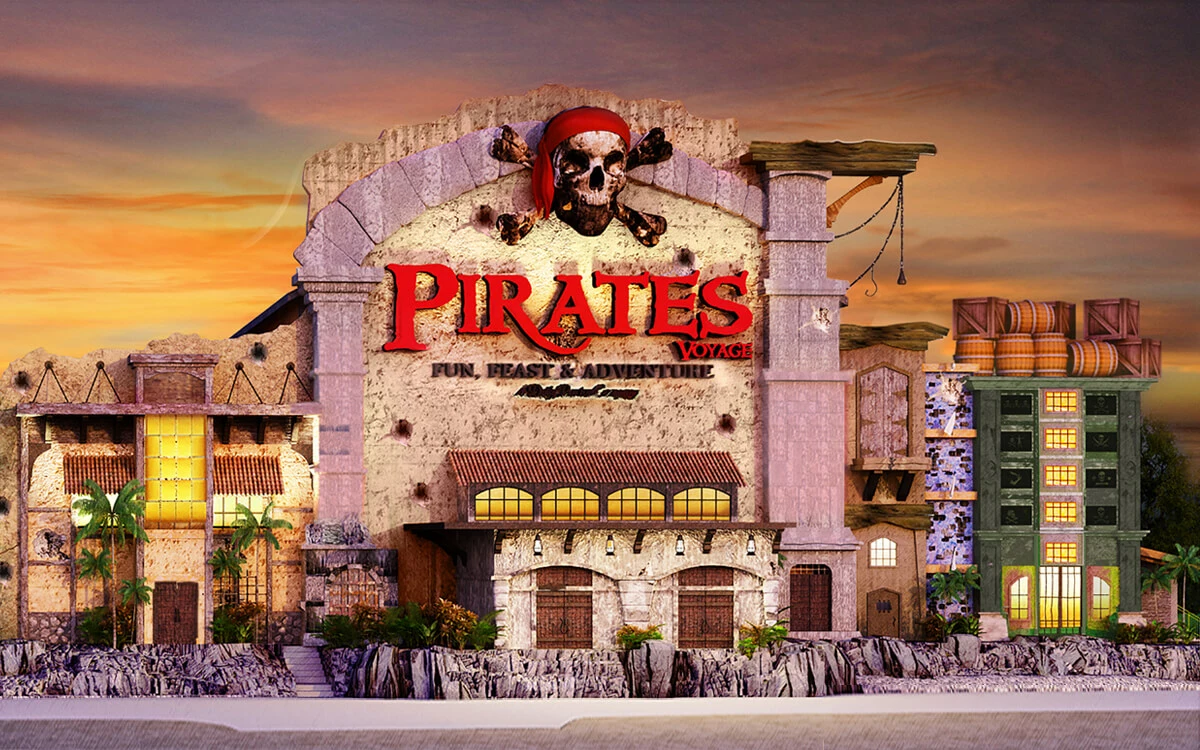 Pirates Voyage Kicks Off Second Season In Pigeon Forge
December 30, 2019
Pirates Voyage Dinner & Show Is Ready For Its Second Swashbuckling Season In Pigeon Forge
After a wildly-adventurous and successful debut in 2019, Pirates Voyage Dinner & Show is in final preparations to set sail for its second swashbuckling season on January 31, 2020.
The uniquely-exciting adventure that is Pirates Voyage combines the thrill of sword fights, cannons and pirates scaling high above two full-sized pirate ships in a "fight" to win Davy Jones' coveted sunken treasure. Beautiful mermaids gracefully perform high above the water before diving and disappearing back into Buccaneer Bay, while a couple of castaways that include a "Salty" sea lion win a battle with Captain Blackbeard through clever antics and pirate wit. A cavalier crew of characters then combines heroics and high-flying fun that will have guests cheering and experiencing thrills around every corner in an epic battle for lost treasure on land, on deck, and in the water of the show's 15-foot-deep indoor lagoon.
In its inaugural season, the cast and crew of Pirates Voyage performed more than 600 shows in just more than seven months.
"The response and feedback from guests during our first season was just extraordinary," said Leah Hicks, Director of Sales & Marketing for Pirates Voyage. "Families love experiencing our show and having fun together while creating great memories. We can't wait for more and more families to have that kind of fun and excitement at Pirates Voyage, and in 2020, we have a full season from January 31 to early January in 2021 for people to experience our unique brand of fun. It's perfect for swashbucklers, pirates, mermaids, and more, and the food alone makes the show one-of-a-kind!"
The adventure actually begins in the Pirates Village, where younger swashbucklers as well as parents and grandparents can "Join the Crew" and be transformed into mermaids and pirates before the main show begins. As visitors enter the hideaway lagoon for this Dinner and Show spectacular, guests are served a hearty four-course feast straight from Captain Blackbeard's galley that makes Pirates Voyage the most unique place to eat in the Smokies. The meal begins with voyager creamy vegetable soup and buccaneer bread. The feast fit for a pirate – or mermaid – continues with cracklin' pan-fried chicken, swashbucklin' sugar-cured ham, matey's mac 'n' cheese, and Jolly Roger sweet potato souffle. Walk the plank peach turnover and unlimited Coca-Cola® products, tea or coffee complete the meal. Vegetarian and gluten-free meals are available by request.
This fantastic journey and its colorful crew of characters combine adventure, acrobatics, animals and all things pirate for a treasure chest of memories not to be forgotten.