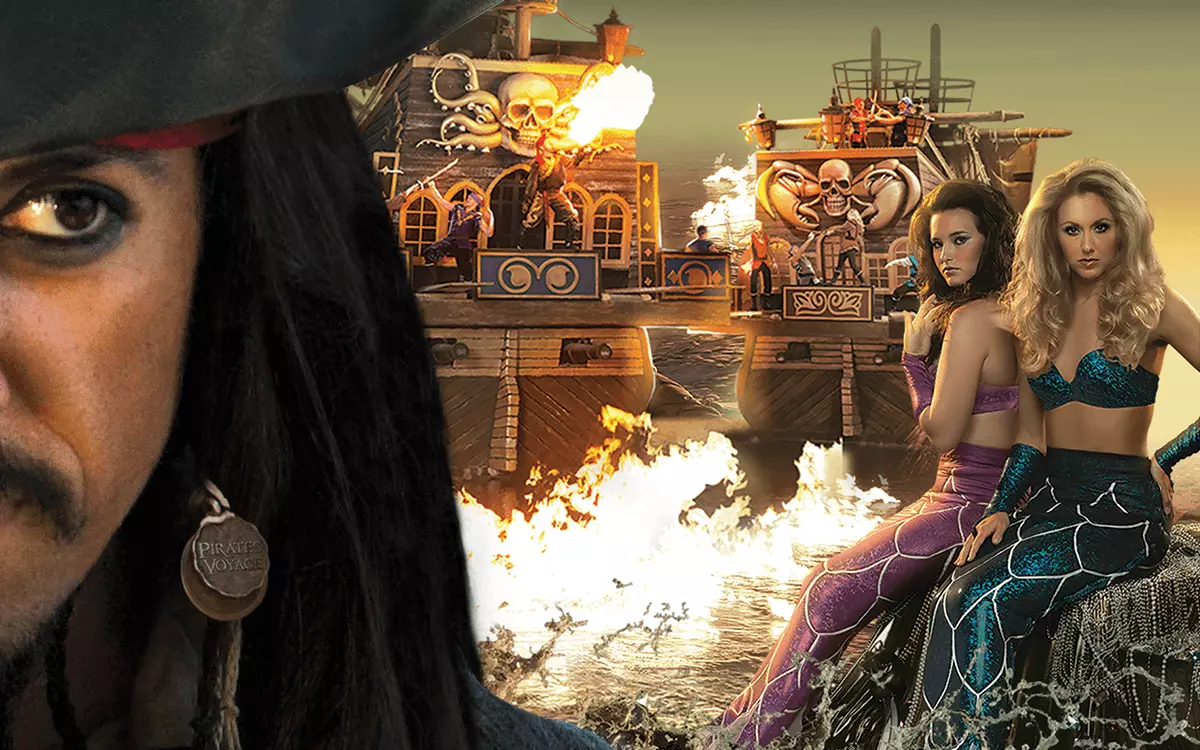 Sail Into an Action-Packed Autumn!
September 23, 2021
An amazing autumn adventure awaits at Pirates Voyage in Pigeon Forge, TN!
Follow yer compass to autumn adventure in Pigeon Forge, TN! Landlubbers will thrill at the swashbuckling action and bountiful four-course feast that awaits yer crew at Pirates Voyage Dinner & Show!
Swashbuckling Fall Fun
Join the Sapphire and Crimson crews for an amazing adventure led by the most famous pirate, Blackbeard, and his quartermaster, Calico Jack. Buccaneers of all ages will be amazed by mystical mermaids, daring pirates, tropical birds and much more in this thrilling battle on land, on deck, in water and high above two full-sized pirate ships in an indoor hideaway lagoon! Daring diving dogs, salty sea lions and tropical birds join the quest. Yer crew is sure to be cheering at every thrilling moment!
Conveniently located on the Parkway, adjacent to The Island and only minutes from Dollywood and Dolly Parton's Stampede, Pirates Voyage is a fun adventure for yer crew's fall getaway in Pigeon Forge.
Me Hearties Feast
As any pirate knows, searching for treasure can work up quite an appetite! Me Hearties Feast is sure to quench your hunger with a bounty bigger than the autumn harvest. This delicious four-course feast includes a Buccaneer Biscuit, Voyager Creamy Vegetable Soup, Cracklin' Pan-Fried Chicken, Sugar-Cured Ham, Corn on the Cob, Herb-Basted Potato, Walk the Plank Peach Turnover and unlimited Coca-Cola®, tea, or coffee.
Savory vegetarian, gluten-free, vegan and dairy-free meals are available upon request at the time of reservation.
What are ye waiting for, matey? Sail into an action-packed autumn with our crew!