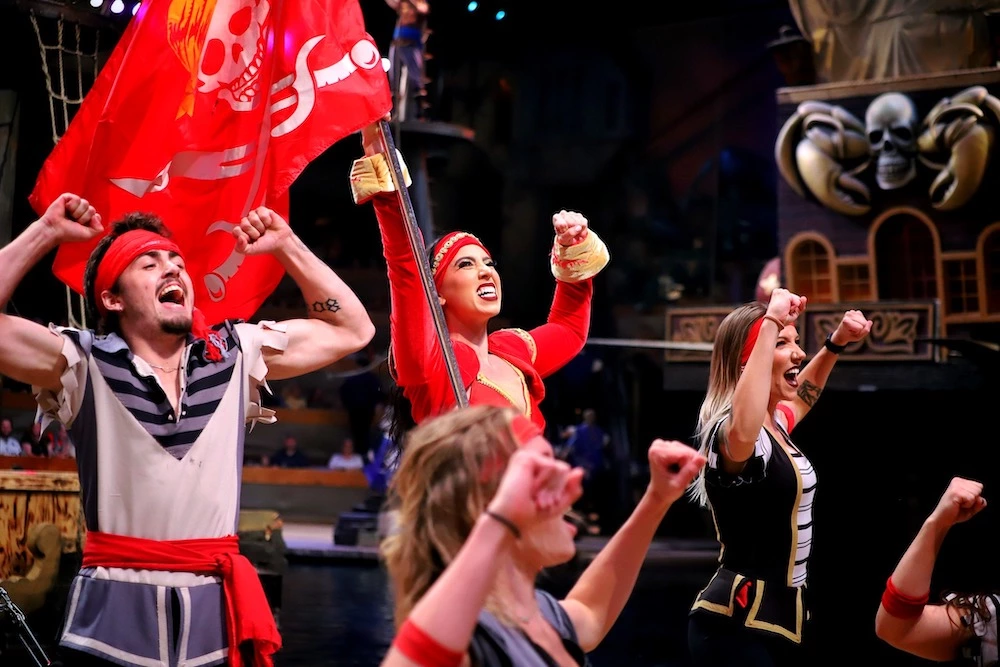 3 Reasons to Plan a Myrtle Beach Vacation
February 24, 2023
Are you ready for an action-packed vacation that's full of family fun? Plan a trip to Myrtle Beach! There is something for everyone to enjoy at this top vacation destination. Whether you want to go on a deep sea fishing adventure, or set sail on an epic "pirate voyage," you can do it all. In case you need more convincing, we've made a list of 3 reasons to plan a Myrtle Beach vacation:
1. To Visit Our Show
We're sure you already knew that getting to visit our show would be the main reason you should plan a trip to Myrtle Beach. Pirates Voyage Dinner & Show is a can't-miss attraction! We welcome everyone to visit us to celebrate the pirate spirit with fun and adventure. Before the show begins, both kids and adults can enjoy our Join the Crew experience, which involves pirate and mermaid makeovers! Once you're transformed into your favorite characters, you'll take your seats in our theater and be served a delicious pirate feast as all the action unfolds before your eyes. Our meal includes Voyager Creamy Vegetable Soup, Swashbucklin' Sugar-Cured Ham, Half O' Roasted Cackler (chicken), and more. The show itself tells the story of an epic pirate battle for the sunken treasure. Watch as the Crimson and Sapphire crews battle on land, on deck, in the water, and high above the full-sized pirate ships in the indoor hideaway lagoon! Pirates Voyage Dinner & Show also features beautiful mermaids, tropical birds, dock-diving dogs, and a "Salty" sea lion. If you only visit one place on your Myrtle Beach vacation, make it the most fun place to eat — Pirates Voyage!
2. For Family Fun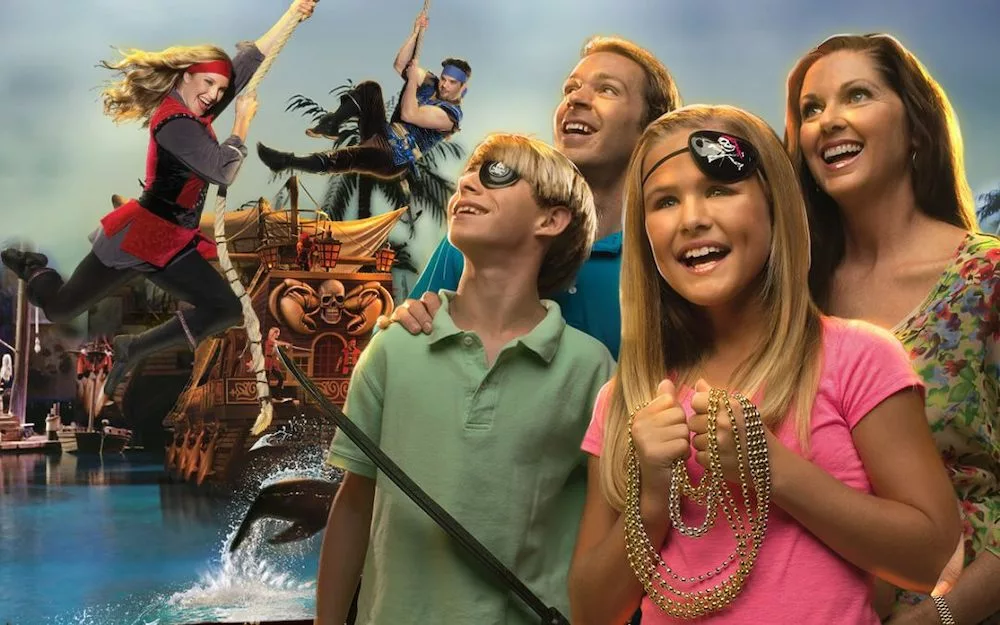 One of the best parts about taking a vacation is getting to spend quality time with your loved ones. And, there's no better place to do it than Myrtle Beach! Myrtle Beach is the perfect spot for a family vacation because it has so many opportunities for family-friendly fun and adventures. Of course, Pirates Voyage is the best spot to make memories with your family, but it's not the only great thing to do while you're in the area. Our show has a convenient location just minutes from North Myrtle Beach, Surfside Beach, Garden City Beach, and Litchfield Beach. Some of the most popular hotels and attractions are just a short drive away! You'll have no problem enjoying everything that Myrtle Beach has to offer before or after our show. You can head to Broadway at the Beach, do some shopping together for souvenirs, play mini golf, and so much more. There is family fun around every corner in Myrtle Beach.
3. To Enjoy the Beach
Of course, one key reason to plan a Myrtle Beach vacation is so that you can enjoy the beach! With 60 miles of sandy beaches, it's no secret why more than 20 million people visit Myrtle Beach each year to enjoy its beauty and excitement. Whether you're taking a walk along the beach, building a sandcastle, or splashing in the waves, you're sure to have a great time. There are also plenty of fun beach activities you can try, like parasailing, dolphin cruises, fishing charters, and jet skiing. No matter your age or skill level, you can find a beach activity that's fun for you!
Plan Your Myrtle Beach Vacation
Now that you know the top reasons to plan a Myrtle Beach vacation, we bet you can't wait to dive right in and start planning. The perfect way to start is by getting tickets to Pirates Voyage Dinner & Show. Take a look at our Myrtle Beach show schedule to find a show date and time that works best for you!