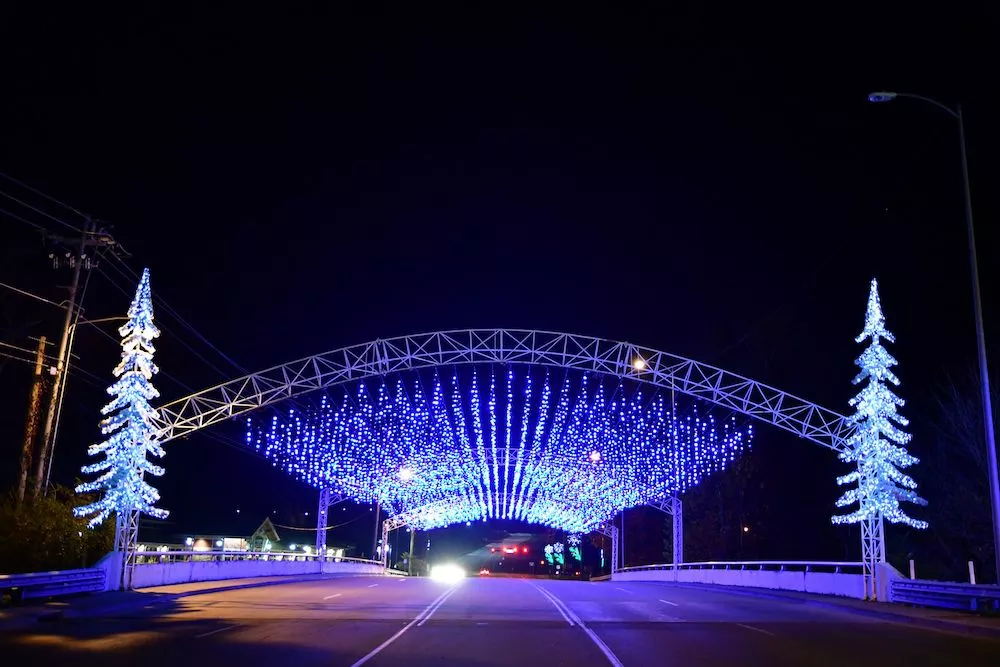 3 Reasons to Celebrate Christmas in Pigeon Forge
November 22, 2022
Are you looking for the perfect place for a holiday getaway with your loved ones? Look no further than Pigeon Forge! This city features both exciting attractions and the peaceful beauty of the Smoky Mountains. You'll feel the Christmas spirit as soon as you arrive! From making incredible holiday memories with your family to taking in millions of twinkling lights and decorations, you'll love spending this magical time of year in Pigeon Forge. If you need more convincing, take a look at these 3 reasons to celebrate Christmas in Pigeon Forge:
1. Make Memories at Our Show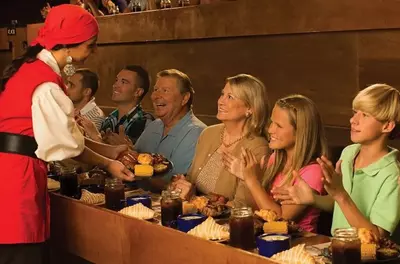 One of the best parts about the holidays is getting to spend time with the ones you love and to create long-lasting memories with each other. That's why a visit to Pirates Voyage Dinner & Show is a must! Our dinner attraction entertains all ages, so everyone from kids, to parents, to grandparents can enjoy it together. Arrive early for the opportunity to Join the Crew — for an additional fee, this pre-show activity features special pirate and mermaid makeovers for the kids (and you!). Then, take your seats in our theater and get ready for an epic pirate adventure that's unlike anything you've seen before. Watch as Captain Blackbeard and his quartermaster, Calico Jack, lead the Crimson and Sapphire crews in a battle for pirate treasure. The pirates will face off on deck, on land, in the water, and high above the full-sized pirate ships! You'll get to experience acrobatics and diving stunts, live animal performers like Salty the Sea Lion, stunning special effects, and so much more. While you watch, enjoy a pirate feast that's bigger than any holiday meal you've had before! Our dinner features a Buccaneer Biscuit, Voyager Creamy Vegetable Soup, Cracklin' Pan-Fried Chicken, Sugar-Cured Ham, Corn on the Cob, an Herb-Basted Potato, a Walk the Plank Peach Turnover, and unlimited Coca-Cola, coffee, or tea. There's no better way to spend the holidays than making memories with your loved ones at Pirates Voyage in Pigeon Forge!
2. Enjoy Millions of Holiday Lights
It's not hard to get into the Christmas spirit in Pigeon Forge! All you have to do is take a walk or drive along the Parkway in Pigeon Forge. The city is decorated with millions of twinkling lights and impressive holiday decorations. You can even experience the new Winterfest Wonders of Light Walking Trail, which spans the Riverwalk in Pigeon Forge and features more than 20 holiday displays with more than 1 million glittering LED lights! In fact, the trail is just a short drive from Pirates Voyage Dinner & Show, making it the perfect Christmas activity to enjoy after you visit us.
3. Explore the Great Smoky Mountains National Park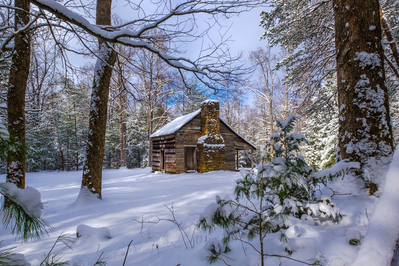 One of the best parts about celebrating Christmas in Pigeon Forge is that you'll be close to the most visited national park! Spend time exploring the hundreds of miles of hiking trails, or escape the cold and go for a scenic drive in Cades Cove. The holidays are the perfect time of year to spot snow-capped mountains, and even frozen waterfalls! Plus, the Smoky Mountains make a beautiful backdrop for a family photo that can be on your Christmas cards for years to come.
Are you ready to come feel the magic of Christmas in Pigeon Forge? Start planning your visit by getting tickets to Pirates Voyage! Take a look at our show schedule and pick the date that works best for you!