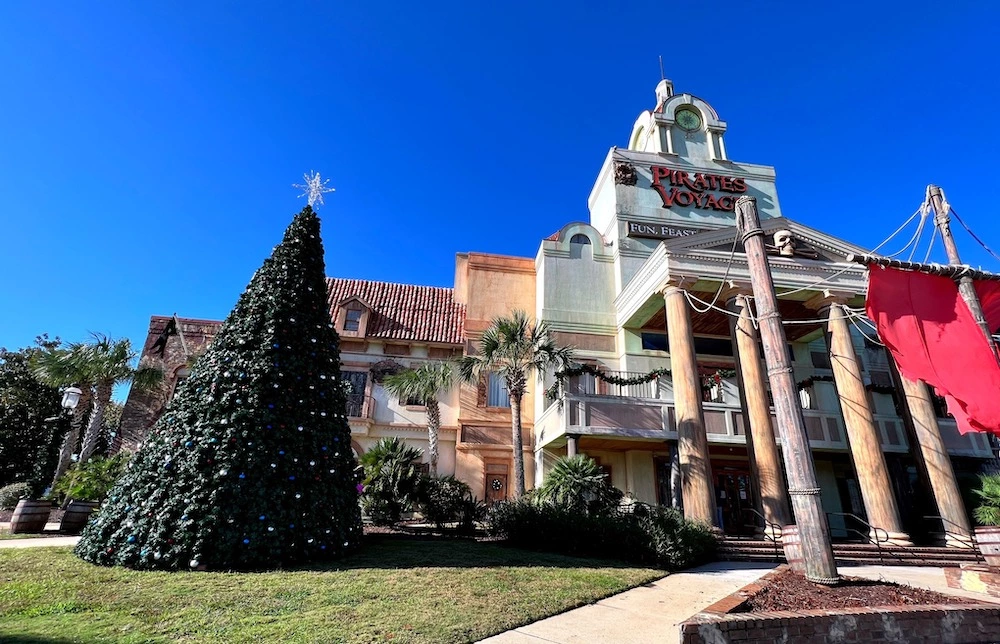 Pirates Voyage Dinner & Show Embarks on a Holiday Adventure Beginning Nov. 2 in Myrtle Beach
November 2, 2023
Pirates Voyage Dinner & Show, located in Myrtle Beach, South Carolina, is embarking on an adventurous holiday journey unparalleled with any other experience this Christmas season.
Opening Thursday, Nov. 2 and continuing through Jan. 6, 2024, a lovable and boisterous crew of characters is bringing the "Yo Ho" to the season's "Ho Ho Ho" while serving a bountiful four-course holiday feast. This swashbuckling Christmas adventure is sure to warm the hearts of all who visit and generate holiday memories for years to come.
The holiday quest offers a pirate-themed twist on "A Christmas Carol," featuring Captain Scrooge and his loyal first mate Bob Crachit. The Mystical Christmas Spirit whisks the captain through time to discover the true meaning of Christmas, including a "dream" where larger-than-life toys come alive and perform breathtaking acrobatics soaring above the Pirates Voyage indoor lagoon. A comical Christmas castaway and her jolly sea lion companion add merriment and humor to the festive entertainment. The thrills continue with a monumental battle between the crimson and emerald pirates as they compete for the coveted Christmas treasure. The pinnacle of the Pirates Voyage holiday spectacle is a live nativity scene featuring a gentle angel with an inspirational message reminding everyone of the reason for the season.
During their voyage, guests will satisfy their holiday appetites with a delectable four-course feast, crafted right from Captain Scrooge's galley. The meal begins with voyager creamy vegetable soup and buccaneer bread. Next, guests receive "half o' roasted cackler" (chicken), Captain's ham, cob o' buttery corn and a hearty herb-basted potato. Apple o 'me eye Christmas pie and unlimited Coca-Cola® products, tea or coffee complete the meal. Vegetarian and gluten-free meals are available by request.
"I love for families to find fun new ways to make memories at Christmas, and I also love new ways to tell favorite stories," Dolly Parton said about her one-of-a-kind dinner show. "My Christmas dinner show at Pirates Voyage is such great fun, and it's a great adventure to take with your family for the holidays. I love how Captain Scrooge and all the pirates and mermaids get into the Christmas spirit – it will make everyone watching the show have memories they'll remember for a long time. My favorite part of the show is the Nativity scene that so beautifully tells the precious story of that first Christmas. I can't wait for everyone to share this unforgettable holiday journey with us."
Show times and reservations are available by calling (843) 497-9700 or visiting our website.