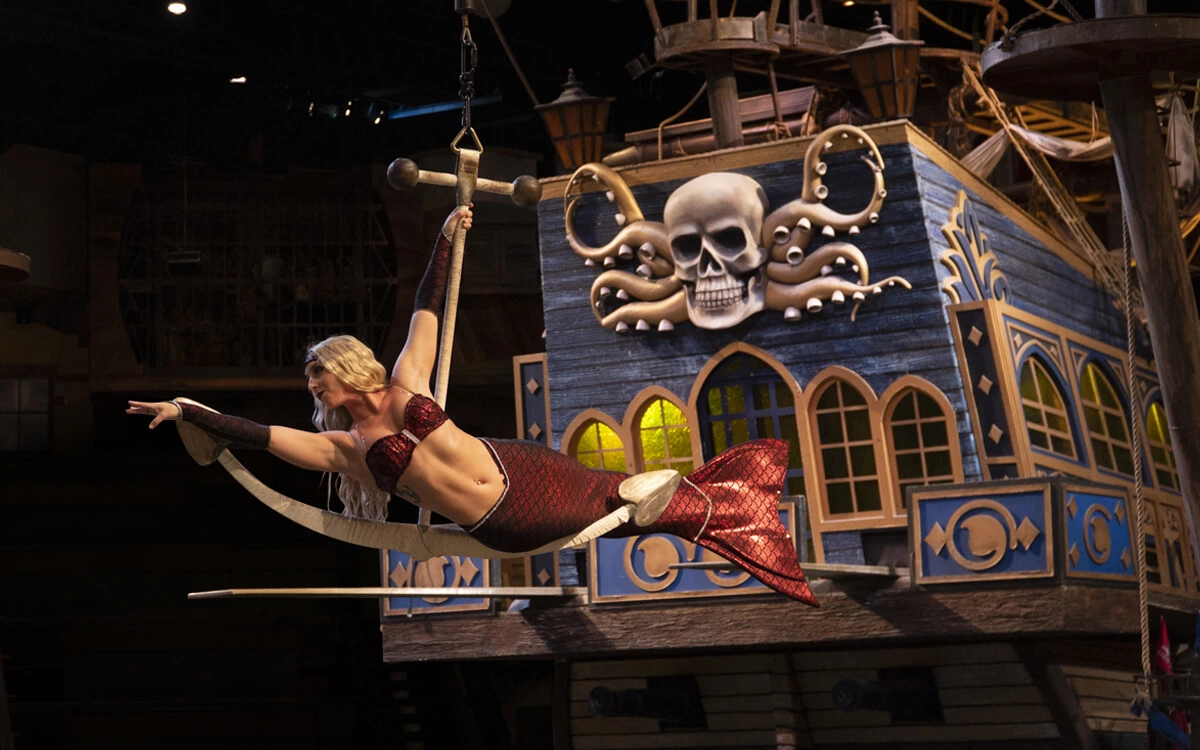 Pirates Voyage Crew Share Love of Show's Adventure - Pigeon Forge, TN
March 24, 2021
Pirates Voyage Crew share what thrill-seeking acts they love about the show.
Ahoy, mateys! Pirates Voyage crew shares the love of adventure with guests during a swashbuckling getaway perfect for buccaneers and mermaid dreamers of all ages. Guests embark on a thrilling journey with Captain Blackbeard seeking Davy Jones' coveted sunken treasure. As any pirate knows, searching for treasure can work up quite an appetite!
Guests are served a hearty and delicious Four-Course Feast including voyager creamy vegetable soup, buccaneer bread, cracklin' pan-fried chicken, swashbucklin' sugar-cured ham, buttery corn on the cob, an herb-basted potato and walk the plank specialty dessert. Paired with unlimited Coca-Cola®, tea or coffee. Vegetarian and gluten-free options are available upon request.
The audience is swept up in the show's adventure with sword fighting, acrobats, mystical mermaids and pirates scaling high above two full-sized pirate ships. Pirates Voyage Quartermaster Ryan Tucker describes one of his favorite parts of the show, the acrobats:
"What the acrobats actually do is beyond me. I get to watch them and I'm just as stunned as when other people come and watch them. The stuff that they are doing is incredible really."
Hear from other members of Pirates Voyage crew and book your tickets today. Check out our other shows, Dolly Parton's Stampede, Hatfield & McCoy Dinner Feud and The Comedy Barn Theater, while you're in town!