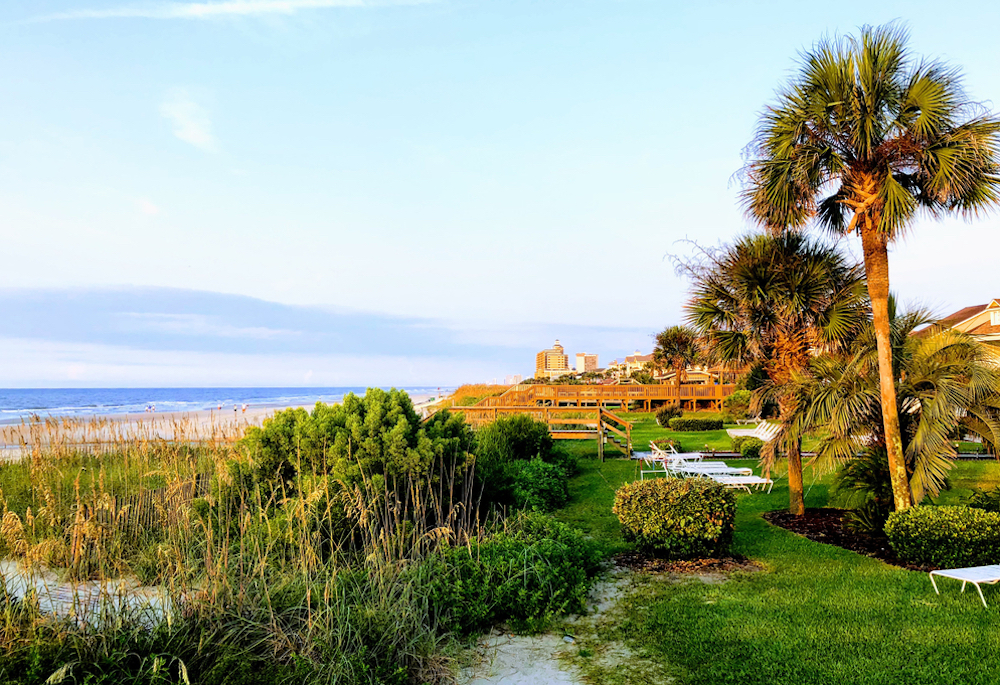 4 Perks of Spending a Fall Vacation in Myrtle Beach
September 8, 2023
Have you ever enjoyed a fall getaway in beautiful Myrtle Beach? If not, now's the time to plan one! You can spend time on the beach without the humidity, enjoy shorter lines at shops, attractions, and restaurants, and experience the most fun place to eat in Myrtle Beach. Want to learn more about why this is the best time of the year to visit the area? Here are 4 perks of spending a fall vacation in Myrtle Beach.
1. Fewer Crowds
Summer is the busiest time of year in Myrtle Beach. If you're hoping for fewer crowds and less traffic throughout the area, fall is perfect for you! Once school starts back and the hot summer temperatures begin to fade, the number of visitors in town starts to decrease. Since demand is lower, lodging prices are also lower! It's a great time of year to visit if you're hoping to save some money and get the best deal on a place to stay. There'll also be less traffic and shorter wait times at restaurants. A fall vacation in Myrtle Beach cannot be beaten!
2. Catch Our Regular Season Show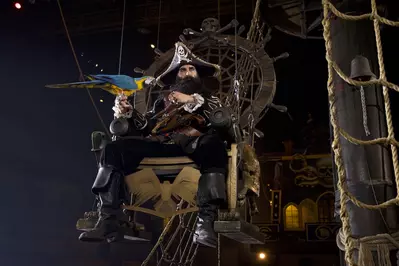 Another perk of spending fall in Myrtle Beach is getting to see our show! Fall is the last opportunity of the year for visitors to see our regular season show at Pirates Voyage because our Christmas extravaganza kicks off in November. Pirates Voyage Dinner & Show makes it easy for guests to celebrate the pirate spirit with fun and adventure in Myrtle Beach. Throughout the show, you'll get to enjoy sword fighting, cannons blazing, acrobatics, and more. While you watch, dine on a hearty pirate feast that's four courses! We serve Voyager Creamy Vegetable Soup, Buccaneer Bread, Half O' Roasted Cackler (Chicken), Swashbucklin' Sugar-Cured Ham, Cob O' Buttery Corn, an Herb-Basted Potato Wedge, and Apple O' Me Eye Pie.
If you can't make it during the fall, don't worry — our Christmas show is overflowing with pirate fun and excitement too!
3. Mild Weather
The summer humidity can take its toll, which is why fall is one of the best times to visit! Temperatures don't drop drastically and typically stay in the 80s through October, but the humidity tends to fade. It's the perfect weather to spend time outside, whether you're going for a walk along the beach, fishing, boating, or just playing in the sand. Although it's a good idea to bring a light jacket for the evening hours, fall weather in Myrtle Beach makes it easy for visitors to spend time outside enjoying the weather.
4. Seasonal Events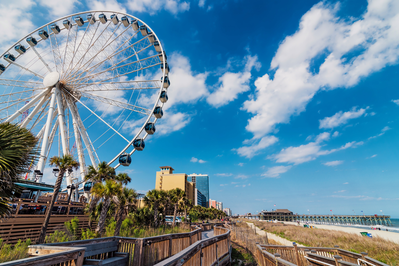 One thing you don't want to miss when you spend your fall vacation in Myrtle Beach is all the fun festivals and events! From art shows and car shows to Oktoberfest, there's plenty to do in the area during the fall season. Ready to get into the Halloween spirit? Be sure to visit Ripley's Haunted Adventure or celebrate BooFest at Barefoot Landing, which has Halloween fun for the whole family. You'll love spending this special time of year in Myrtle Beach!
Now that you know the top perks of spending a fall vacation in Myrtle Beach, we bet you can't wait to visit! Take a look at our Myrtle Beach show schedule to find a show time that works best for you, then get your tickets.