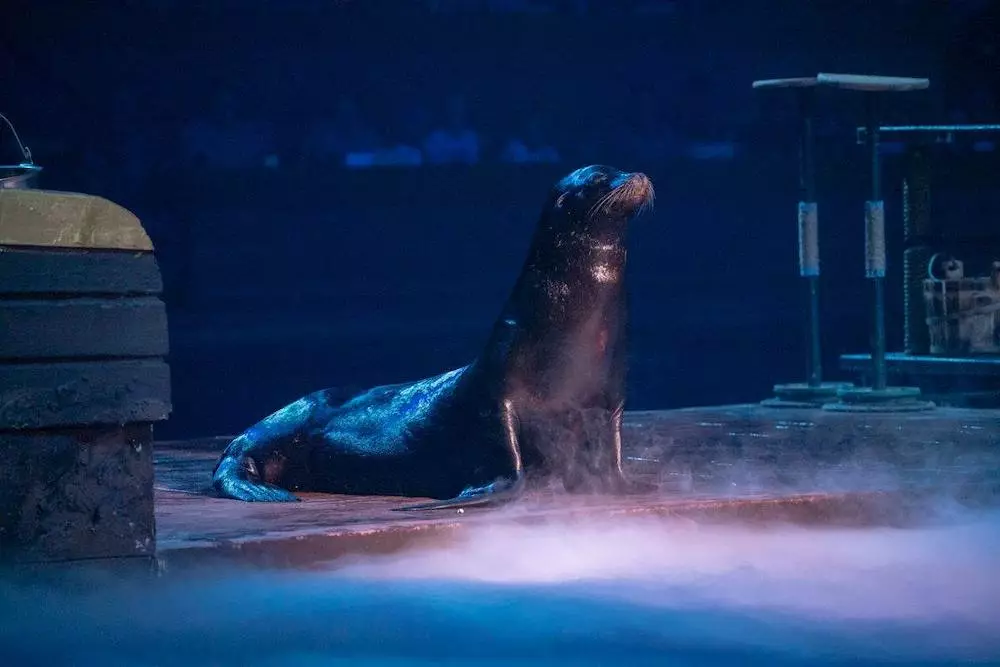 Meet Our Cast: 3 Performers at Pirates Voyage in Myrtle Beach You'll Love
May 12, 2023
Our show wouldn't be what it is without our talented cast members! Everyone plays an important role in our action-packed show. Watch as pirates battle on land, on deck, in water, and high above pirate ships in an indoor hideaway lagoon. They're joined by beautiful mermaids and skillful animal performers. To help you learn more, we're introducing the top 3 performers at Pirates Voyage in Myrtle Beach you'll love:
1. Captain Blackbeard & Our Pirates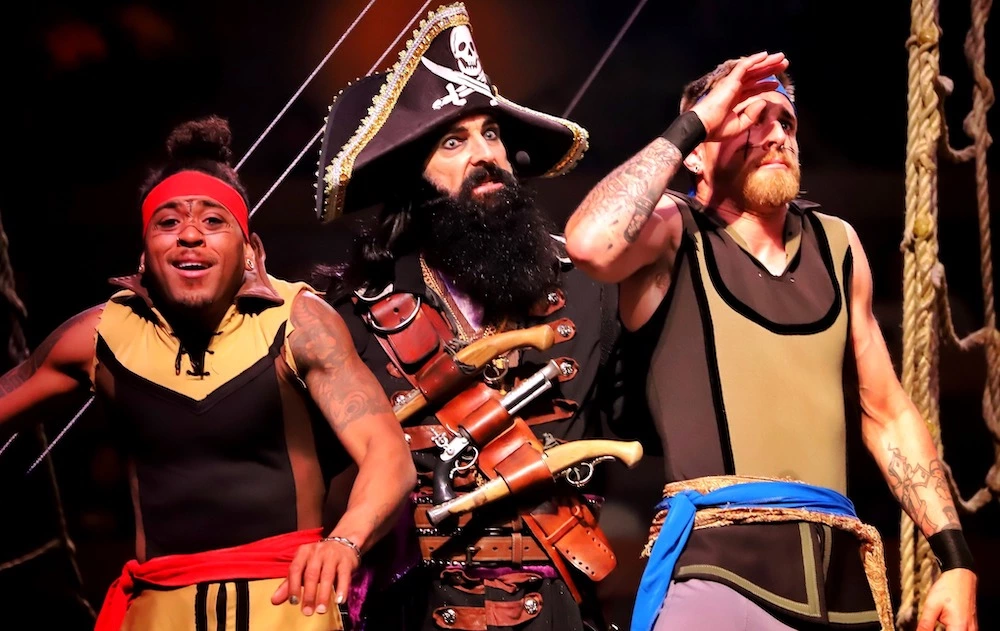 Captain Blackbeard is the most famous pirate in Myrtle Beach! During our show, you'll witness Blackbeard and his quartermaster, Calico Jack, lead the Crimson and Sapphire crews in a battle for the coveted sunken treasure. As you watch the pirates battle, you'll witness sword fighting, cannons blazing, and more. It's the perfect combination of heroics and high-flying fun.
2. Salty the Sea Lion & Our Animals
One of our performers who steals the show is Salty! Salty the Sea Lion joins the show to win a battle against Captain Blackbeard. He charms the audience with his dance moves and clever tricks. Salty isn't the only live animal performer you'll see at Pirates Voyage in Myrtle Beach, however! We also have tropical birds and daring, dock-diving dogs. The animals bring even more fun and adventure to our dinner show!
3. Our Beautiful Mermaids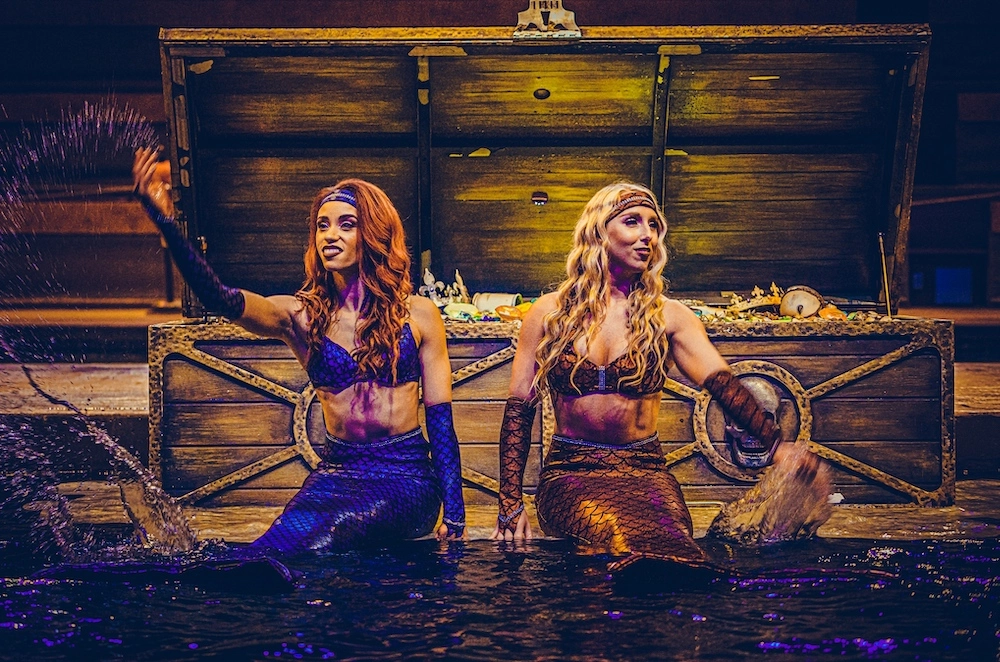 In addition to pirates and live animals, you'll also get to watch beautiful mermaids captivate the audience! The mermaids perform high above Buccaneer Bay before diving back into the water. You'll have the chance to see incredible aerial stunts from our mystical mermaids.
Join the Crew
Would you love to join the crew at Pirates Voyage in Myrtle Beach? Arrive early at our dinner attraction for our Join the Crew experience! Captain Blackbeard is on the hunt for his new recruits, and you could be one of them. Choose whether you want to be a beautiful mermaid or a swashbuckling pirate, then sit back as we make the transformations happen. Our pirate makeovers include facial makeup, a bandana or a pirate hat, an earring and an eye patch, and a sword and a flag. Our mermaid makeovers include facial makeup, a tiara, earrings, and a wand and a flag. Our Join the Crew experience is available for guests of all ages for an additional fee. You'll love looking and feeling like the talented performers you'll see at our show!
About Our Myrtle Beach Show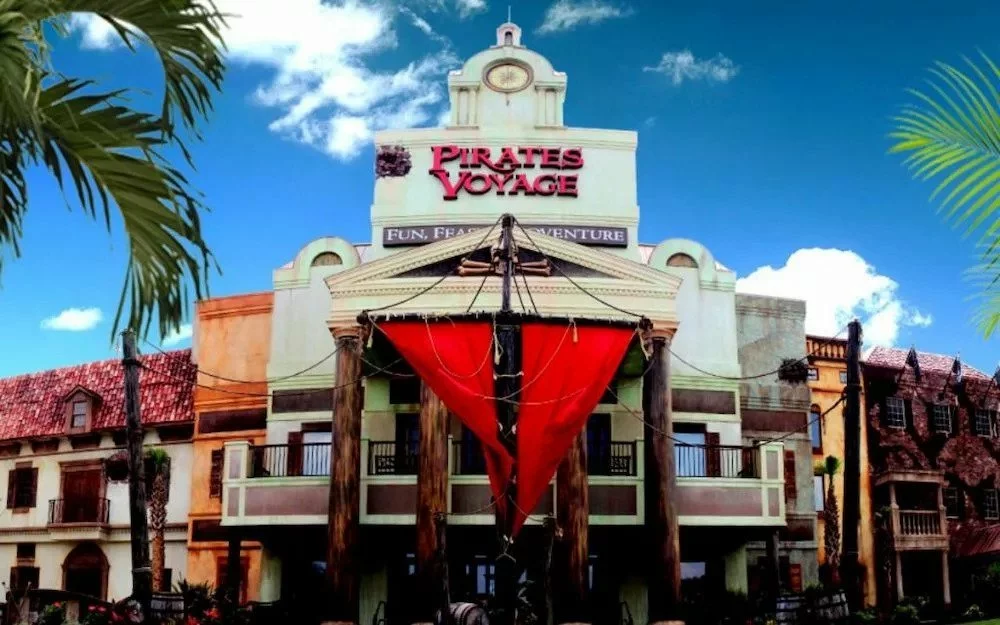 You won't want to miss the chance to see the performers at Pirates Voyage in Myrtle Beach! Our crew combines adventure, acrobatics, animals, and all-things pirates. Whether you can't wait to see our pirates, mermaids, or live animals, you'll love everything about our dinner attraction in Myrtle Beach. The best part is that while you watch, you'll get to enjoy a delicious four-course feast that's made to satisfy both landlubbers and pirates alike.
Are you ready for fun, feast, and adventure? Take a look at our Myrtle Beach show schedule, then get your tickets to Myrtle Beach today!