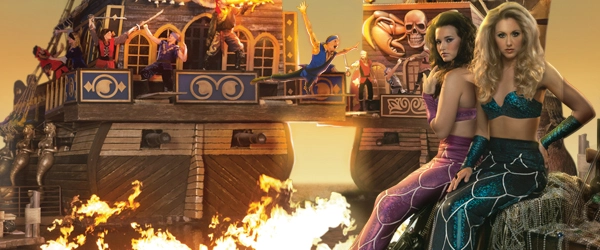 New Thrills In Myrtle Beach
February 16, 2014
New characters, acts, and action, sure to give families a thrill at Pirates Voyage Dinner & Show in Myrtle Beach.
Captain Blackbeard, the most famous pirate to ever sail the Caribbean, and his quartermaster Calico Jack join Pirates Voyage in 2014 to lead our Crimson and Sapphire crews in battle. Whether the crew is on land, on deck, in the water or high above our 15 foot deep indoor hideaway lagoon, you'll be on the edge of your seat at the sight of their spectacular acrobatics and unrivaled talent.
The 2014 season opens with a bang! Right from the start gunfire, sword fights, explosions, and high-flying action set the stage for the adventure to come. Romance intensifies between the captains of the Crimson and Sapphire pirates in a stunning, new aerial act. Captains Doubloon and Scarlett begin their aerial dance high above their ships, drawing each other in with every movement. Then, in a beautiful and expressive act, the captains meet center stage and soar on silks high above our hideaway lagoon. The performance will mesmerize and move you with artistry and allure.
Excitement builds with another new acrobatic act featuring the ship mast. Our pirate crews climb, slide down and pose on these vertical poles as they prepare for their pirate feast. The skill and bravery of the pirates will take your breath away as they perform daring feats high above the lagoon. The adventure culminates with a finale like never before, complete with nets full of treasure, gold coins, fountains of water and thrilling pyrotechnics!
Make Pirates Voyage Dinner & Show a part of your 2014 plans and make memories that will last a lifetime.
Call now for reservations at (843) 497-9700 or order online here.