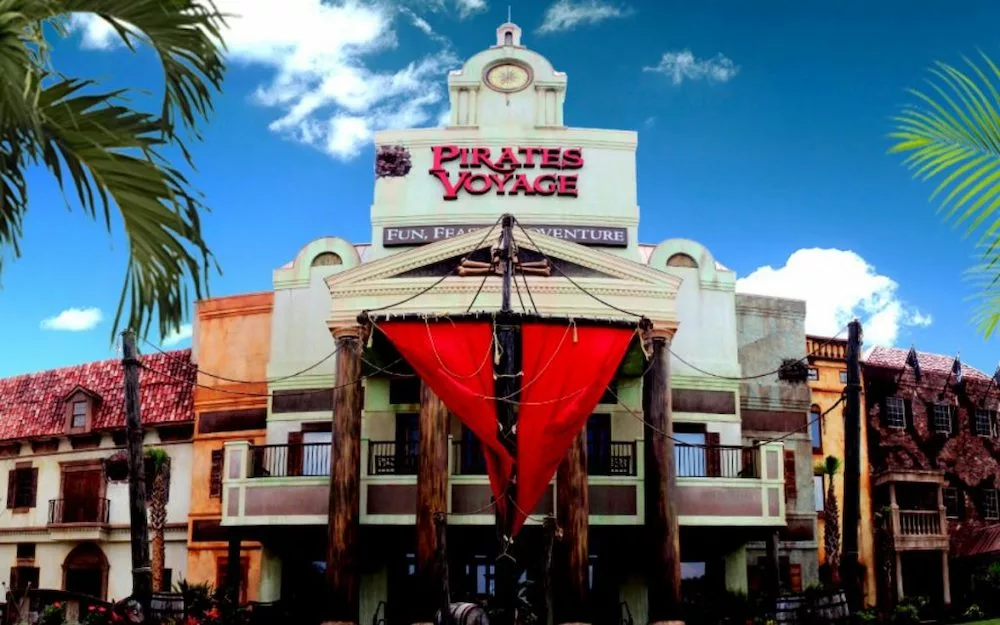 5 Interesting Facts About Pirates Voyage in Myrtle Beach
February 16, 2022
Are you looking for an action-packed show that's fun for all ages? Come visit Pirates Voyage in Myrtle Beach! Pirates Voyage Dinner & Show is the perfect combination of family fun, delicious food, and exciting entertainment. To help you learn more about it, here are 5 interesting facts about Pirates Voyage in Myrtle Beach:
1. We Have Daring Diving Dogs
You know we have talented pirates, but did you know we have daring diving dogs? Your favorite four-legged friends will leap off the dock into our indoor lagoon. Our live animals are one of guests' favorite parts of the show! Not only can you watch our diving dogs, we also have tropical birds and salty sea lions to entertain you.
2. We Have Vegetarian Options of Our Feast
We love serving guests a delicious four-course feast, that's why we made special menus with dietary restrictions in mind. Our vegan and vegetarian menu includes a vegetable medley of cauliflower, carrots and broccoli with quinoa, an herb-basted potato wedge, corn on the cob and apple pie! We also have a gluten-free menu with a tasty fruit cup, gluten-free bread roll, half a roasted chicken, sugar-cured ham, corn on the cob, an herb-basted potato wedge and a snickerdoodle cookie.
3. Our Show Features More Than Just Pirates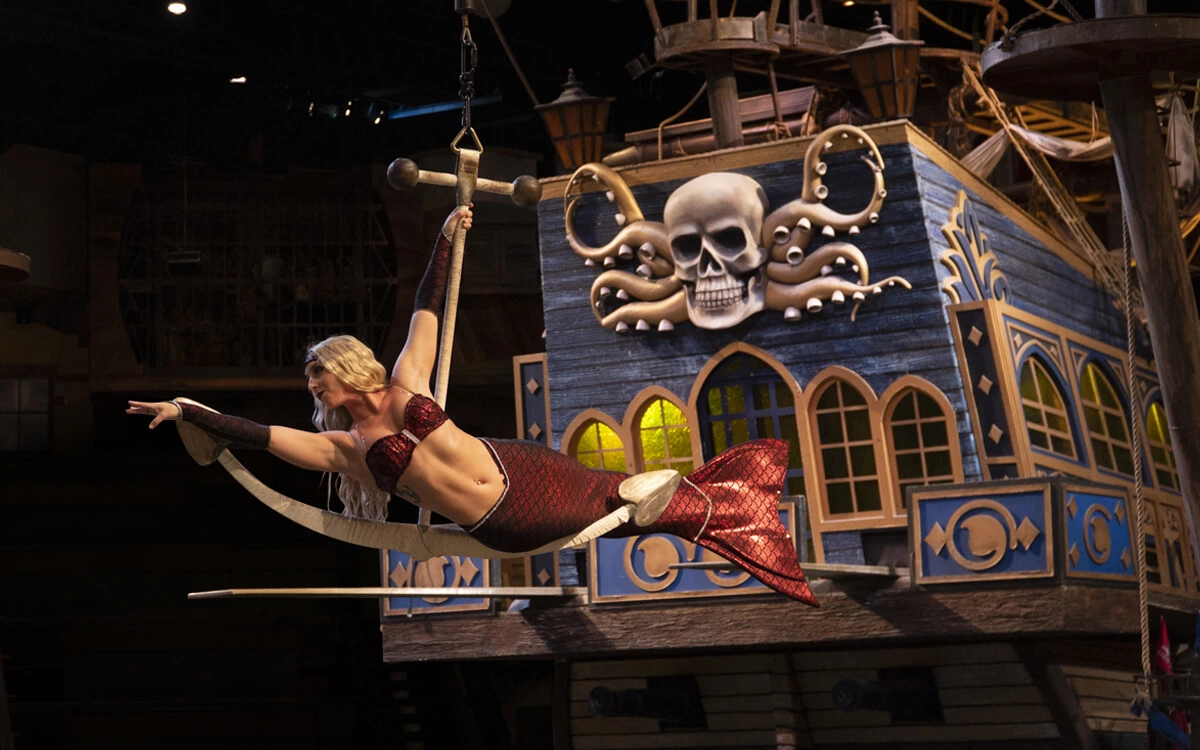 It wouldn't be a show without our pirates battling on land, on deck, in water and high above the full-sized pirate ships, but our show features much more than just pirates! You'll be mesmerized by our beautiful mermaids who will captivate the audience with their high-diving skills, and of course there are our live animal performers. Everyone comes together to join in the quest to find the ultimate pirate treasure!
4. We've Been Open for More Than 10 Seasons
Pirates Voyage in Myrtle Beach has been open for more than 10 seasons! We celebrated our 10-year anniversary in 2020, and there are many more years of action-packed pirate fun to come. Guests consider us "The Most Fun Place to Eat in Myrtle Beach," and for good reason! Our guests get to enjoy sword fights, cannons, aerial feats and more while eating a bountiful pirate's feast. We're proud to have been offering visitors an evening of family fun for more than 10 years and look forward to many more memorable seasons in the future.
5. We're Located Minutes from North Myrtle Beach
Pirates Voyage Dinner & Show is in a great location in Myrtle Beach. Our dinner theater is a short drive from all the seaside villages along the Grand Strand. We are located 3 miles from the ocean, 5 miles North of Broadway at the Beach, and 5 miles South of Barefoot Landing, which means we're not hard to find! Our convenient location near the most popular hotels makes it easy for every visitor to come experience our show!
Are you ready to visit Pirates Voyage in Myrtle Beach? Take a look at our show schedule and pick the date that best fits your vacation plans!