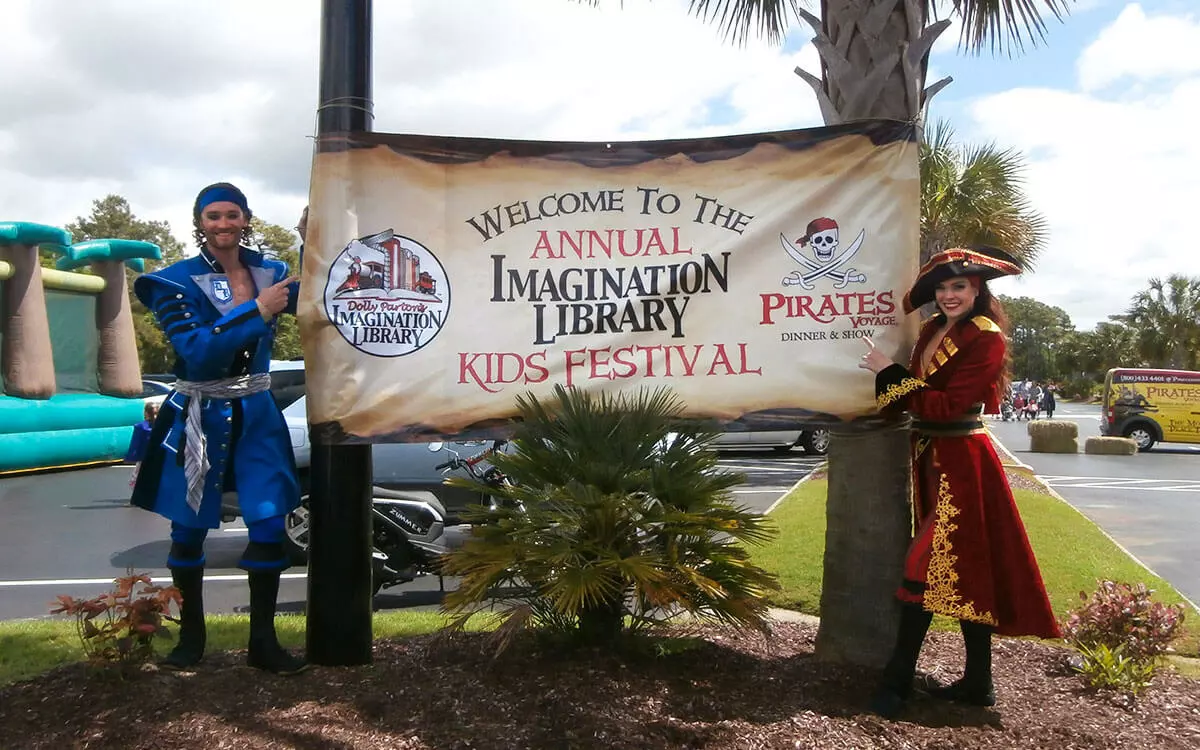 Huge Crowds At 13th Annual Imagination Library Kid's Festival
June 22, 2017
Ahoy Mateys! Thank You For Another Fantastic Imagination Library Kid's Festival
The crew at Pirates Voyage wants to say thank you to everyone for another great Imagination Library Kid's Festival!
This year's event drew an estimated crowd of over 7,000! At one point, our local police officers had to leave their booth to help direct traffic into the event. We are thankful they were happy to help out.
Special thanks to all the volunteers for their many hours of service. And thank you to our vendors for their wonderful booths and fun activities. We know Dolly Parton's Imagination Library means as much to you as it does to us!
The Imagination Library in South Carolina serves over 36,000 registered children. Pirates Voyage is the local affiliate here in Horry County where 7,576 registered children receive one free book each month.
If you live in Horry County, SC and have a child under five years old, visit the Imagination Library website to register.
About Dolly Parton's Imagination Library
Founded in 1995, Dolly Parton's Imagination Library is a book gifting organization that currently mails over one million free books each month to children in Australia, Canada, United Kingdom and the United States. Each month, the program mails specially selected, high-quality, age-appropriate books to registered children from birth until they start Kindergarten in participating communities. Dolly envisioned creating a lifelong love of reading in children, preparing them for school and inspiring them to dream. Recent studies suggest participation in the Imagination Library is positively and significantly associated with higher measures of early language and math development. Penguin Random House is the exclusive publisher for Dolly Parton's Imagination Library.
Year after year, Dolly Parton's Imagination Library receives awards reaches milestones. Some awards it has received are The Good Housekeeping Seal of Approval, Best Practices award from the Library of Congress Literacy Awards and recognition in Reading Psychology. It also continues to expand its program into other countries and breaking records with the number of books gifted. In 2020, Dolly Parton's Imagination Library gifted its 150 millionth book!
Visit the Imagination Library website to learn more about the program and its accomplishments.