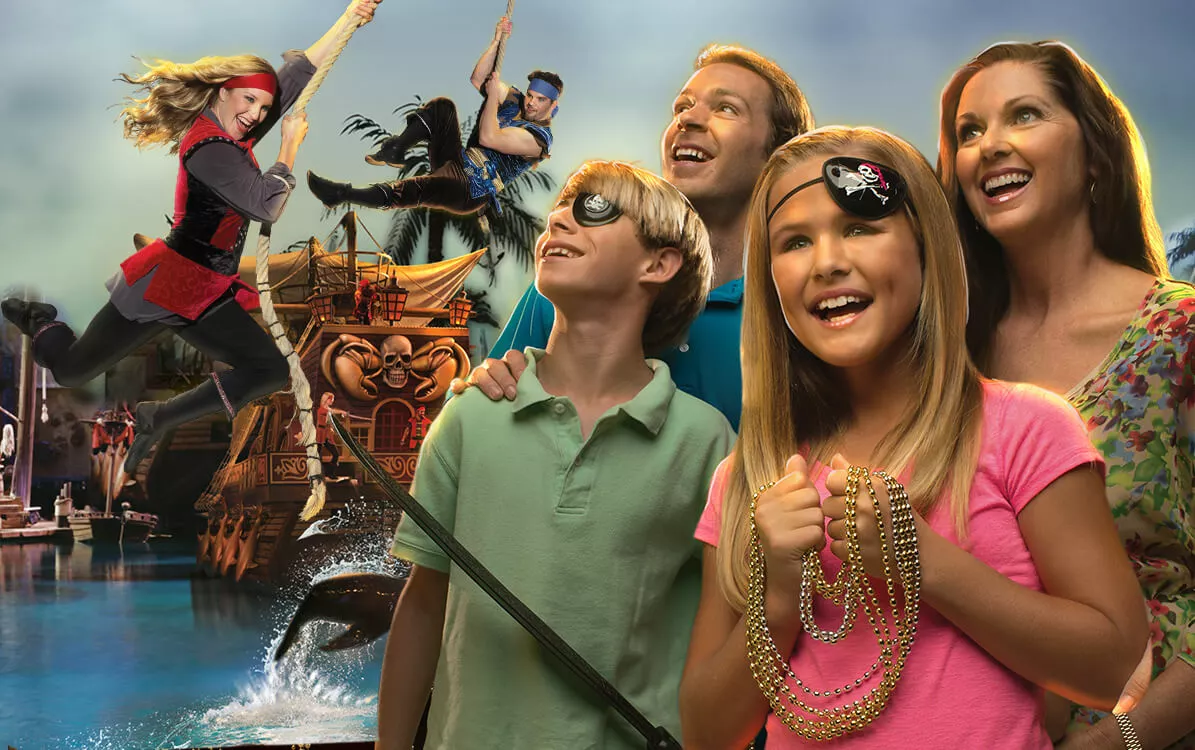 4 Helpful Tips When Visiting Our Dinner Show in Myrtle Beach
March 7, 2022
Pirates Voyage Dinner & Show is one of the best things to do when you visit Myrtle Beach! Not only will you get to enjoy an action-packed pirate battle, but you'll be served a delicious feast while you watch. When you visit our show, we want to make sure you have the best time! That's why we've made a list of some tips for when you visit. Here are 4 helpful tips when visiting our dinner show in Myrtle Beach:
1. Get Your Tickets Online
If you're planning on visiting our show during your Myrtle Beach vacation, we recommend getting your tickets ahead of time online. This guarantees you get to see the performance you want for the date you want. You also get to choose your seating preference. First, choose which side you want to be on — Crimson or Sapphire. Then, choose if you want VIP, Preferred, Regular, or Handicap Accessible Seating. Buying your tickets online in advance helps you be prepared and makes the day-of-show hassle-free!
2. Come Hungry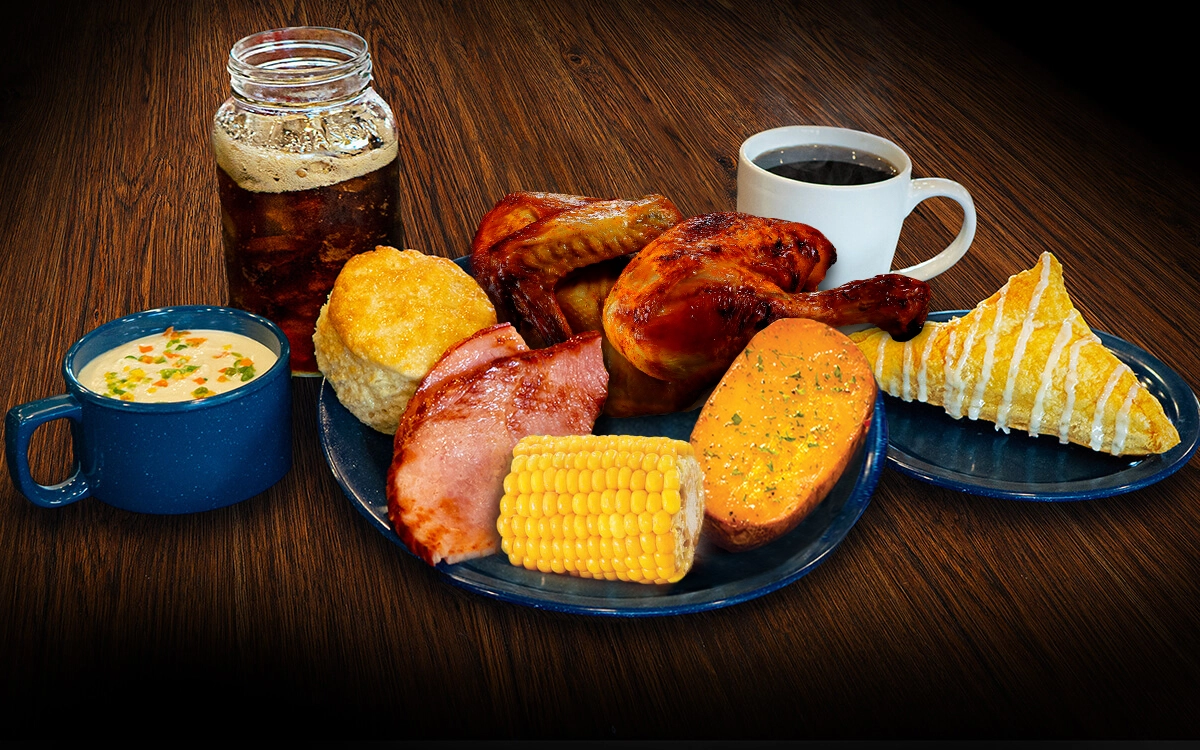 Don't worry about stopping at a restaurant before you visit Pirates Voyage. We serve a dinner that you're sure to love. Be sure to bring your appetite, because our meal is not one, not two, not three, but FOUR delicious courses! Enjoy creamy vegetable soup, bread, roasted chicken, sugar-cured ham, corn on the cob, an herb-basted potato wedge, an apple pie turnover, and unlimited Coca-Cola, tea, or coffee. We also offer vegan, vegetarian, and gluten-free options.
3. Bring the Whole Family
When you visit our dinner show in Myrtle Beach, you'll want to bring the whole family along! What better way is there to spend quality time with your family members than enjoying a night full of good food and good entertainment? Kids, teens, parents, grandparents — all ages will love our show! From sword fights and cannons to diving dogs and mermaids, our show has it all. It's a great experience to enjoy with your family, and you're guaranteed to make memories that will last a lifetime.
4. Enjoy the Area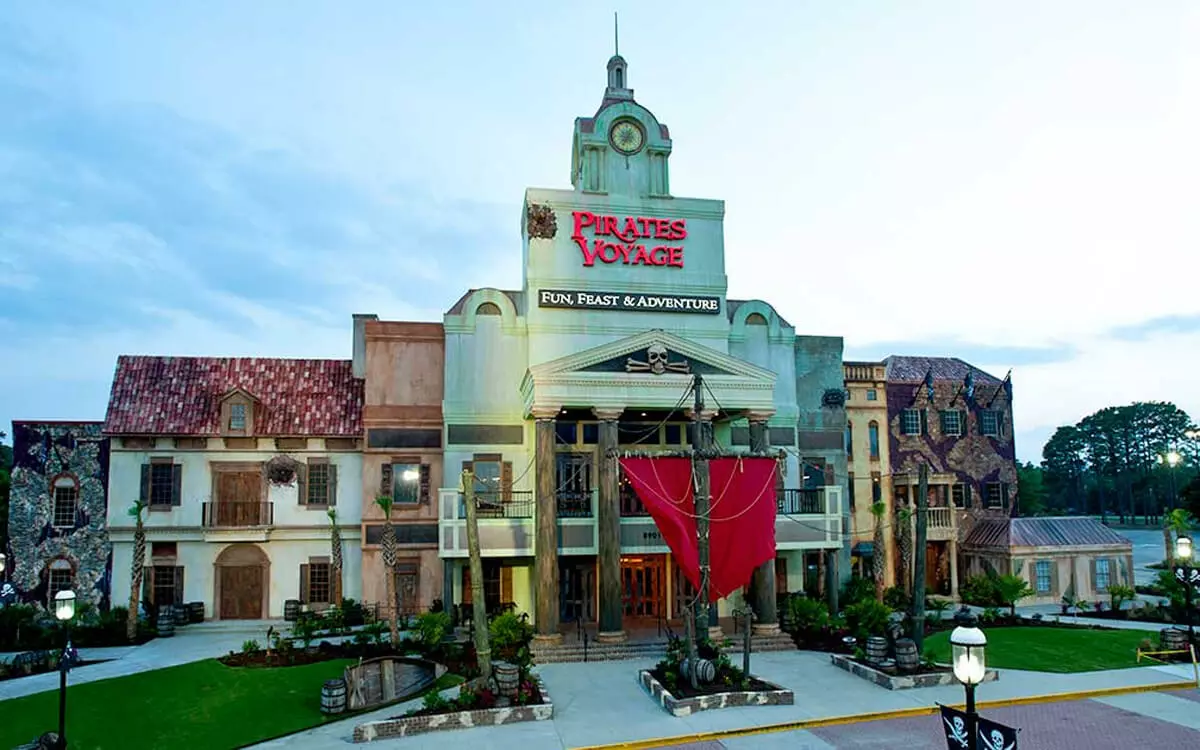 Pirates Voyage is close to it all in the Myrtle Beach area! We're just a short drive from all the seaside villages along the Grand Strand, plus we're located 3 miles from the ocean, 5 miles North of Broadway at the Beach, and 5 miles South of Barefoot Landing. When you're in the area visiting our show, be sure to spend some time exploring all that Myrtle Beach has to offer!
About Our Dinner Show in Myrtle Beach
Pirates Voyage offers fun, feast, and adventure!™ Watch as the Crimson and Sapphire crews perform incredible stunts as they battle for the hidden treasure on land, on deck, in water, and high above the full-sized pirate ships in the indoor lagoon. Our show features more than just pirates, though — there are also beautiful mermaids, tropical birds, and so much more. You'll have to see for yourself what makes it so special!
Get your tickets to Pirates Voyage today and be ready to experience the best dinner show in Myrtle Beach!