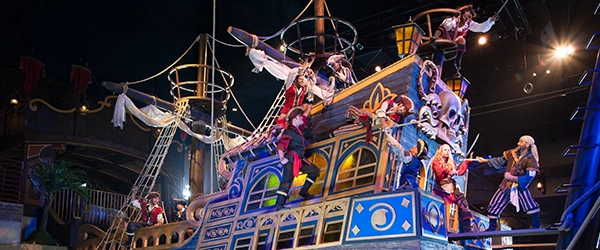 Pirates Voyage Reviews
June 17, 2014
Read guest reviews of Pirates Voyage Dinner & Show in Myrtle Beach, SC
Almost a year to the day after our grand opening, viewers on TripAdvisor kept the 4 and 5 start reviews pouring in until ultimately we received their "Award of Excellence" which we are very excited about and most of all are very appreciative of.
If you've ever been to our show you know that we want to know your opinion. Just about every guest receives a comment card that can be completed anonymously. This summer when we asked guests to describe each of the following in one word (or two), here's what everyone's saying:
Pirates Village: (The area prior to the main show)
Wonderful
Very Good
Very Good
Excellent
Service:
Very Accommodating
Amazing
Excellent Service
Awesome
Main Show:
Very exciting
Awesome
Awesome
Awesome
Fabulous Program
Excellent
Food:
Loved it
Great
Great Proportions
Wonderful
Very good
Amazing
Want to see even more reviews?