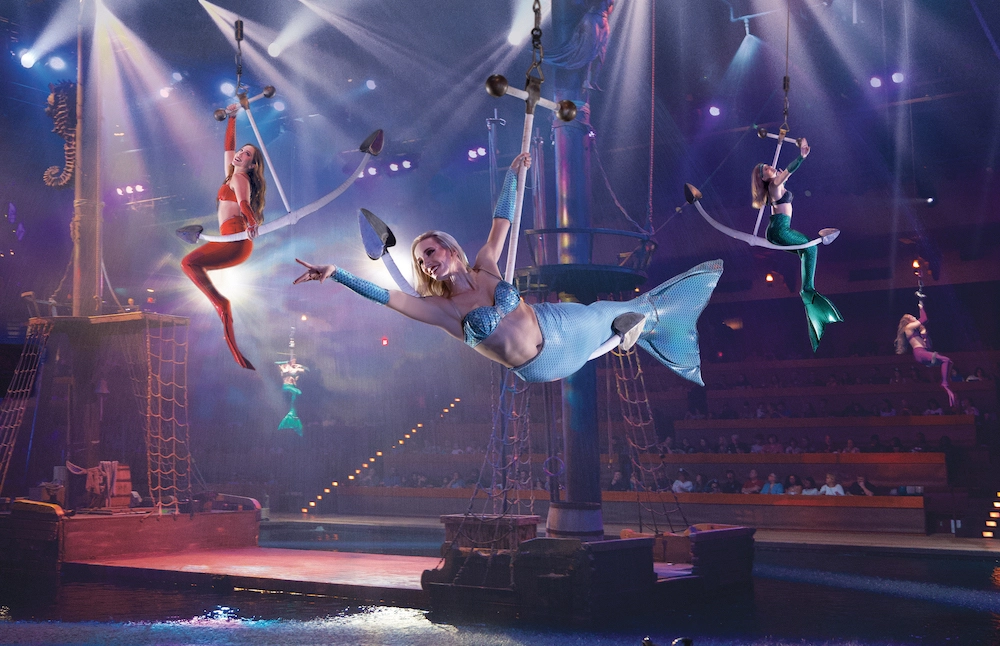 4 Groups Who Love Our Myrtle Beach Show
October 16, 2023
Are you planning a trip to Myrtle Beach with a group? You don't want to miss the chance to visit Pirates Voyage Dinner & Show! It's no secret that our Myrtle Beach show is a great choice for groups. Not only do we have something that everyone will love, but we provide a great value with both dinner and entertainment. If you're visiting with a group of 20 people or more, take advantage of our special group pricing! Wondering if you should plan a trip to our show with your group? Here are 4 groups who love our Myrtle Beach show:
1. Family Reunions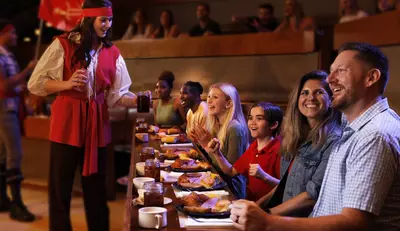 Pirates Voyage Dinner & Show in Myrtle Beach can host crews as large as 940 people! That means the kids, parents, grandparents, aunts, uncles, and cousins can all come enjoy our show together. We love welcoming family reunions to our dinner attraction! Before the show, take your group to enjoy our Join the Crew experience, where the kids (and adults, too!) can be transformed into a swashbuckling pirate or a beautiful mermaid. Your crew will look like you belong in the show! There's no better way to connect with your loved ones than by sharing a fun-filled evening together at our dinner attraction. You'll be talking about the experience at all your family reunions to come!
2. School Groups
Another type of group that loves visiting our Myrtle Beach show is school groups. Get the kids out of the classroom and bring them to Pirates Voyage! Our attraction is the most fun place to eat in Myrtle Beach. If you want your students to come to school the next day talking about having the best field trip ever, you'll want to bring them to Pirates Voyage. Our kid-friendly show is packed with non-stop action, including sword fighting, fire tricks, cannons blazing, and acrobatics. No school group is too young or too old to have fun at Pirates Voyage!
3. Church Groups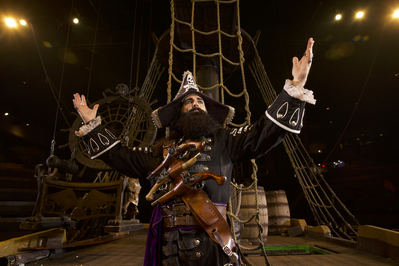 Looking for a fun activity to bring your church group to? Our Myrtle Beach show is the perfect choice! Our show caters to all ages and all interests. Whether you want to hear singing and dancing or you prefer action-packed stunts, you can see it all at Pirates Voyage Dinner & Show. Your church group will love having the shared memories you'll make together as you watch the excitement unfold in our indoor hideaway lagoon. Plus, our animal performers are sure to be some of your favorites — especially Salty the Sea Lion! Salty joins a comical castaway to win a battle against Captain Blackbeard during the show.
4. Corporate Groups
Ready for some team bonding with your co-workers? Plan a visit to Pirates Voyage! Corporate groups love spending time together at our dinner show. Say goodbye to a typical corporate dinner at a restaurant and hello to a four-course feast as you watch an exciting pirate battle! After an evening together watching the Crimson and Sapphire crews battle on land, on deck, in water, and in the air, you'll be relaxed and ready to take on whatever the next work day throws at you.
About Our Myrtle Beach Show
Groups both big and small love visiting our Myrtle Beach show. Pirates Voyage features the Crimson and Sapphire crews battling for the coveted treasure, beautiful mermaids joining in on the action before diving back into Buccaneer Bay, and animal performers capturing the hearts of all audience members. The combination of our fun-filled show and our delicious feast makes it a great experience for everyone!
Don't miss your chance to bring your group to our Myrtle Beach show! View more group information and plan your visit today.