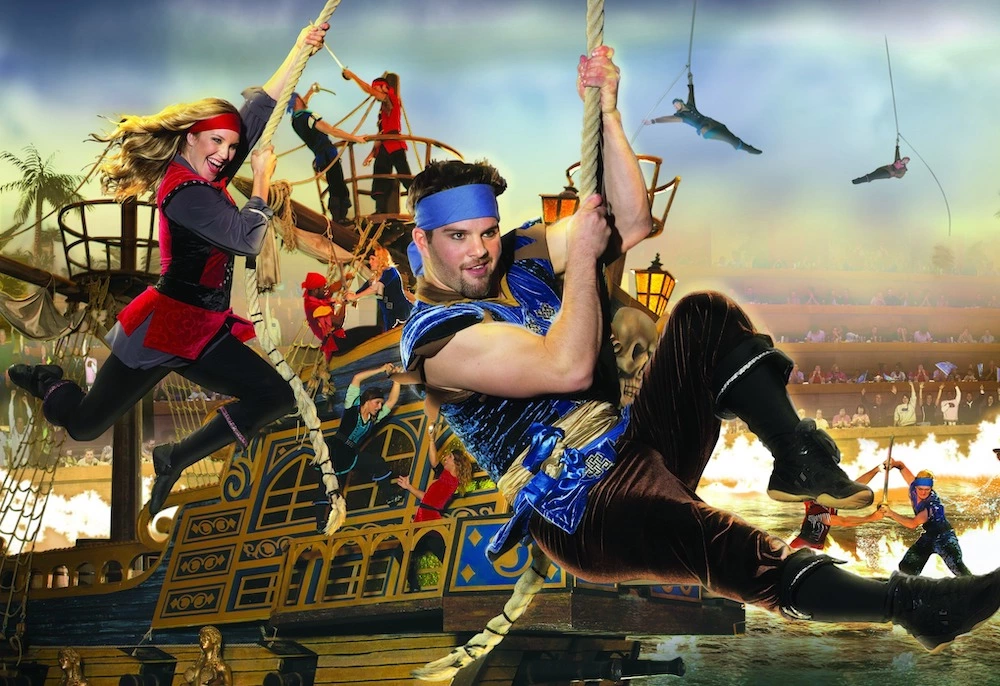 Fun, Feast, & Adventure: What You'll Love About Each at Pirates Voyage in Pigeon Forge
February 6, 2023
Get ready for fun, feast, and adventure at Pirates Voyage Dinner & Show! When you visit our dinner attraction, you'll be joining the most famous pirate and his quartermaster in an epic battle for Davy Jones' coveted sunken treasure. While there are so many elements you'll love about our show, we're going to break it down for you in 3 different categories: fun, feast, and adventure. Here's what you'll love about each at Pirates Voyage in Pigeon Forge:
Fun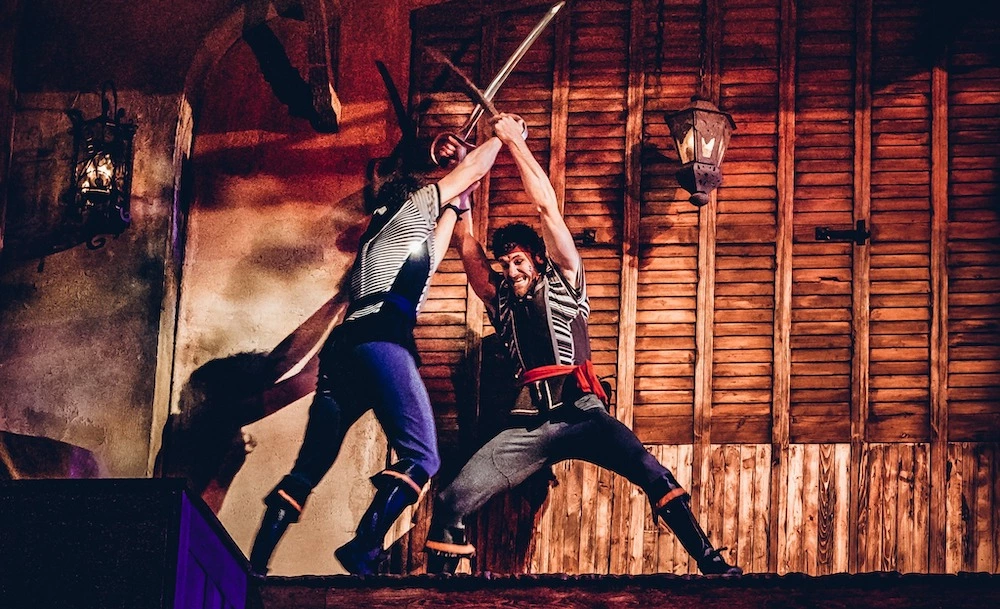 Our Pigeon Forge show is filled with non-stop action and excitement. In fact, the opportunities for fun begin before the show even starts! Arrive early to Join the Crew with special pirate and mermaid makeovers that will have kids feeling like they're a part of the show. Children can choose to be a daring pirate or a beautiful mermaid — and parents can even join in on the fun too! Once you get your makeovers, take your seats in our theater and prepare for a thrilling pirate battle with sword fights, acrobatics, and more. One part of our show that visitors find the most fun is when a castaway and a "Salty" sea lion win a battle with Captain Blackbeard through their clever antics and wit. There's also some high-flying fun that will have everyone cheering!
Feast
While you watch the fun unfold on stage, you'll be served a delicious four-course feast that's big enough to fill the most hungry of pirates. The meal begins with our famous Voyager Creamy Vegetable Soup and a hot Buccaneer Biscuit. Then you'll get to enjoy Cracklin' Pan-Fried Chicken, Swashbucklin' Sugar-Cured Ham, Cob-O' Buttery Corn, a Pirate Herb-Basted Potato, a Walk the Plank Specialty Dessert, and Unlimited Coca-Cola®, tea or coffee. Whether you're visiting with your sweetheart, your family, or a big group of friends, everyone will enjoy our meal!
Adventure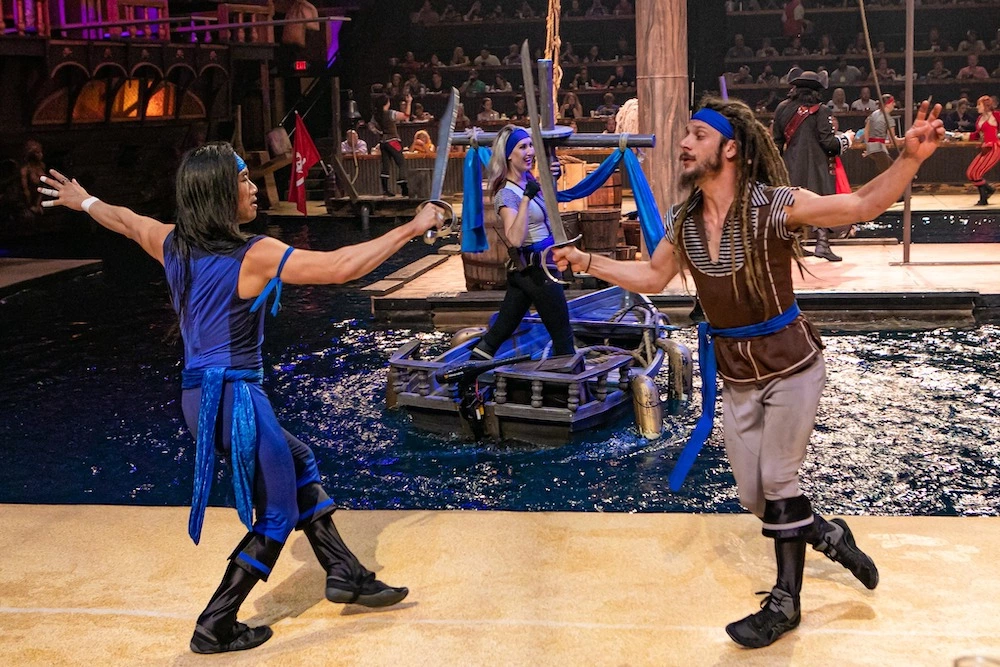 It wouldn't be an exciting pirate show if there wasn't plenty of adventure. Along with the fun, you'll be captivated by the action-packed adventure that takes place in our theater. The Crimson and Sapphire crews battle on land, on deck, in the water, and high above two full-sized pirate ships in our indoor hideaway lagoon! It's a daring and dramatic tale that features pirates, mermaids, high seas escapades, romance, and more. We combine acrobatics and high-diving stunts, pyrotechnics, animals, and music to create an unforgettable pirate adventure for all of our guests.
Visit Pirates Voyage in Pigeon Forge
All of the unique elements at Pirates Voyage in Pigeon Forge make us one of the best dinner attractions in the area. You will remember the fun, feast, and adventure at our show for many years to come. Remember to arrive early to Join the Crew, then stop by Pirates Treasure before or after the show for the perfect souvenir to take home with you.
Are you ready to set sail on an exciting pirate journey? Take a look at our Pigeon Forge show schedule, and get your tickets today.