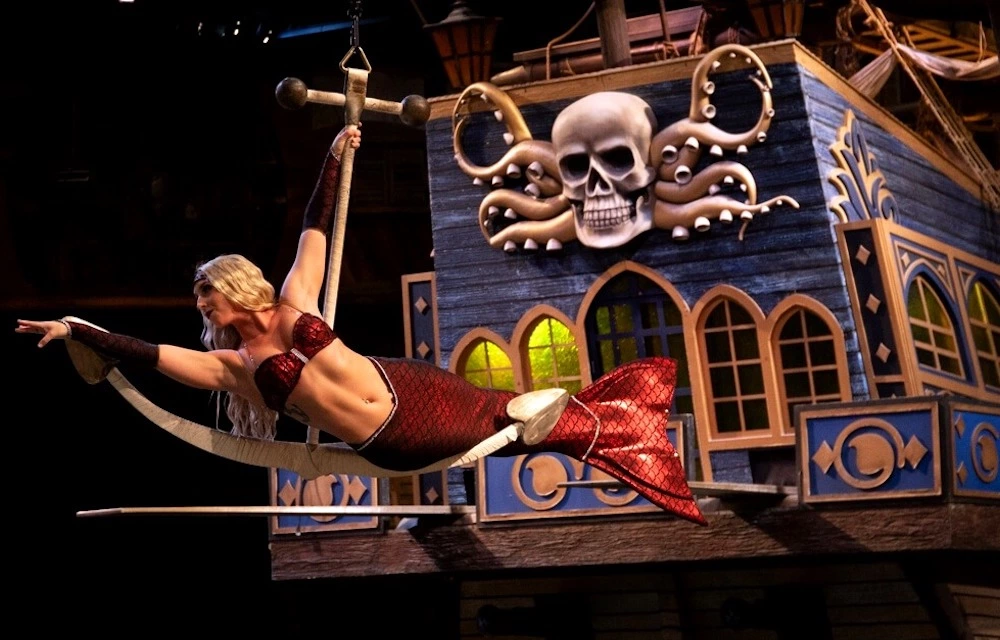 4 Favorite Acts at Our Dinner Show in Pigeon Forge
May 16, 2023
If you've never been to Pirates Voyage before, you're in for a treat! Our dinner show in Pigeon Forge is filled with non-stop action that all ages will love. You'll get to see pirates, mermaids, high seas escapades and romance while you enjoy a hearty pirate feast! Every moment of our show will have you on the edge of your seat, but we want to highlight some of guests' favorite acts during our dinner show in Pigeon Forge:
1. Salty the Sea Lion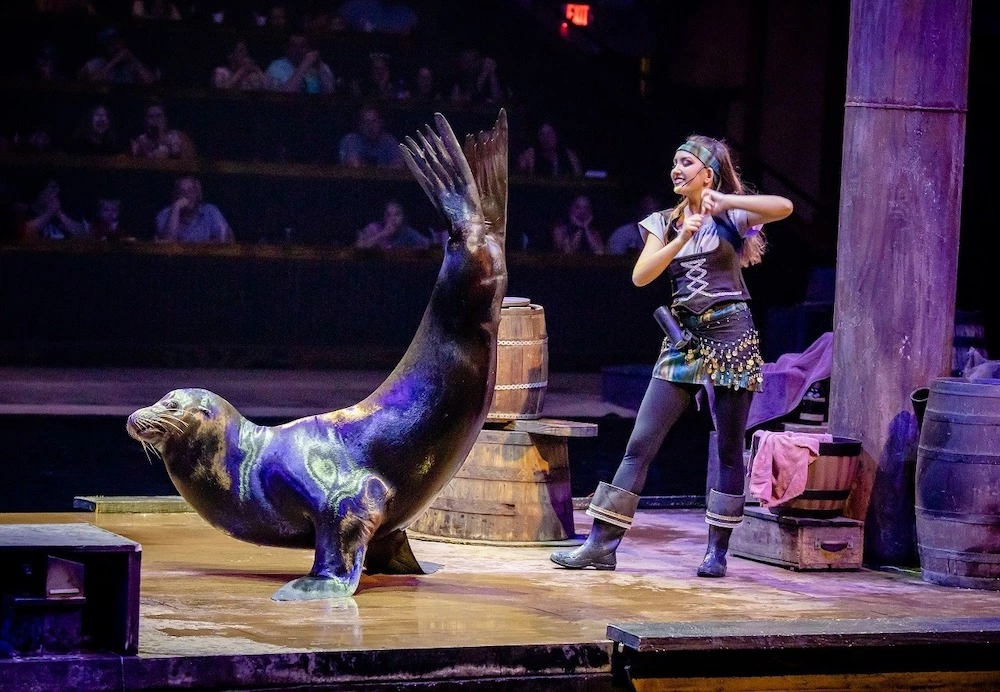 One act that entertains guests of all ages is our sea lion act! Salty has captured the hearts of all our audience members as he joins a comical castaway in a battle with Captain Blackbeard. He even does a little dance as he steals the show. This is the only place you'll get to see a sea lion in the heart of the Smokies, making this act even more special!
2. Fire Act
You won't believe your eyes during our astonishing fire act! Watch as one of our talented performers juggles and twirls real fire in an incredible act you have to see to believe. He'll light up Buccaneer Bay in flames!
3. Pirate Battles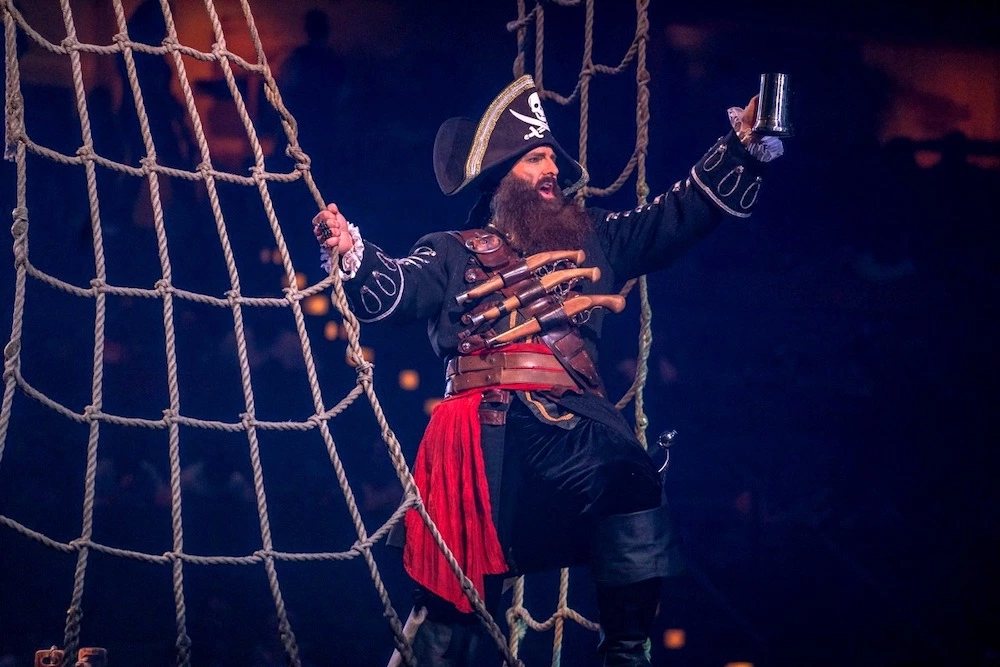 Of course we can't list the top acts at our dinner show in Pigeon Forge without mentioning our pirate battles. Captain Blackbeard and his quartermaster, Calico Jack, lead the Crimson and Sapphire crews in a battle on land, on deck, in water, and in the air above their full-sized pirate ships in our indoor hideaway lagoon! There'll be sword fighting, cannons blasting, and pirates scaling high above the ships as they fight to win the coveted pirate treasure. There are thrills around every corner!
4. Beautiful Mermaids
Pirates aren't the only ones who get to join in on all the action. Beautiful mermaids also participate in the fun! The mermaids perform gracefully above Buccaneer Bay before diving back into the water. You'll be amazed by their aerial talents!
About Our Dinner Show in Pigeon Forge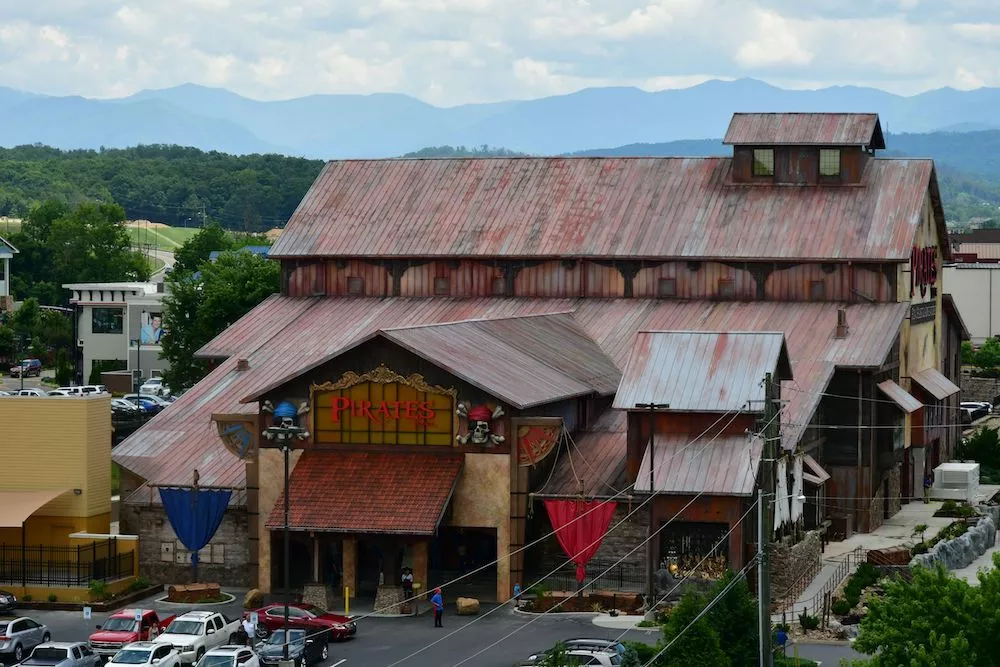 Our dinner show in Pigeon Forge is full of exciting acts that will keep everyone entertained throughout the evening. We've highlighted some of guests' favorite acts during the show, but kids, teens, and adults will fall in love with every moment at Pirates Voyage! Arrive at our dinner attraction early for the opportunity to Join the Crew and get a pirate or mermaid makeover — you'll feel like you're a part of the show! Then, take your seats and get ready to be served a four-course feast fit for hungry pirates and landlubbers alike. Our feast includes a Buccaneer Biscuit, Voyager Creamy Vegetable Soup, Cracklin' Pan-Fried Chicken, Swashbucklin' Sugar-Cured Ham, Cob-O' Buttery Corn, a Pirate Herb-Basted Potato, and a Walk the Plank Specialty Dessert. While you eat, enjoy all the action in our indoor hideaway lagoon! Be sure to stop by our gift shop before you leave to get your own pirate treasure to take home with you.
Now that you know more about some of the acts you can expect to see at our dinner show in Pigeon Forge, it's time to visit so you can enjoy the show! Take a look at our Pirates Voyage show schedule and get your tickets to our show today.