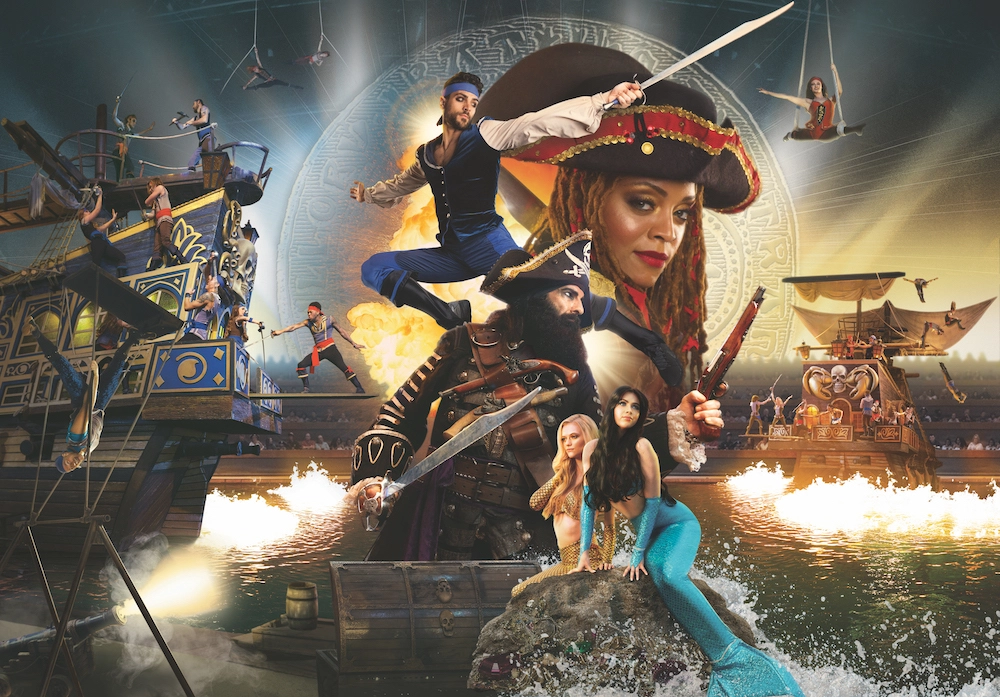 4 Exciting Tricks at Pirates Voyage Dinner & Show
August 22, 2023
When you visit Pirates Voyage Dinner & Show in Pigeon Forge, you can expect an action-packed show! We're so much more than your average dinner and show. Our show features an epic pirate battle with high seas escapades and romance. Throughout the performance, you'll have the opportunity to see some exciting stunts you won't see anywhere else, and we're here to tell you more about them. Here are 4 exciting tricks at Pirates Voyage Dinner & Show:
1. Fire Trick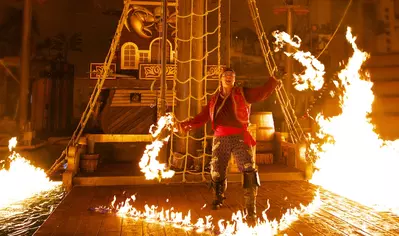 During our show, one of our talented performers shows off his skills in an astonishing fire act. He'll juggle and twirl real fire as he lights up Buccaneer Bay in flames! Your eyes will be glued to the stage as the fire is flipped and spun through the air in a mesmerizing trick that you have to see to believe.
2. Salty the Sea Lion
Our human performers aren't the only ones who get to show off their skills. Salty the Sea Lion is given the opportunity to amaze the audience with his tricks! Everyone's favorite sea lion takes the stage to join in on the fun as he battles Captain Blackbeard. Watch as Salty shows off his dance moves and performs other clever tricks to win the battle!
3. Diving Tricks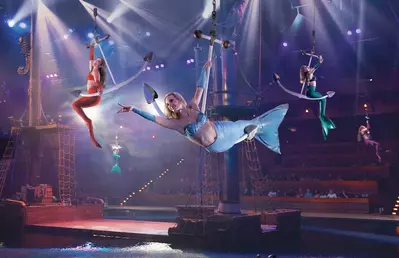 Joining our pirates on stage are our beautiful mermaids. The mermaids perform gracefully above Buccaneer Bay before diving back into the water. The mermaids aren't the only ones who get to have fun diving, though! Pirates Voyage Dinner & Show also features some daring, dock-diving dogs!
4. Sword Fighting
It wouldn't be an epic pirate battle without some sword fighting, and that's exactly what you can expect to see when you visit our Pigeon Forge dinner show. The Crimson and Sapphire crews battle on land, on deck, in water, and in the air for the coveted pirate treasure. Watch as they scale full-sized pirate ships and perform aerial stunts during incredible sword fights! In addition to sword fighting, audience members will also witness cannons blazing, pyrotechnics, and singing and dancing!
What to Expect at Pirates Voyage Dinner & Show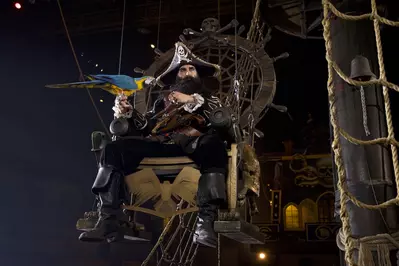 When you visit Pirates Voyage Dinner & Show, you can expect all of these incredible tricks and more! Our fun-filled show is great for all ages and will keep you entertained all evening long. We recommend arriving early to participate in our Join the Crew experience to be transformed into a swashbuckling pirate or a beautiful mermaid. Then, sit back and enjoy the show as you feast on a pirate dinner of Cracklin' Pan-Fried Chicken, Swashbucklin' Sugar-Cured Ham, Voyager Creamy Vegetable Soup, and more. You'll leave our show filled with delicious food and unforgettable memories!
Are you ready to come see all of these exciting tricks yourselves? Take a look at the Pirates Voyage Dinner & Show schedule, then choose the date you want to visit!