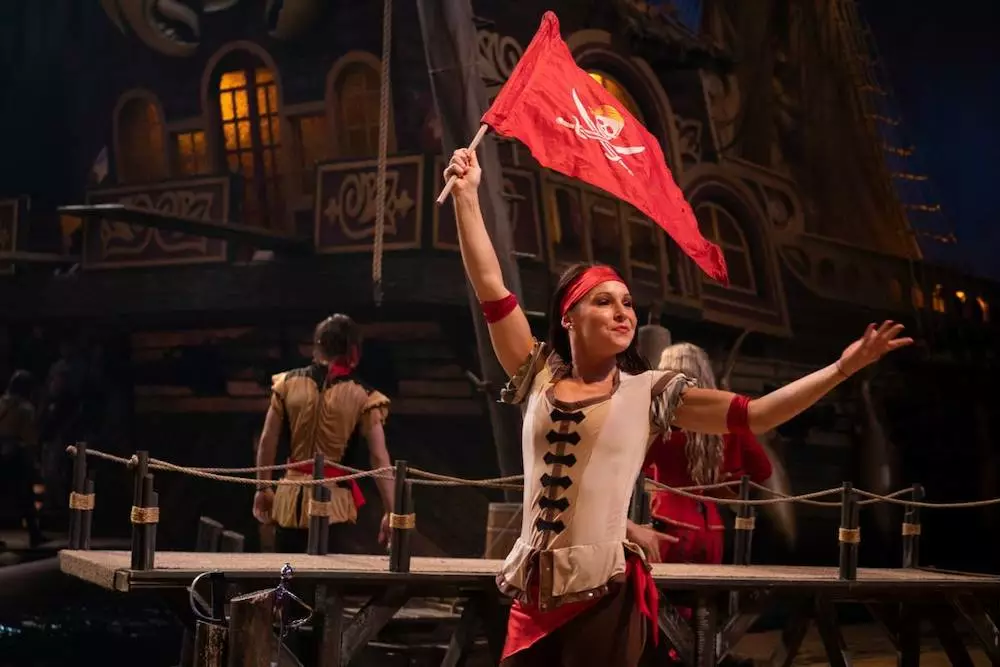 3 Dinner Shows in Pigeon Forge, TN You Have to See
February 20, 2023
Would you love to sit back and enjoy a delicious meal while you watch an entertaining live show? A visit to Pigeon Forge should be in your future plans! Pigeon Forge is home to the best dinner attractions that each provide a feast big enough to feed any appetite and action-packed entertainment. To help you decide where to go while you're in town, we've made a list of the top dinner shows in Pigeon Forge, TN that you have to see:
1. Pirates Voyage Dinner & Show
Of course, our Pigeon Forge dinner show is going to be on the top of the list! Pirates Voyage Dinner & Show is a one-of-a-kind show that transports you to the sea while you're in the heart of the Smokies. Watch as Captain Blackbeard and his quartermaster, Calico Jack, lead the Crimson and Sapphire crews in an epic battle on land, on deck, in water, and high above full-sized pirate ships in an indoor hideaway lagoon. Our action-packed pirate adventure doesn't just feature pirates, though! You'll see beautiful mermaids, tropical birds, and even a "Salty" sea lion. Enjoy acrobatics, pyrotechnics, and more while you feast on a four-course dinner you won't find at any restaurants nearby. The meal includes Voyager Creamy Vegetable Soup, Cracklin' Pan-Fried Chicken, Swashbucklin' Sugar-Cured Ham, and more delicious items. We also have vegan, vegetarian, gluten-free, and dairy-free options available to accommodate all dietary preferences and needs. You definitely won't want to miss our dinner show in Pigeon Forge!
2. Dolly Parton's Stampede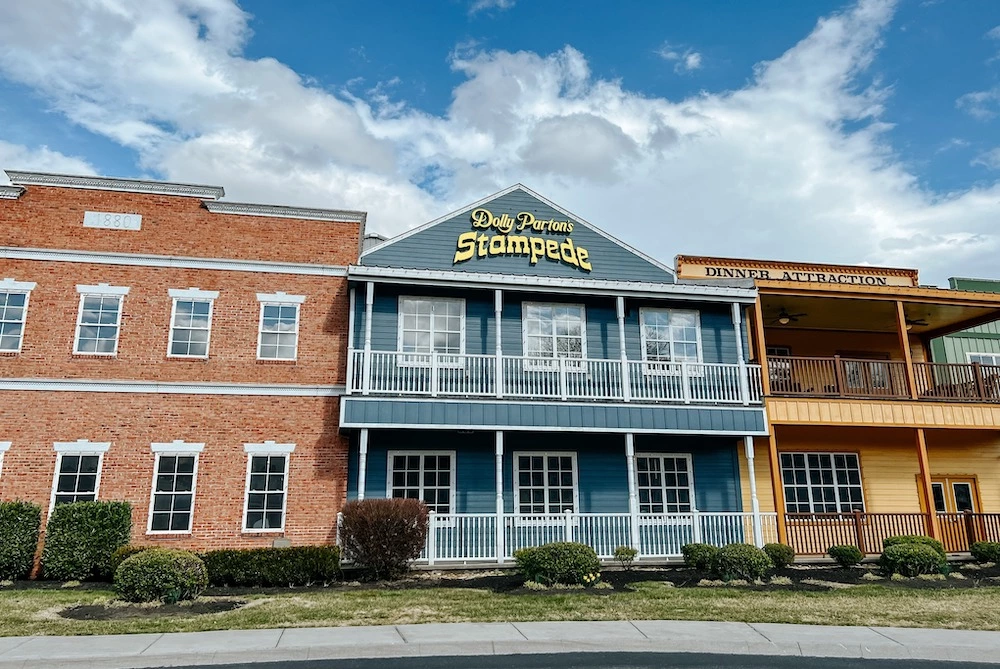 Just a short drive from Pirates Voyage, you'll find Dolly Parton's Stampede. This is the world's most visited dinner attraction! When you visit Dolly Parton's Stampede, you're in for a treat. The show features 32 magnificent horses with a cast of talented trick riders, stunning special effects, spectacular musical productions, and an incredible aerial performance. Horses aren't the only animals you'll see in this show — you'll be amazed as buffalo and longhorns storm through the arena! Visitors also fall in love with the grand finale, which is a beautiful celebration of American patriotism. As you watch the show, you'll feast on a four-course dinner that will satisfy all your home-cooked country cravings. The menu includes The Stampede's Original Creamy Vegetable Soup, a Hot Homemade Biscuit, a Tender Whole Rotisserie Chicken, Hickory Smoked Barbeque Pork Loin, Buttery Corn on the Cob, an Herb-Basted Potato, and a Hot Flaky Apple Turnover.
3. Hatfield & McCoy Dinner Feud
In the mood for a night filled with laughter? Hatfield & McCoy Dinner Feud is one of our favorite dinner shows in Pigeon Forge, TN! When you visit this dinner attraction, you'll become a part of the longest running family feud in history. Pick your side and cheer on the Hatfields or McCoys as they try to settle their differences through singing and dancing, mighty feats of strength, and jaw-dropping stunts. Some of the best parts of the show are the billycopter, which brings high-flying fun to the stage, and the swimming hole, which allows diving hillbillies and dogs to show off their skills! Along with the show, you can enjoy an all-you-can-eat Southern homestyle feast. The feast includes Feudin' Fried Chick'n, Open Pit Pulled-to-Pieces Pork Barbeque, Southern Style Creamy Soup, Smashed Mashed Taters, Buttery Corn on the Cob, Ma's Hot Homemade Bread, No Tellin' What's In It Coleslaw, and Granny's Famous Specialty Dessert.
It's time to start planning your visit to enjoy all the best dinner shows in Pigeon Forge, TN! Take a look at the Pirates Voyage show schedule to find a date and time that works for you, and get your tickets!