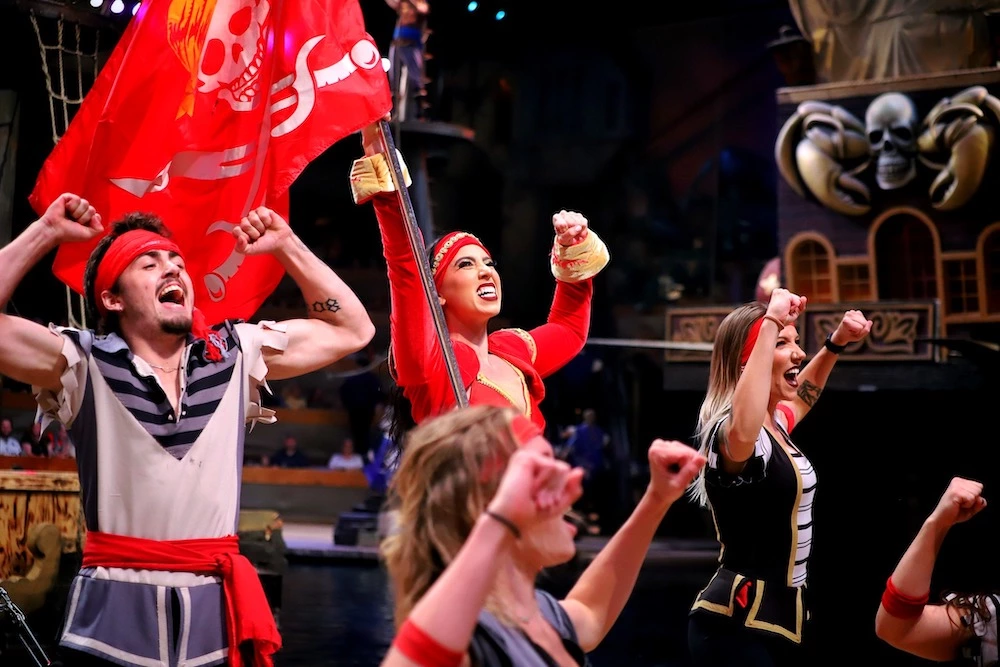 3 Dinner Theaters in Pigeon Forge You Have to Visit This Spring
March 6, 2023
Are you ready to enjoy the best spring vacation? Come to Pigeon Forge! This top vacation destination comes alive during the spring season as temperatures start to warm up and wildflowers begin to bloom. While you're in Pigeon Forge, you don't want to miss the opportunity to experience the best activity: a dinner show! In addition to our incredible show, there are some other popular shows you can see while you're in town too. Here are 3 dinner theaters in Pigeon Forge you have to visit this spring:
1. Pirates Voyage Dinner & Show
Whether you've been to see our show before or are hoping to see it for the first time, Pirates Voyage Dinner & Show is a can't-miss attraction. We've set sail for an exciting spring adventure that's unlike any other. You'll be transported from the heart of the Smokies to the sea as you watch a daring and dramatic tale featuring pirates, mermaids, and more. Captain Blackbeard and his quartermaster, Calico Jack, lead the Crimson and Sapphire crews in a battle for sunken treasure on land, on deck, in water, and high above their full-sized pirate ships. Beautiful mermaids, tropical birds, and a "Salty" sea lion join in on all the action as well. While you watch, you'll get to enjoy a four-course pirate feast of Voyager Creamy Vegetable Soup, Buccaneer Bread, Cracklin' Pan-Fried Chicken, Swashbucklin' Sugar-Cured Ham, Cob-O' Buttery Corn, a Pirate Herb-Basted Potato, and a Walk the Plank Specialty Dessert. It'll be an evening you won't soon forget!
2. Dolly Parton's Stampede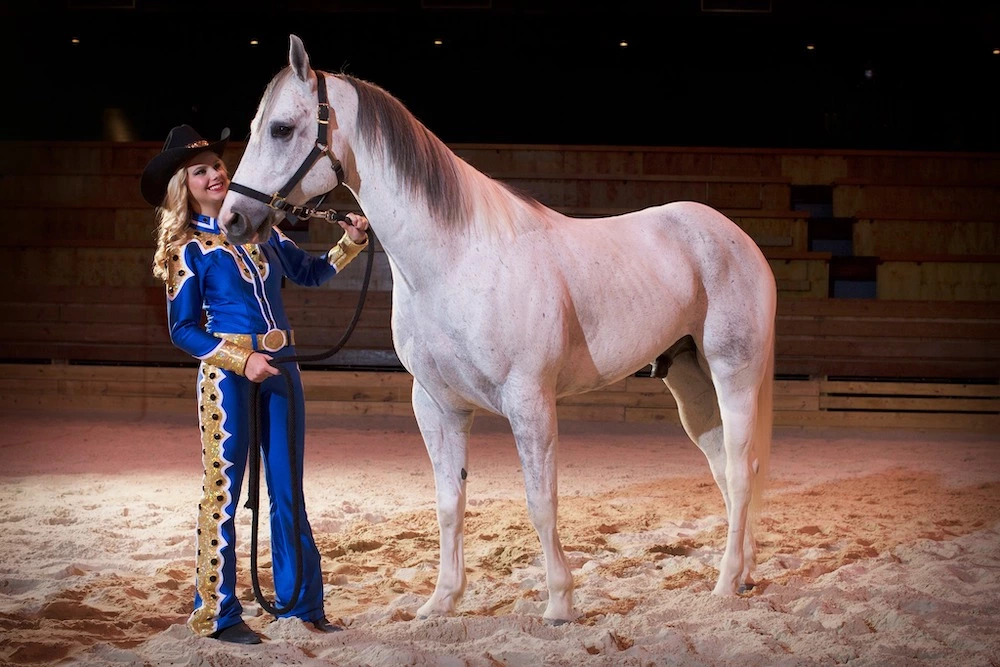 If you've been to see our show before and want to visit somewhere different, you should check out Dolly Parton's Stampede! This is another one of the best dinner theaters in Pigeon Forge, and the high-spirited adventure returns each year in February! Be one of the first to enjoy a new season at Dolly Parton's Stampede. This dinner attraction is the most fun place to eat in the Smokies and features 32 magnificent horses, a cast of talented trick riders, stunning special effects, aerial performances, and spectacular musical productions. While you watch the show, enjoy a four-course feast that is made to satisfy all your home-cooked, country cravings and will remind you of the family meals you share back home. The dinner includes creamy vegetable soup, a homemade biscuit, a tender whole rotisserie chicken, hickory smoked barbecued pork loin, buttery corn on the cob, an herb-basted potato, and a hot flaky apple turnover.
3. Hatfield & McCoy Dinner Feud
In the mood for an evening filled with laughter with your family and friends this spring? Visit Hatfield & McCoy Dinner Feud! This dinner theater in Pigeon Forge is home to the longest running family feud in history, and you're invited to be a part of it. Watch as the Hatfields and McCoys try to settle their differences mountain-style through jaw-dropping stunts, feats of strength, and singing and dancing. The billycopter helps the sheriff keep an eye on all the chaos happening in town, while the addition of the swimming hole allows for dining hillbillies and dogs to show off their skills! While you watch the hilarious antics unfold, enjoy an all-you-can-eat Southern homestyle feast that tastes like it came straight from Granny's kitchen! The meal includes Feudin' Fried Chick'n, Open Pit Pulled-to-Pieces Pork Barbeque, Southern Style Creamy Soup, Smashed Mashed Taters, Buttery Corn on the Cob, Ma's Hot Homemade Bread, No Tellin' What's In It Coleslaw, and Granny's Famous Specialty Dessert. You better bring your appetite and your laughs for this dinner show!
Are you ready to plan your visit to one of these dinner theaters in Pigeon Forge? Take a look at our show schedule for Pirates Voyage Dinner & Show and get ready for an action-packed spring vacation in Pigeon Forge!