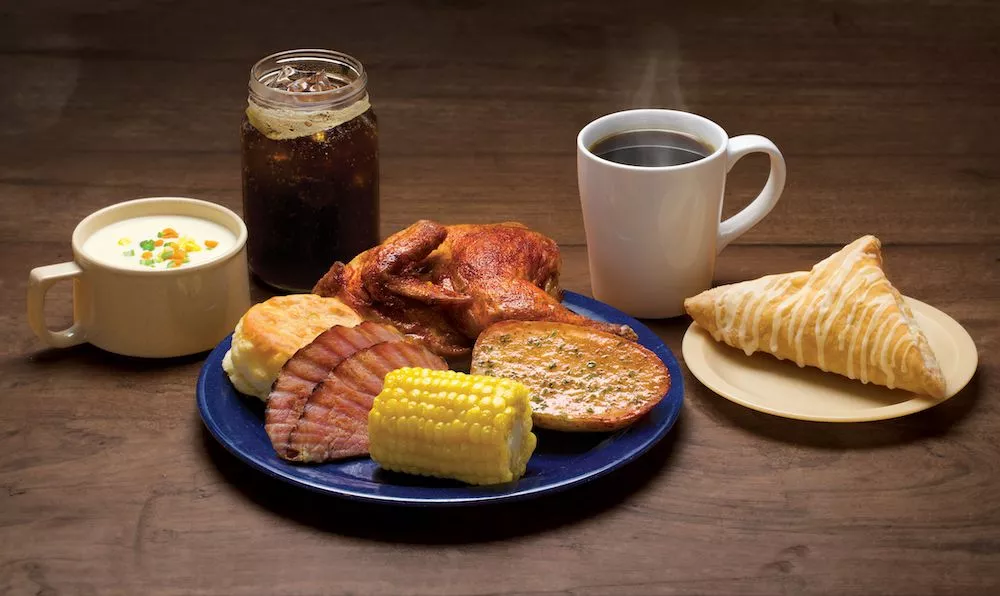 All the Details About Our Pirates Voyage Dinner Show Menu
September 22, 2023
One thing you have to bring with you when you visit Pirates Voyage Dinner & Show in Myrtle Beach is your appetite! We serve each of our guests a four-course pirate feast that's enough to satisfy hungry landlubbers and pirates alike. Are you curious about the dinner portion of our Myrtle Beach dinner show? Keep reading for all the details about our Pirates Voyage dinner show menu.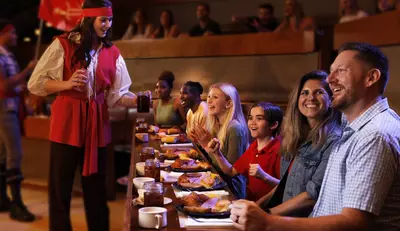 Our dinner show menu has something for everyone. No one will leave hungry when visiting Pirates Voyage in Myrtle Beach. The four-course feast starts off with our famous Voyager Creamy Vegetable Soup and some Buccaneer Bread. Our soup has become a favorite among all our visitors. In fact, it's so popular that we started selling our soup mix online and in our gift shop so you can make it at home! Following our Voyager Creamy Vegetable Soup and Buccaneer Bread is Half O' Roasted Cackler (Chicken), Swashbucklin' Sugar-Cured Ham, Cob O' Buttery Corn, an Herb-Basted Potato Wedge, Apple O' Me Eye Pie, and unlimited Coca-Cola®, tea, or coffee. It's a mouth-watering feast that's as big as our main event!
Special Meals
Do you have dietary restrictions or preferences? You're in luck! We want all guests to be able to enjoy the dinner portion of our action-packed dinner show. That's why we offer special meals to accommodate all diets. In addition to our regular four-course feast, we have gluten-free meals that include everything from our Swashbucklin' Sugar-Cured Ham to a Snickerdoodle Cookie and vegan/vegetarian meals that include a Vegetable Medley, an Herb-Basted Potato Wedge, and more. We also have delicious dairy-free meals available upon request! If you or anyone in your party would like a special meal, please mention it at the time of your reservation.
When Is It Served?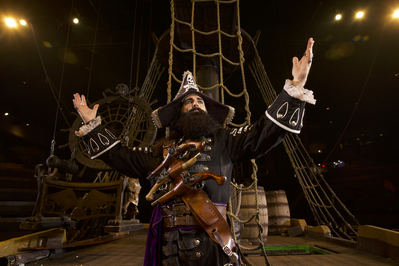 There won't be a moment of boredom while you enjoy your hearty pirate feast! Our meal is served once you take your seats and get ready for the action to unfold in Buccaneer Bay. Watch an incredible pirate battle between the Crimson and Sapphire crews as they fight for the sunken treasure. Captain Blackbeard and his quartermaster, Calico Jack, lead the crews in a battle on land, on deck, in water, and in the air above their full-sized pirate ships. In this tale of high seas escapades and romance, you'll witness sword fighting, blazing cannons, fire tricks, high diving, and more while you dine. You can feast on the meal all throughout the show — just make sure you save room for dessert at the end!
Get Your Creamy Soup Mix Today
Now that you know more about our Pirates Voyage dinner show menu, we bet you can't wait to try it! To help time pass before you come to our show, try recreating our dinner at home! Our creamy soup mix is sold online and makes it easy to enjoy the tastes of Pirates Voyage in your own home. Purchase your Creamy Soup Mix online and set your own menu for an evening of family food and fun at home!
Get Your Pirates Voyage Dinner Show Tickets
Are you ready to start planning your vacation? The key is to get your Pirates Voyage tickets in advance! Take a look at our Myrtle Beach show schedule to help you find the perfect date and time, then purchase your tickets.