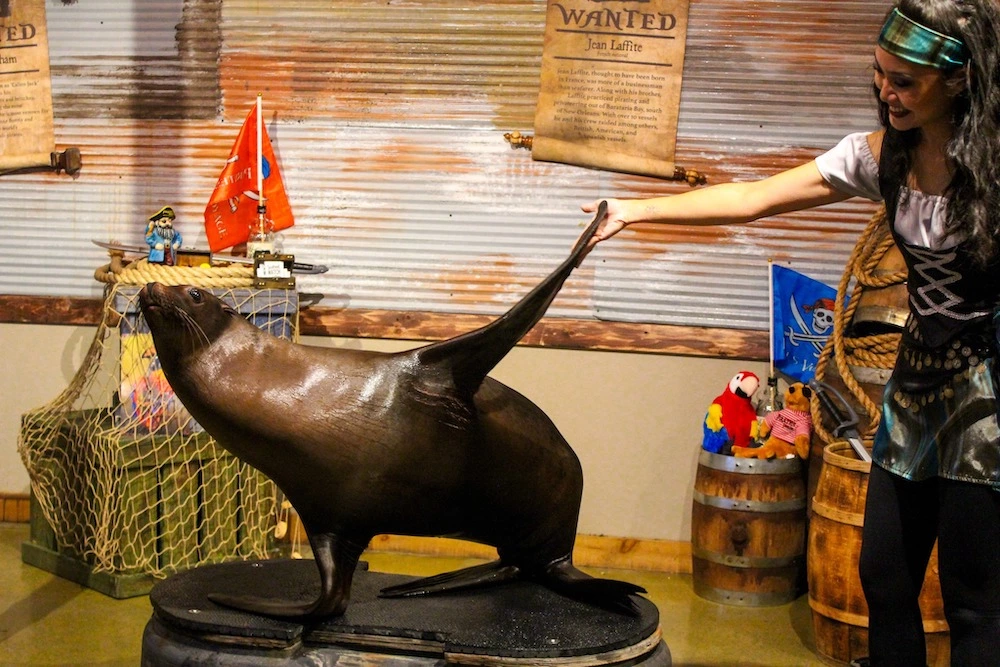 All the Details About the Animal Encounter at Pirates Voyage in Pigeon Forge
October 18, 2023
Have you ever wished you could get up close and personal with our animal performers at Pirates Voyage in Pigeon Forge? We have great news for you — now you can! We're excited to offer a one-of-a-kind experience at our dinner attraction: our Animal Encounter. Our Animal Encounter makes it possible for visitors to interact with the animals that call Pirates Voyage home. To help you learn more about it, including how to get tickets, we've created a guide with all the details about our Animal Encounter at Pirates Voyage in Pigeon Forge:
What Is the Animal Encounter?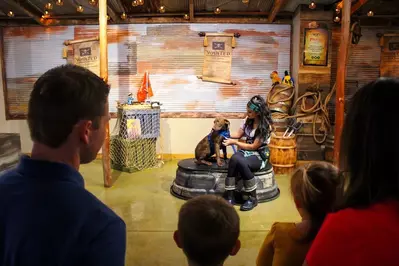 Our Animal Encounter in Pigeon Forge is a fun experience for the whole family! It provides visitors with an exciting, educational opportunity that allows them to interact with our incredible animals who call Pirates Voyage in Pigeon Forge home. Not only will you get to interact and meet our animals, but you'll also learn more about our positive reinforcement training and how we provide exceptional welfare for our animals. This is a unique opportunity you won't find anywhere else!
How Long Is It?
This interactive program is 30 minutes long. It's open daily for a 4:30 p.m. booking time through the end of the year, with the exception of Christmas Day. Additional times will be added as we fill up. We recommend arriving 15 minutes before the scheduled start time to guarantee you don't miss out on a minute of the fun!
What Animals Can I See?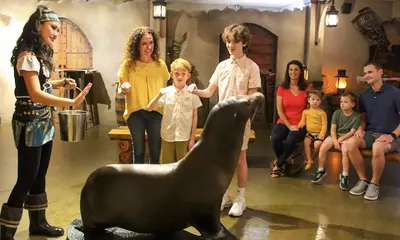 During the Animal Encounter at Pirates Voyage in Pigeon Forge, participants will have the opportunity to meet the animal performers who call our attraction home! Salty the Sea Lion has become a favorite part of our dinner show when he wins a battle against Captain Blackbeard, and you'll have the chance to meet him during our Animal Encounter! You'll also get to interact with our other animal ambassadors, including our daring dogs and tropical birds. It's not every day you can be this close to some of these animals in the heart of the Smoky Mountains!
How Do I Get Tickets?
You can purchase your tickets for our Animal Encounter online! All you have to do is head to our Animal Encounter schedule and choose the date you want to visit. You don't have to have a ticket to our dinner show in order to enjoy our Animal Encounter, but we recommend doing both on the same day for an action-packed evening you'll never forget!
About the Animals at Pirates Voyage in Pigeon Forge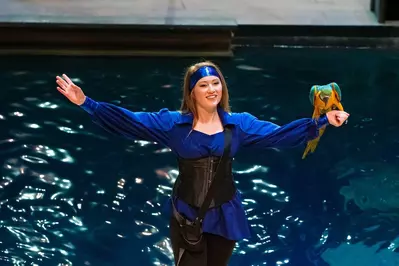 Our animals at Pirates Voyage in Pigeon Forge have quickly become visitors' favorite parts of our dinner show. Whether you're watching Salty the Sea Lion show off his dance moves or our daring dogs dive into the water, the animals add a whole other level of fun to our show. We are honored to work with our sea lions and other animal performers, and that's why we take the necessary steps to prioritize our animals' health and welfare. You'll learn more about how we care for our sea lions, tropical birds, and dogs during our Animal Encounter.
Ready to experience this one-of-a-kind program? Get your tickets to our Animal Encounter at Pirates Voyage in Pigeon Forge today!