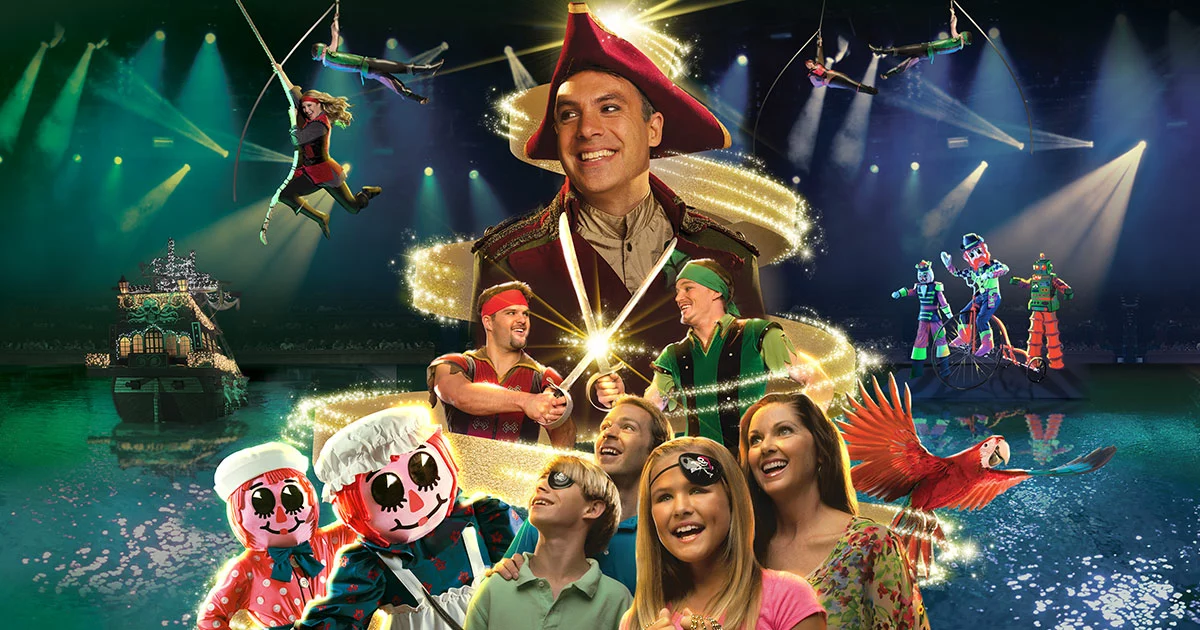 A Christmas To Remember Begins Nov. 10!
October 27, 2016
Pirates Voyage Dinner & Show Presents A Christmas To Remember Starting Nov. 10 in Myrtle Beach, SC!
Pirates Voyage Dinner & Show, located in Myrtle Beach, South Carolina, takes the adventure and fun of its cavalier crew of characters on a Christmas adventure unlike anything else to be experienced this holiday season. Opening on Friday, Nov. 10 and continuing through New Year's Eve, Pirates Voyage combines a classic Christmas tale with a bountiful feast that will combine a pirate's "Yo Ho" with the season's "Ho Ho Ho."
The holiday adventure starts in Pirates Village, where a cast of pirates and more, gussied up for the Christmas season, entertain show guests before visitors enter the arena for the main holiday show, a swashbuckling spin on "A Christmas Carol" with Captain Scrooge.
"We invite adventurers of all ages to start a new Christmas tradition for the holidays like no one else can offer," said Paul Brown, General Manager of Pirates Voyage. "Where else can families have fun together creating memories that will last long after the holidays are gone—with pirates, acrobatics, a delicious meal, a classic holiday story with its own special pirate twist and camels and angels helping tell about the true meaning of Christmas in our Nativity. As we like to say, it's a Holly Jolly Roger Christmas event!"
The Mystical Christmas Spirit takes the captain through time and space to find the true meaning of Christmas, including a "dream" where giant toys come to life and perform amazing acrobatics high above the indoor lagoon.
Other adventures during this holiday experience at Pirates Voyage include a live Nativity featuring the three wise men on camels, an angel with a special message and a comical Christmas castaway and her sea lion companion. At "The Most Fun Place to Eat in Myrtle Beach," holiday guests also will be thrilled by an epic battle between the crimson and emerald pirates as they compete for the coveted Christmas treasure on land, on deck, in water and high above two full-sized pirate ships.
During this swashbuckling Christmas spectacular, guests are served a fabulous four-course holiday feast straight from Captain Scrooge's galley. The meal begins with voyager creamy vegetable soup and buccaneer bread. Next, guests receive "half o' roasted cackler" (chicken), pulled barbeque pork, cob o' buttery corn, and a pirate herb-basted potato. Apple o 'me eye pie and unlimited Pepsi products, tea or coffee complete the meal. Vegetarian and gluten-free meals are available by request.