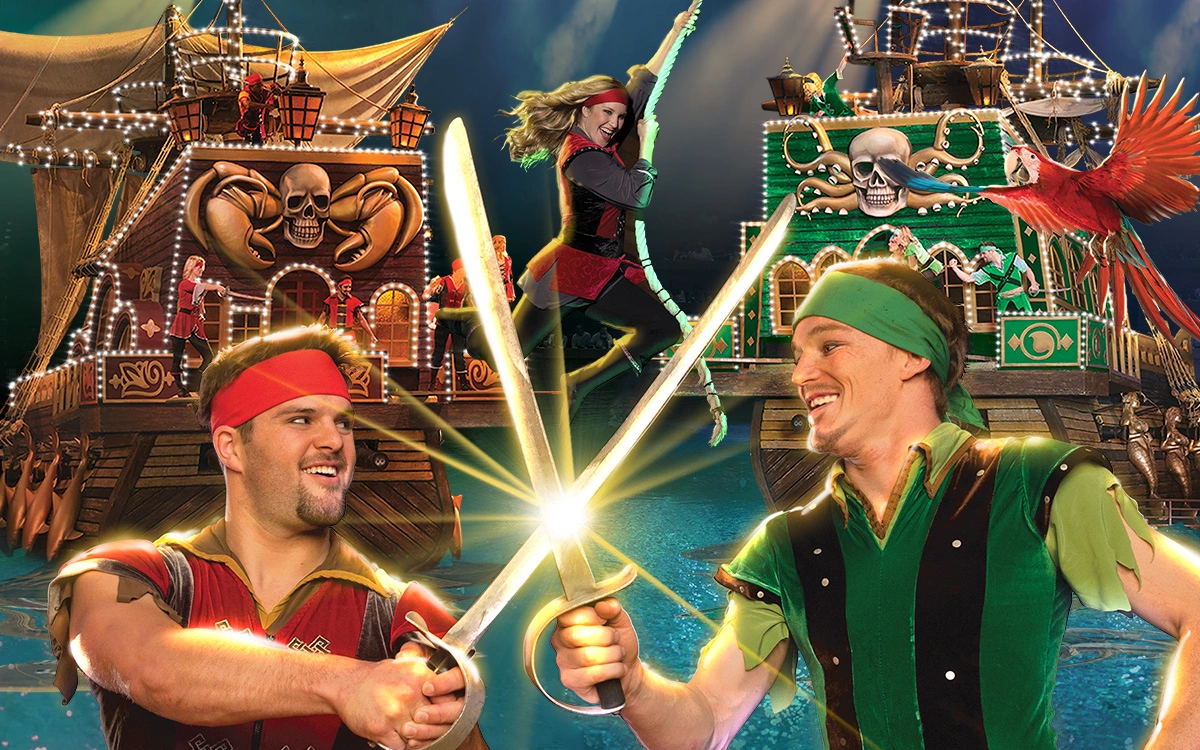 Christmas at Pirates Voyage Premieres in Pigeon Forge
October 23, 2019
Inaugural Holiday Show Premiers November 1 At Pirates Voyage In Pigeon Forge
After a highly successful opening season, Pirates Voyage Dinner & Show in Pigeon Forge prepares to sail into the holidays with a new Christmas show that offers a spectacular swashbuckling spin on "A Christmas Carol" with Captain Scrooge and his cavalier crew.
The premiere of this holiday show promises to be a Christmas adventure unlike anything else experienced in the Smokies this yuletide season. Opening on Friday, November 1, 2019, and continuing through January 4, 2020, Pirates Voyage combines a classic Christmas tale with a bountiful feast that will join together a pirate's "Yo Ho" with the season's "Ho Ho Ho."
"We invite swashbucklers of all ages to start a new Christmas tradition for the holidays like no one else can offer," said Jeff Thomas, General Manager of Pirates Voyage. "Where else can families come together and create memories that will last long after the holidays are gone—with pirates, acrobatics, a special delicious meal, a classic holiday story with its own special pirate twist and angels helping bring about the true meaning of Christmas in our Nativity. As we like to say, it's a Holly Jolly Roger Christmas event!"
During Christmas at Pirates Voyage, high tide meets the yuletide in this new show that offers a variety of holiday fun and entertainment that will make for lasting holiday memories for everyone who attends. The Mystical Christmas Spirit takes the captain through time and space to find the true meaning of Christmas, including a "dream" where giant toys come to life and perform amazing acrobatics high above the indoor lagoon. Other adventures during this holiday experience at Pirates Voyage include a live Nativity, an angel with a special message and a comical Christmas castaway and her sea lion companion. Holiday guests also will be thrilled by an epic battle between the crimson and emerald pirates as they compete for the coveted Christmas treasure on land, on deck, in water and high above two pirate ships.
The adventure actually begins in the Pirates Village, where younger swashbucklers, as well as parents and grandparents, can "Join the Christmas Crew" and be transformed into mermaids and pirates before the main show begins. The four-course holiday feast straight from Captain Scrooge's yuletide galley makes Pirates Voyage the most unique place to eat in the Smokies. The meal begins with Voyager creamy vegetable soup and a homemade buccaneer biscuit. The feast fit for a pirate continues with cracklin' pan-fried chicken, sugar-cured ham, matey's mac 'n' cheese, and Jolly Roger sweet potato souffle. Walk the plank peach turnover and unlimited Coca-Cola® products, tea or coffee to complete the meal. Vegetarian and gluten-free meals are available by request.