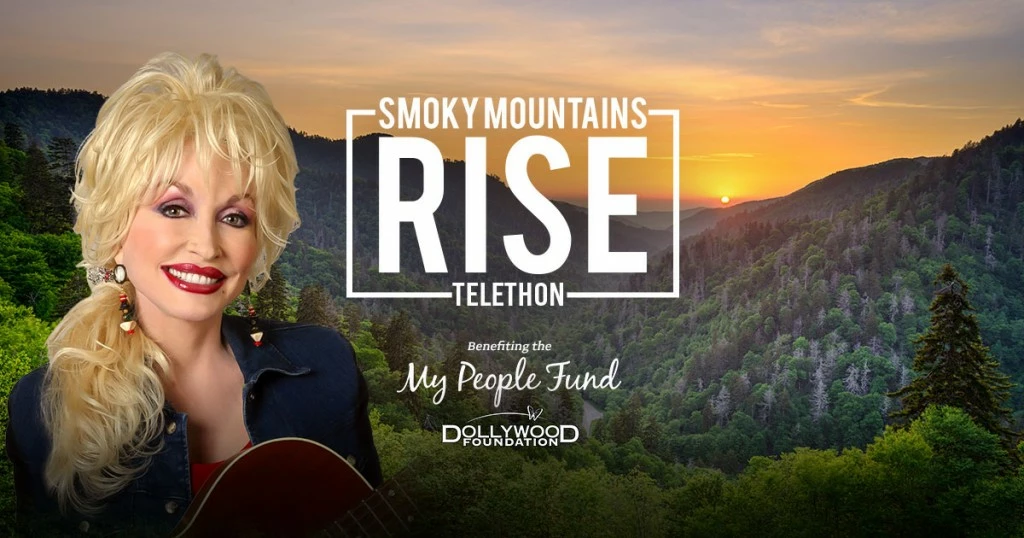 Celebrities and Artists Added To My People Fund Telethon
December 12, 2016
Hank Williams Jr., Cyndi Lauper and Alabama among those who will join Dolly on Dec. 13 at Smoky Mountains Rise: A Benefit for the My People Fund
The impressive lineup of performers continues to grow for Smoky Mountains Rise: A Benefit for the My People Fund on Tuesday, Dec. 13 at 8 p.m. (EST). Hank Williams Jr., Cyndi Lauper, Alabama, Don McLean, Ronnie Dunn, Jamey Johnson and Lauren Alaina have been added to the star-studded telecast, which will be broadcast on GAC, AXS-TV, RFD and The Heartland Network.
See Smoky Mountains Rise Viewing Opportunities
During the telethon, viewers will be asked to call 1-866-CARE MORE or 800-942-9026 to donate to the My People Fund.
Donate To My People Fund Online
A number of celebrities will answer phones during the telethon. Paula Deen and her sons Bobby and Jamie, RaeLynn, Dailey & Vincent, Moonshiners' Mark & Digger, T.G. Sheppard, Jason Crabb, Larry Gatlin, comedian Henry Cho, Tim Rushlow and more will help man the phone lines during the telethon. All of the celebrities are donating their time and performances to help the effort. Dolly said,
"Every day I'm touched even more by the number of people who are joining us to help raise money for the people of the Smoky Mountains. It is a special place and I'm honored that these people care so much about what we're doing through the My People Fund to help those who have lost everything due to the wildfires."
About My People Fund
On Dec. 1 Dolly Parton announced a new effort by The Dollywood Foundation, The Dollywood Company and all her dinner show attractions including Dixie Stampede, Lumberjack Adventure and Pirates Voyage to establish a fund to assist the victims of the Great Smoky Mountain wildfires in Tennessee. The My People Fund will provide $1000 each month to Sevier County families who lost their homes.
Donate To My People Fund Online
For those wishing to send donations via mail, those contributions should be sent to:
My People Fund
c/o Dollywood Foundation
111 Dollywood Lane, Pigeon Forge, TN 37863
Please help the Dollywood Foundation share the word about this effort by using the hashtags #MyPeopleFund and #someplacespecial.
Great Smoky Mountains Wildfires
On Nov. 28, devastating wildfires burned some 17,000 acres in the Great Smoky Mountains National Park. The fires also affected parts of Gatlinburg and Sevier County, TN. Sadly, 14 people lost their lives in these fires, and over 100 confirmed injuries were reported. Over 14,000 people were evacuated during the fires which damaged or destroyed more than 1,700 structures (homes, businesses and churches).