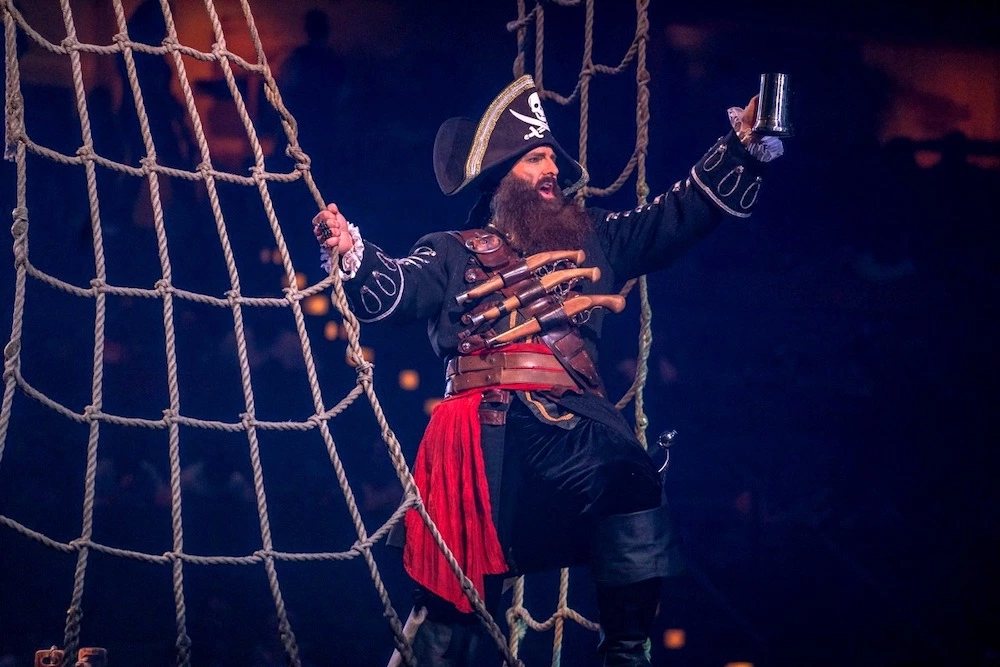 3 Reasons We're the Best Pirate Dinner Adventure in Myrtle Beach
March 16, 2023
If you love pirates, you'll love visiting Myrtle Beach! Pirate-themed attractions are common in this popular vacation destination. However, when you're looking for an unforgettable pirate adventure, there's no better place to visit than Pirates Voyage Dinner & Show. To help you learn more about our attraction, we've put together a list of 3 reasons we're the best pirate dinner adventure in Myrtle Beach.
1. Perfect for Families
The family fun is endless at Pirates Voyage Dinner & Show! In fact, the fun begins before the show does! Arrive at Pirates Voyage early for the opportunity to Join the Crew. This experience is fun for the whole family and is available for all ages for an additional cost. Visitors can be transformed into a swashbuckling pirate or a beautiful mermaid with these makeovers. After you look like you're a part of the crew, head inside and take your seats for an action-packed show! Our Myrtle Beach attraction has something for everyone in the family, from daring stunts and acrobatics to singing and dancing. Kids will especially love getting to see Salty the Sea Lion show off his clever tricks! After the show ends, be sure to stop by the gift shop for some pirate treasure. You'll find plush animals, toy swords, pirate hats, apparel, handcrafted pirate ships, and more. When you visit Pirates Voyage with your family, one thing is for sure — you'll leave with special memories you can talk about for years to come.
2. Daring & Dramatic Tale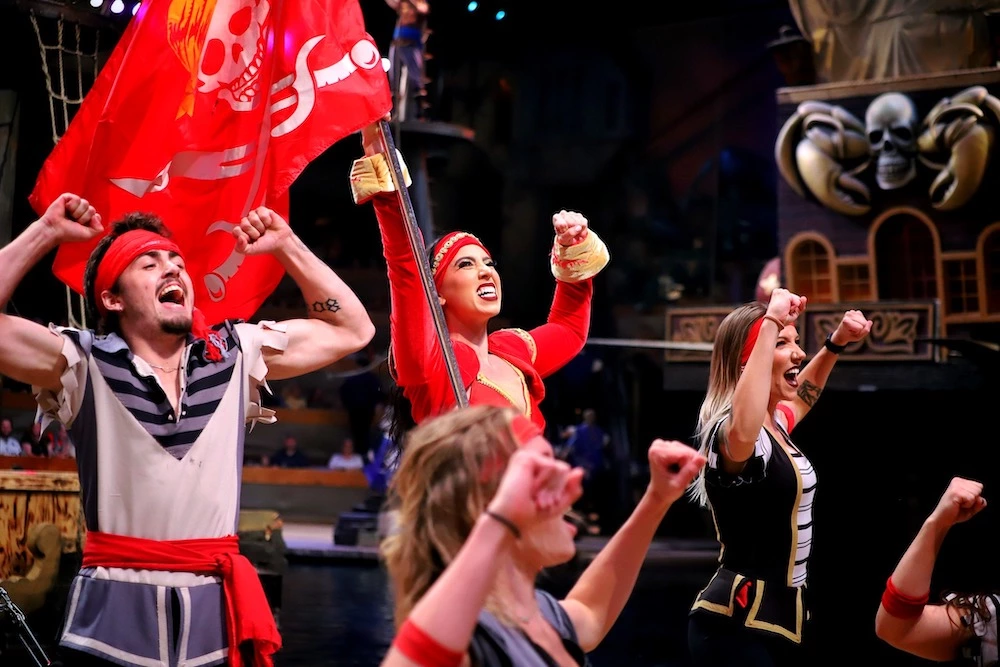 We're not just any ordinary pirate attraction. Our pirate dinner adventure in Myrtle Beach tells a daring and dramatic tale with sword fights, blazing cannons, beautiful mermaids, and pirates scaling high above two full-sized pirate ships fighting to win Davy Jones' coveted sunken treasure. The Crimson and Sapphire crews battle for the lost treasure on land, on deck, in the water, and in the air! The thrilling acrobatic competitions and stunning aerial feats will have all audience members cheering and experiencing thrills every minute of the show. You'll see pirates, mermaids, diving dogs, sea lions, and tropical birds join in on all the action! There's an incredible adventure around every corner at Pirates Voyage.
3. A Meal You Won't Find Anywhere Else
We wouldn't be the best pirate dinner adventure in Myrtle Beach if we didn't serve up a mouth-watering meal! Pirates Voyage in Myrtle Beach provides guests with a four-course pirate feast you won't find anywhere else. Not only is the meal big enough for the most hungry of pirates, it also is delicious enough to satisfy the pickiest of eaters! Our pirate feast starts off with our signature Voyager Creamy Vegetable Soup and Buccaneer Bread, then continues with Half O' Roasted Cackler, Swashbucklin' Sugar-Cured Ham, Cob O' Buttery Corn, and an Herb-Basted Potato Wedge. Be sure you save room for the Apple O' Me Eye Pie for dessert! You'll also be served unlimited Coca-Cola®, tea, or coffee. We offer gluten-free, dairy-free, vegan, and vegetarian meals upon request as well so that everyone gets to enjoy the dinner portion of our pirate attraction!
Visit Our Pirate Dinner Adventure in Myrtle Beach
Are you ready to come experience the best pirate attraction in Myrtle Beach? It's time to start planning your visit to Pirates Voyage Dinner & Show! Take a look at our Myrtle Beach show schedule, and get your tickets.