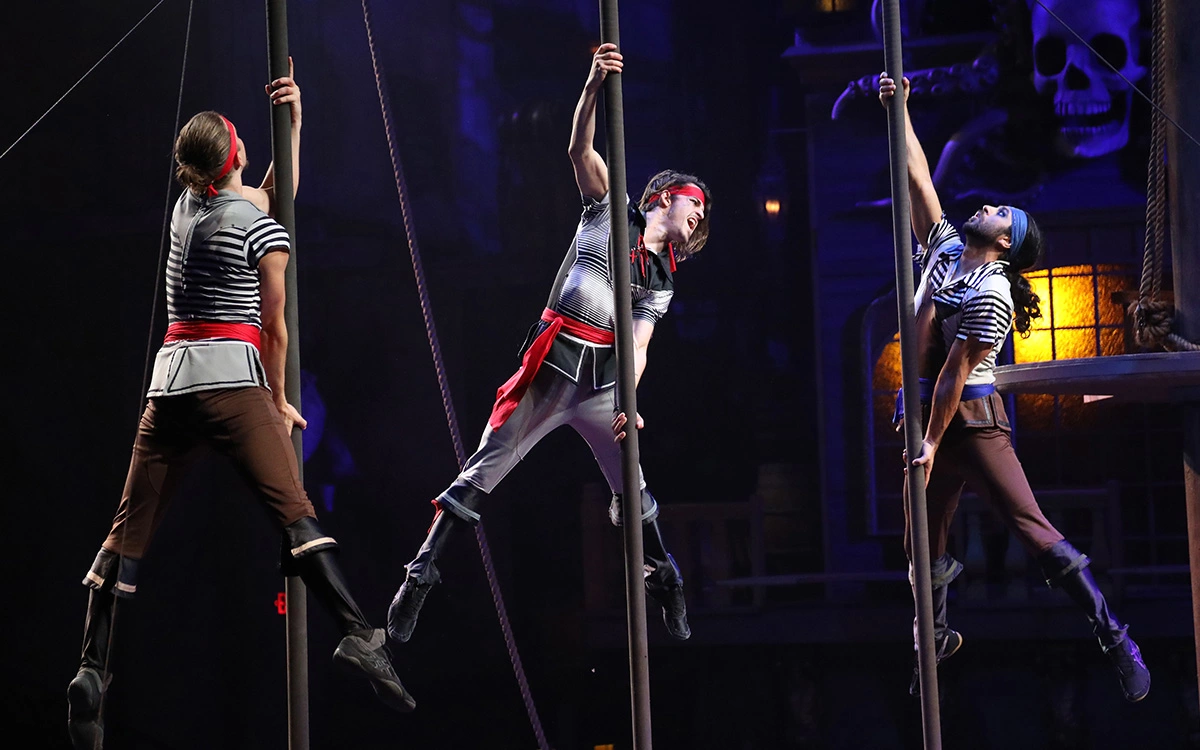 Why We Have One of the Best Dinner Shows in Pigeon Forge
December 27, 2022
If you've never been to see Pirates Voyage Dinner & Show, then it should be at the top of your list for your next vacation! We have one of the best dinner shows in Pigeon Forge for any occasion, including family vacations, group trips, and even date nights. When you're looking for a fun way to spend your evening, look no further than our dinner attraction. Keep reading to learn why we have one of the best dinner shows in Pigeon Forge!
1. Unique
One of the best parts about Pirates Voyage in Pigeon Forge is that you won't find anything else like it in town. Our one-of-a-kind show transports you from the mountains to the sea with our full-sized pirate ships and our 15-foot-deep indoor hideaway lagoon. Enjoy an epic pirate battle, beautiful mermaids, tropical birds, salty sea lions, and even daring dogs during this unique and entertaining adventure!
2. Non-stop Action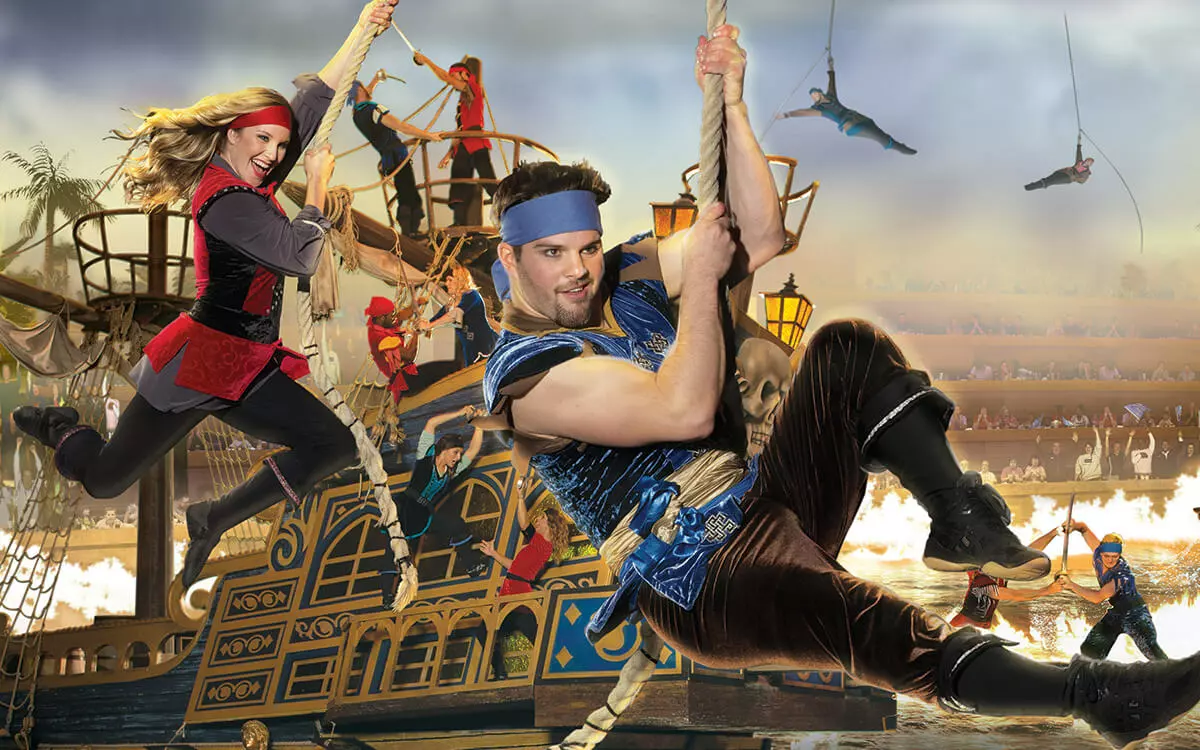 Another reason we have one of the best dinner shows in Pigeon Forge is because there's non-stop action from the moment you arrive! If you get here early, take part in our Join the Crew experience, which gives kids (and adults, too) the opportunity to transform into swashbuckling pirates or beautiful mermaids, complete with face painting and accessories. Then, sit back in our theater and let our talented performers amaze you as you devour a four-course pirate feast! There won't be a moment of boredom during our show as the Crimson and Sapphire crews battle on land, on deck, in the water, and high above their pirate ships. You can expect sword fighting, high diving, and incredible acrobatics!
3. Pirate Feast
Not only can you get the best entertainment, you'll also get the best dinner! We serve up a delicious four-course meal that will satisfy hungry pirates and landlubbers of all ages. You better bring your appetite when you visit us because you won't want to miss out on any courses of this feast. The menu includes a Buccaneer Biscuit, Voyager Creamy Vegetable Soup, Cracklin' Pan-Fried Chicken, Sugar-Cured Ham, Corn on the Cob, an Herb-Basted Potato, and our Walk the Plank Peach Turnover! Plus, you'll get unlimited Coca-Cola, tea, or coffee. Don't worry, we make sure no one has to miss out on our meal — we also offer vegetarian, vegan, dairy-free, and gluten-free options!
4. Great for All Ages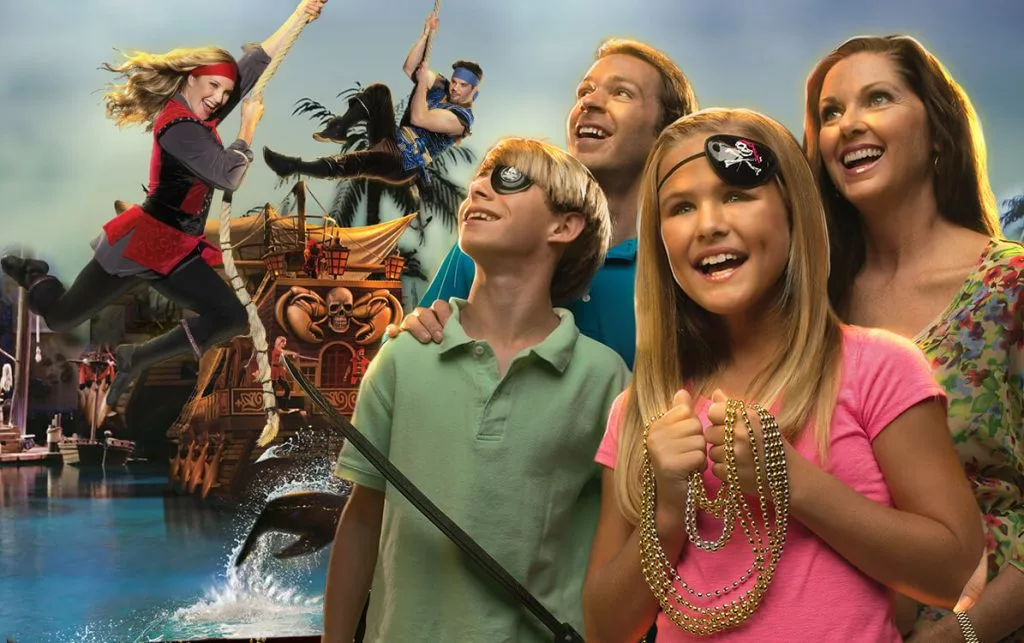 Pigeon Forge sees a variety of visitors throughout the year! People of all ages flock to this popular vacation town for the gorgeous views and thrilling attractions. When you need an activity that everyone in your vacation group can enjoy, there's no better attraction than Pirates Voyage. Our show is great for all ages, from the youngest of pirates to the eldest of landlubbers. Not only will everyone enjoy our show, but they'll also love the opportunity to pick up some pirate treasure in our souvenir shop! Kids, parents, and grandparents can all be a part of the pirate fun in Pigeon Forge!
Visit Our Dinner Show in Pigeon Forge
Are you ready to come see for yourselves why we have one of the best dinner shows in Pigeon Forge? Take a look at our show schedule and start planning your trip!