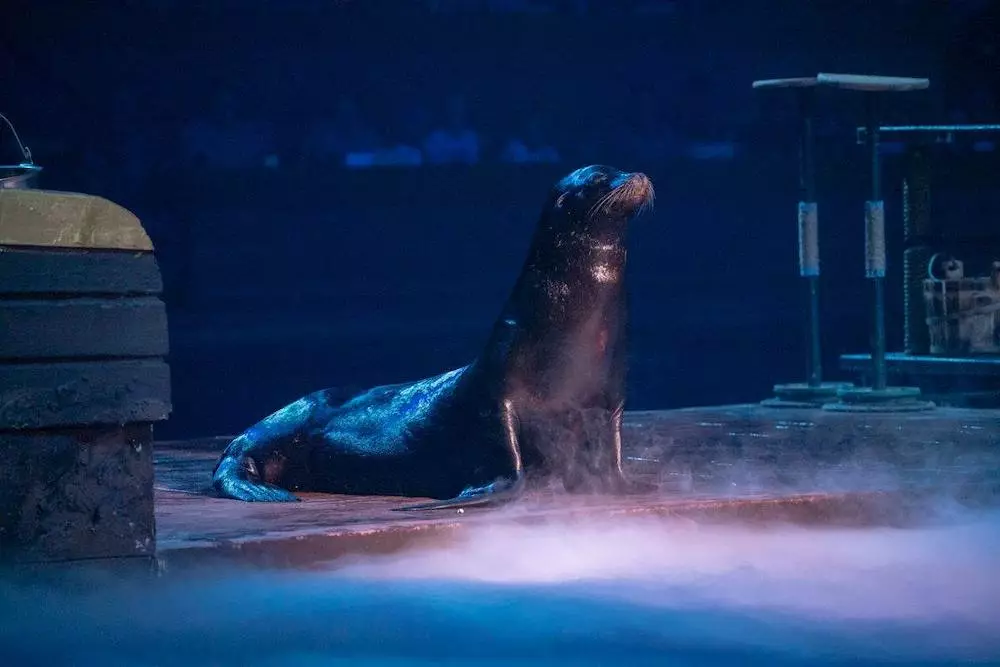 3 Animal Performers You'll Love at Pirates Voyage in Pigeon Forge
September 16, 2023
Pirates Voyage in Pigeon Forge puts on a fascinating show with swashbuckling pirates and mystical mermaids, but those aren't the only performers who make an appearance at our show! They're joined on stage by some very special animal performers, including sea lions, tropical birds, and dock-diving dogs. The animals quickly become favorite parts of our show for many, and we're here to tell you more about them! Here are 3 animal performers you'll love at Pirates Voyage Dinner & Show:
1. Our Sea Lions
Sea lions in the Smokies? It's true! Pirates Voyage in Pigeon Forge is home to talented sea lion performers! Guests love when Salty the Sea Lion takes the stage. He joins a comical castaway and shows off his clever tricks and dance moves to win a battle against Captain Blackbeard!
2. Our Tropical Birds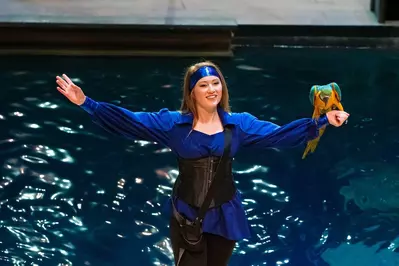 What's a pirate without his bird? We have beautiful exotic birds who fly above the pirate ships and join our pirates throughout the show. Watch as a beautiful macaw takes flight and soars through the theater before landing on a pirate's arm!
3. Our Daring Dogs
In addition to our sea lions and tropical birds, we also have some four-legged performers who captivate the audience — our daring dogs! Watch as the dogs leap off of the dock and into our indoor hideaway lagoon. They love showing off their skills!
Animal Care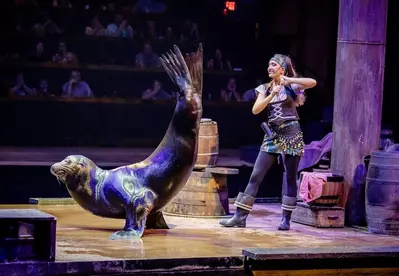 The care of our animal performers is our top priority. They each play an important role in our show, and we take extra steps to ensure their safety and well-being. In partnership with Ocean Connections, a leader in marine animal care, we have on-site professionals who work alongside a veterinary team to make sure each animal receives the best possible nutrition, environment, and care. All land areas are sanitized daily, water tests are performed several times throughout the day to replicate a natural ocean habitat, and a full filtration system ensures clean water. We love our animal performers!
About Our Animal Encounters
Would you like to meet some of our incredible animal performers? Then you'll love our animal encounters! This exclusive, 30-minute program gives visitors the opportunity to meet our animal performers and learn more about them. You'll come face-to-face with Salty the Sea Lion and our other animals, as well as learn about our positive reinforcement training and how we provide exceptional welfare for our animals. It's an exciting educational opportunity for all animal lovers! Call 865-505-2469 to reserve your spot for one of our animal encounters.
Visit Pirates Voyage in Pigeon Forge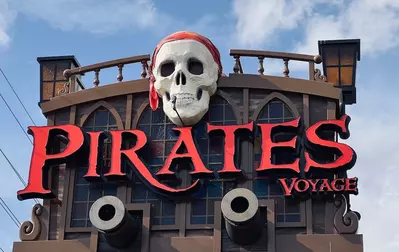 Are you ready for fun, feast, and adventure at Pirates Voyage in Pigeon Forge? In addition to our animal performers, we have swashbuckling pirates and beautiful mermaids who keep the audience entertained. Enjoy sword fighting, high diving, singing and dancing, and more. Start planning your visit to experience our incredible animal performers, an epic pirate battle, and a delicious, four-course feast! Take a look at our show schedule, and get your tickets to Pirates Voyage Dinner & Show today.