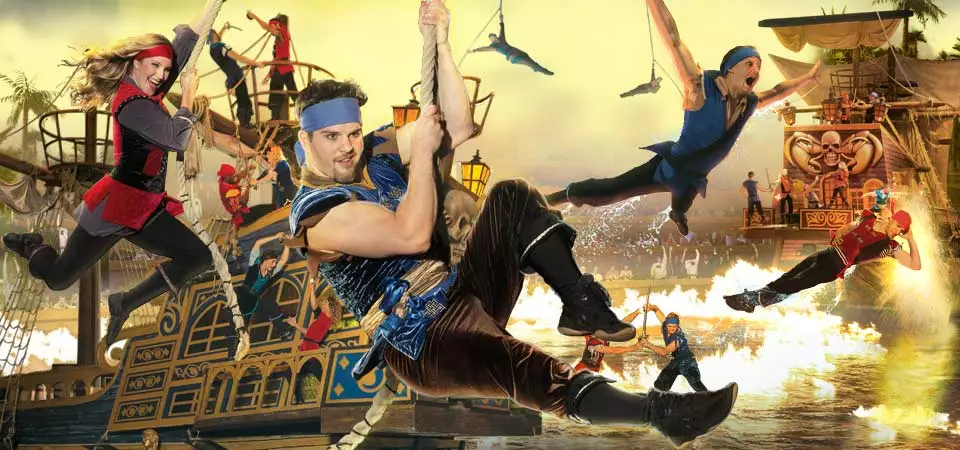 Pirates return to Buccaneer Bay for 2015 Season!
April 8, 2015
Captain Blackbeard, Calico Jack and the Crimson and Sapphire Pirate Crews return to Buccaneer Bay for 2015 Season!
Captain Blackbeard and his band of pirates have returned to Buccaneer Bay at Pirates Voyage Dinner and Show in Myrtle Beach, SC for the 2015 season! With acrobatic competitions, live animals, beautiful mermaids and a four-course feast, your family will take home memories to last a lifetime from "The Most Fun Place to Eat!"
The Captain and his Quarter Master Calico Jack lead the Crimson and Sapphire pirate crews in a friendly battle on land, on deck, in water and high above full-sized pirate ships in a 15 foot deep indoor hideaway lagoon! The stakes are high, as the winning crew will claim Davy Jones lost treasure. This action-packed adventure will keep you and your family on the edge of your seat with aerial and acrobatic acts as you cheer your crew to victory.
As the action unfolds, your crew will enjoy a feast fit for a captain, including our Voyager Creamy Vegetable Soup and Buccaneer Bread, Half O' Roasted Cackler, Captain BBQ Pork, Cob O' Buttery Corn, Pirate Herb-basted Potato, Apple O' Me Eye Pie and unlimited Pepsi, tea or coffee.
Start your crew's adventure early in Pirates Village with a fun, interactive experience! Join our pirates in a sing-a-long of seaside songs, amazing balancing acts, fantastic juggling, audience participation and much more. Wet your whistle with a pirate-themed beverage and delicious snacks. While the crew entertains you, your child can Join the Crew with a pirate or mermaid makeover.
Call now for reservations at (800) 433-4401 or visit our schedule online and book now!